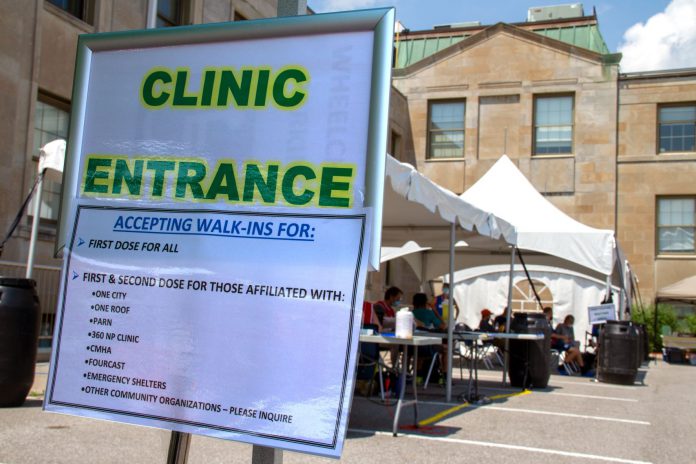 Peterborough Public Health held a drop-in COVID-19 vaccination clinic outside Peterborough City Hall earlier this week for vulnerable residents, including those experiencing homelessness.
The three-day clinic, which took place from Tuesday (July 6) to Thursday, administered first and second doses to 96 people despite the heat, humidity, and rain.
To reduce barriers to getting vaccinations, the health unit did not require appointments. Even those without a health card were able to receive a vaccine dose.
Advertisement - story continues below
"None of this would have been possible without the help of our community partners in organizing, promoting and staffing this multi-day clinic," says Hallie Alter, the health unit's manager of family and community health, in a media release.
Participating community agencies included the Brock Mission, Canadian Mental Health Association, Fourcast, Nogojiwanong Friendship Centre, One City Peterborough, One Roof Community Centre, PARN, Salvation Army, YES Shelter for Youth and families, and YWCA Crossroads Shelter, along with support from the City of Peterborough, Peterborough 360 Degree Nurse Practitioner-Led Clinic, and Peterborough Regional Health Centre.
According to Atter, clients of community agencies serving vulnerable people find it harder to protect themselves from exposure to COVID-19 and can be at greater risk for severe illness.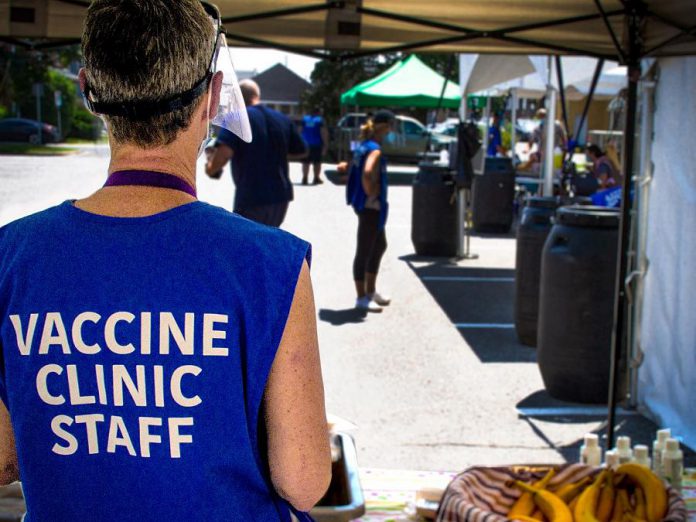 A recent Ontario study found that people experiencing homelessness were at least 20 times more likely to be hospitalized with COVID-19 and over 10 times more likely to be admitted into intensive care with COVID-19.
Due to their circumstances, vulnerable residents may also find it challenging to follow public health measures as well as to register for and attend mass vaccination clinics.
With the highly contagious delta variant circulating in the region, Peterborough Public Health plans to continue increasing local vaccination coverage through various strategies including pop-up clinics.