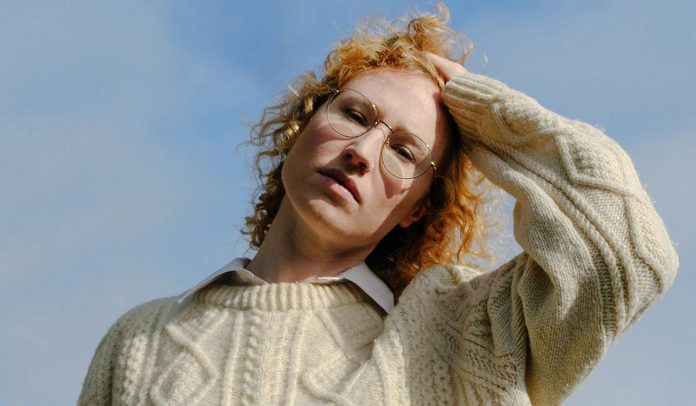 When the doors of Peterborough Collegiate and Vocational School (PCVS) closed for good in June 2012, many mourned the loss of the high school's integrated arts program — including Peterborough-raised singer-songwriter Kelly McMichael.
Fortunately that program subsequently found a new home at Thomas A. Stewart Secondary School, continuing to encourage young musicians, actors, artists, and dancers who would go on to find their creative place in the world — not unlike many of McMichael's fellow PCVS grads, including comedian Sean Cullen, dancer Evelyn Hart, and singer Serena Ryder.
"Being a part of the PCVS integrated arts program was definitely where it all started for me," McMichael reflects. "Being surrounded by such a vibrant arts scene and inspiring peers; knowing that people were going on to pursue careers in the arts and seeing that as a possibility for myself was great."
Advertisement - story continues below
"I knew I was going to do something in the arts but I wasn't sure what that was or how it would come about," she adds. "I did 4th Line Theatre (in Millbrook). I did a lot of visual art. I took fine art at the University of Guelph, but music was always my number one thing. I used to be very shy, so I didn't have a lot of confidence in myself but I managed to come around."
What was possible for McMichael has since become very real, an early indication of what was to come being her 2007 claim of the Emerging Artist Award bestowed by the Peterborough Folk Festival — "That was a nice little kick off to feeling like I had a shot at a music career," she recalls.
After years of collaborating with other musicians in a number of bands, dividing her time between Peterborough, Toronto and St. John's, McMichael released her first solo album, Waves, this past May.
AUDIO: 'Stepping Stone' by Kelly McMichael from "Waves"

Co-produced with Jake Nicoll, the 10-track Waves was years in the making but has proven well worth the wait. As of this writing, the single 'Stepping Stone' was sitting in the top spot of the Best Music of 2021 (So Far) list compiled by The East, a popular blog of all things East Coast arts and culture.
And yes, the song has a Peterborough connection, penned years ago for its debut as part of a 24-Hour Music Project showcase at the Historic Red Dog on Hunter Street East.
"I was partnered with Beau Dixon," McMichael recalls of the development of 'Stepping Stone'. "I had part of the song idea that I came into the session with. We developed it together, along with a couple of other ones for the performance we had to give the next night. I've since revised it a bunch but I gave Beau writing credits because he helped me develop that song."
Advertisement - story continues below
Long before Waves was recorded and released, McMichael cut her musical teeth with a number of acts, including a Peterborough-based yacht rock cover band that also featured Peterborough musician Dave Tough. In Toronto, her time as a keyboardist with Gentlemen Reg, fronted by Indie rock singer Reg Vermue, was instrumental to her career — no pun intended.
"Toronto was sort of where the action was," says McMichael, who also co-fronted Rouge during her time in the big city. "If you wanted to pursue a career in music you needed to be there, but Toronto wasn't my vibe."
"There are a lot of good things about it, but I enjoy a little more space, a little slower pace, and more nature," she adds. "It's why I love being part-time in Peterborough at the family cottage on Clear Lake. I'm always back around here (Peterborough), hanging out on The Only Café patio."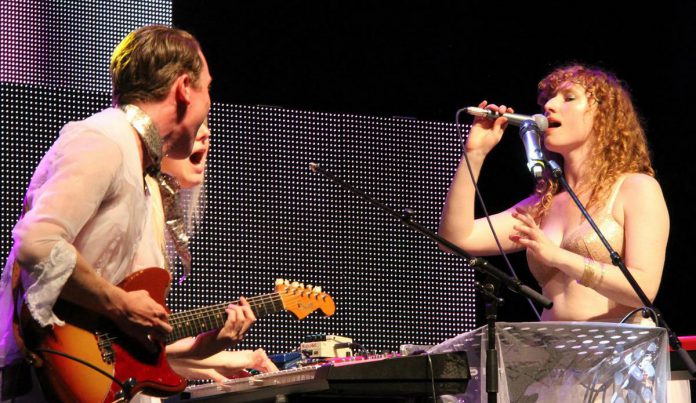 When she's not visiting her home town of Peterborough, McMichael is living in St. John's in Newfoundland.
"That's why I like Newfoundland. I like being near the ocean. There's nothing better than that. And St. John's has a bit more going on than Peterborough. I'm able to work."
McMichael made the move east in 2013.
"I didn't love it at first," she recalls. "The weather was really hard for me to take but I really liked the people. Everyone is so friendly and easy to get along with, and there are so many musicians. There's music happening all the time. Music is really ingrained into the culture. And more people are willing to come out to shows. That really grew on me."
Advertisement - story continues below
In St. John's, McMichael performed solo under her own name but also under the name Renders.
"Renders is my fun pop electronic alter-ego," she says, noting her new album is a big departure from that style of music, featuring more intimate material culled from her experiences of both the personal and musical variety, captured in a more mainstream classic pop-rock sound.
Pivotal to what was ahead for McMichael was her co-producing an album for folk-rock band Fun, for which she also wrote one of the songs.
"I had sort of given up on pursuing my own (album) project more seriously," says McMichael. "The experience of working in the studio with (co-producer) Jake turned things around. We had a really great working relationship and seemed to be on the same page. I was like 'Maybe I'll get to record an album with Jake.'"
VIDEO: "Out The Window" – Kelly McMichael

"I was sitting on a lot of songs for the album," McMichael explains. "I had been playing a lot, backing up other people and making demos, performing them here and there to not very many people in Peterborough and not very many people in St John's. I finally seemed to catch some people's attention and was given grant money to make an album."
"I had spent a year refining a lot of songs. I recorded demos of Stepping Stone again and again and again. I have a lot of ideas and I get them in different ways. I think it's good to have a variety of different ways of collecting ideas (for songs). I did a lot of hiking at Signal Hill close to where I was living and ideas would come to me. Playing the songs live helped too, refining each song until they felt right"
Noting she "wanted to pursue everything to the fullest … dream big and go 100 per cent in the most fun and elaborate way," McMichael extended that process to the album's cover art. which features her on a horse with the Atlantic Ocean as a backdrop.
Advertisement - story continues below
"There are a few different styles and genres on the album, so I thought it would be fun to have an element of surprise," McMichael says. "I lived on a horse farm in Omemee at one time, so it was a reminder of that. The ocean is a tie-in to my life here in Newfoundland. I want people to ask 'What is she doing? I want to know more.'"
2020 was to be a big year for McMichael "but then COVID happened." A North American tour with singer-songwriter Sarah Harmer — it was scheduled to begin at Peterborough's Market Hall — was postponed indefinitely.
"I was supposed to be on the road and suddenly I was moved back to my mom's house in Peterborough. I didn't have anywhere to live because I was subletting a place in Toronto and was supposed to be on the road. I couldn't work on my album because Jake was also on the road with another band in Europe and he was stranded and then moved in with his parents in Ontario. He put together a new studio so we managed to finish it."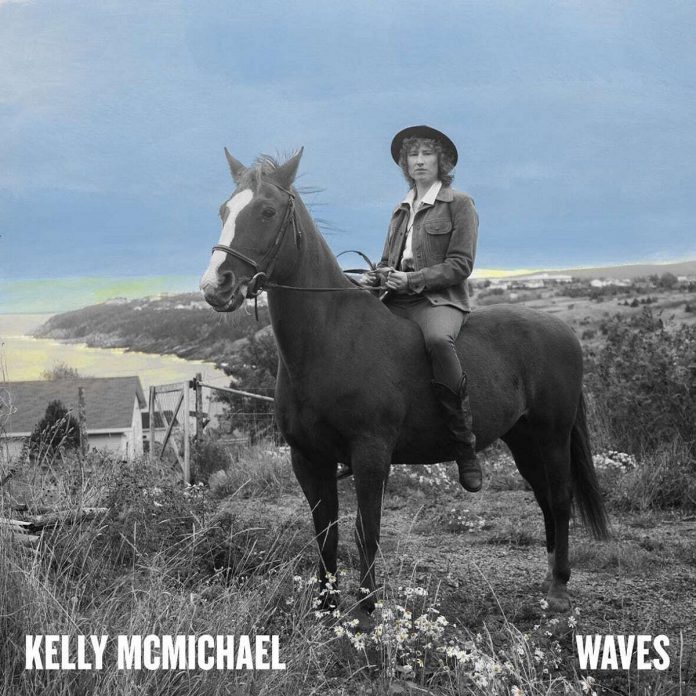 "It was hard for me, being used to being super fast-paced and then having this pause, not being able to finish my record," McMichael says. "Those first couple of months were a big adjustment. It's pretty difficult to change gears like that and not know what your purpose is anymore. You're used to getting attention performing all the time, and suddenly you're not getting that."
The good news is the tour with Sarah Harmer has been rescheduled for February to May 2022. That, coupled with the early reviews for Waves, sees McMichael in a good place. She echoes many music industry insiders when she says the reception to live music is going to return stronger than ever. And a follow-up album is indeed in the works.
"I'd like to make it with the same people. The band members are spread out across the country. I don't know when that will happen but Jake and I have started talking about it."
VIDEO: Kelly McMichael performs live solo acoustic version of "Stepping Stone"

In the meantime, there's another Peterborough connection to her upcoming tour with Sarah Harmer.
"I remember going to see Sarah at Showplace when I was in Grade 11," McMichael says. "Singing those songs and playing them live with her is pretty amazing, then getting to do my own stuff and getting a lot of great press and attention for this album that I'd been plugging away at for years and years and years, It hadn't really felt like I broke through until recently."
With the pandemic hopefully soon in the rearview mirror, McMichael is optimistic she can further build her musical career with the success of Waves.
"To have some traction with my own songs is pretty awesome," she says. "It makes up for feeling sad and shy and unsure for so many years. It's kind of nice that it took this long to get here. Sure, I could have had something that I would have just taken for granted and moved on from when I was 25, but that probably wouldn't have been as good as what it is now. I'll take it."
For more on Kelly McMichael, or to stream or purchase Waves, visit kellymcmichael.com.