While there are a number of reasons anchoring Showplace Performance Centre general manager Emily Martin's excitement to welcome audiences back to the downtown Peterborough venue, they all take a back seat to what has her really pumped.
Come late October, the now strangely barren main theatre — the 640 old seats have been removed — will be home to new state-of-the-art seating, a refurbishment that's long overdue and been a few years in the planning for the non-profit charitable organization.
Under the banner Take A Seat For Act II, a push is on to help cover the new seats' cost by providing the opportunity for anyone to name a seat — in one's own name, the name of a loved one, an organization's name, or even a pet's name — for a $1,000 donation.
Advertisement - story continues below
All donations are tax deductible with a charitable receipt issued and can be paid in full at once or via a multi-payment pledge. Seat naming rights, and more related information, can be obtained by phoning 705-742-7469 or by going online to Showplace's recently redesigned website at www.showplace.org.
The replacement of the seats, estimated to cost about $300,000 (with another $110,000 to replace the floor and for painting, lighting, and electrical), is part of a larger capital projects fundraiser with a $2 million goal that has Showplace board chair Pat Hooper and longtime Beth McMaster serving as co-campaign champions, and actress Linda Kash and actress/filmmaker Megan Murphy contributing as co-campaign ambassadors.
On Tuesday (July 13), Martin provided kawarthaNOW with an exclusive glimpse of the main theatre minus the 640 seats that have taken up that space since Showplace opened its doors in October 1996. The seats originally installed were already well used at that time, having come to the venue from the Annapolis Naval Academy in Maryland.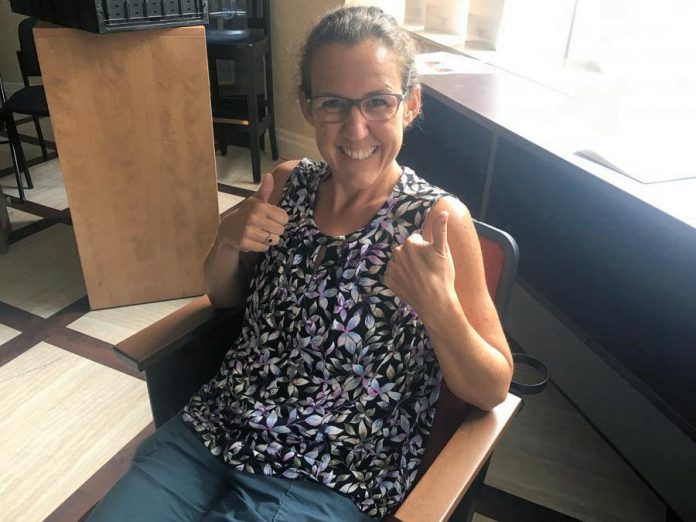 In true full-circle fashion, Lett Architects, which was involved in Showplace's design and construction, is involved once again with this project.
"Bill Lett worked on the original Showplace as a co-op student," Martin points out.
"It was so weird at first when the seats were gone," she adds, referring to the now-seatless Erica Cherney Theatre. "You walk out on Friday night and come back Monday morning and go 'Oh yeah, this is empty now.' I've gotten used to it now."
Advertisement - story continues below
The new seats, made by Montreal-based Ducharme Seating, are "spectacular" according to Martin, noting one of the new seats is in the venue's lobby window so passersby can take a look.
"They're fresh and new, they're really comfortable, and there are cup holders too," says Martin. "We did focus groups with users of the space and sponsors before we undertook any of this work. Cup holders were the number one thing we kept hearing."
"There's also going to be more accessible seating because some of the seats can actually be removed, so we'll have accessible options we didn't have before," she adds. "In addition, some end-row seats will have swing-away panels for easier access, for someone with a walker to just slide in to their seat."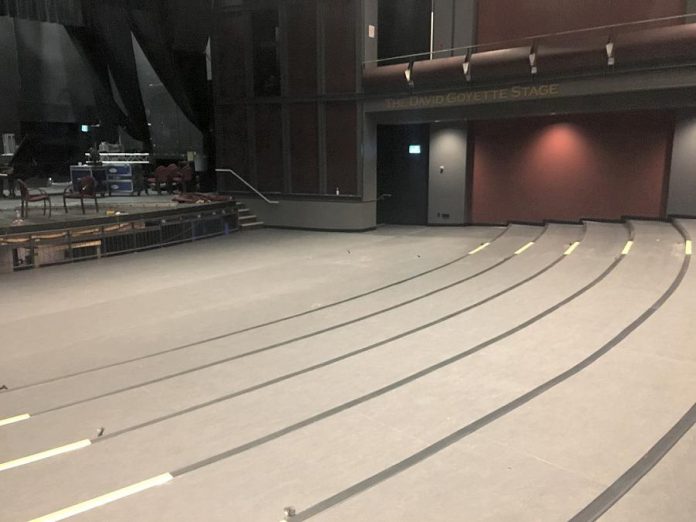 Also in the main theatre, the floor has been completely redone and new sconces are being installed around the perimeter of the balcony.
"There are lights there but we never had them on because half of them didn't work, so with the new sconces the balcony can by lit up like it used to be," Martin says, referring to when the building housed a movie theatre.
Martin promises those returning to the venue post-pandemic will notice a "shocking" change.
Advertisement - story continues below
With the new seats, Martin says Showplace's capacity "will go down a little bit" due to building code requirements, adding the other biggest change people will notice is more space between the front row and the stage.
"Right now we're scheduled to have the new seats put in come mid October. It's like eight or nine days to get the entire theatre done."
After the new seats are installed, and barring any unexpected pandemic developments, Martin expects Showplace will be able to once again welcome audiences back into the theatre in late fall.
"We're still three to six months away from being able to fully re-open large venues to the way they were," Martin explains. "The analogy I use is that large venues are like cruise ships. You can't turn a cruise ship on a dime. It's very similar here. You can't just turn a switch on and you have a full audience. There are still too many unknowns."
"It's great to say, in theory, you can have 50 per cent capacity — that's 300 people — but you have to have a plan for that, and staffing. That said, our goal now is November (for the staging of shows) in some capacity."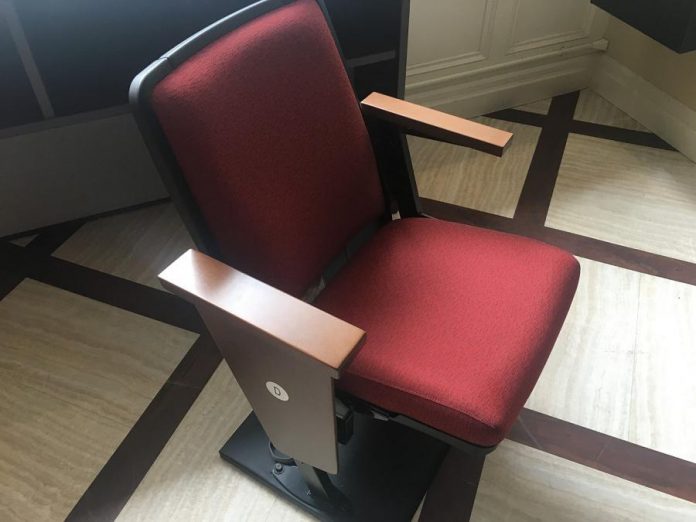 While Martin says some people have questioned why Showplace would undertake a seat replacement project during the pandemic, she points out the non-profit organization had already planned before the pandemic to undertake the project at this time.
While not being able to host any shows so far in 2021 has created financial challenges for the venue, in a way it has been beneficial for the seat replacement project.
"This kind of renovation takes four to six months to complete," she says. "We started in April with the removal of the old seats. We didn't want to come out of COVID and say 'Oh, thanks for coming back but we're going to shut down for four to six months to put in the new seats.' It all worked out."
To purchase a seat, or to make a donation to Showplace, call the box office at 705-742-7469 or visit www.showplace.org.
This story has been updated with information about what happened to the old seats.