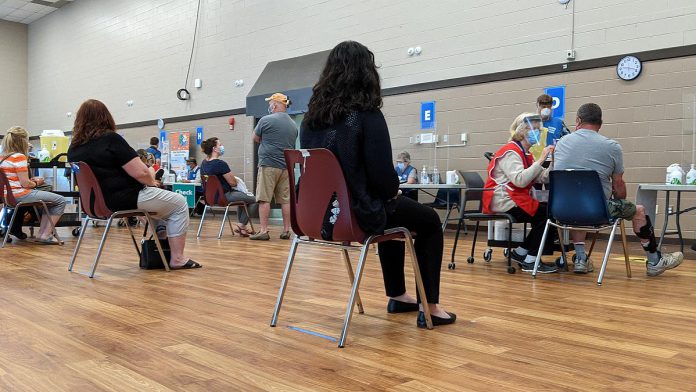 Peterborough Public Health and Peterborough Regional Health Centre have announced several upcoming changes to COVID-19 vaccination clinics for Peterborough-area residents, reflecting a shift to more targeted delivery of vaccines as the demand declines — despite 37 per cent of eligible residents not yet being fully vaccinated.
The clinic at the Evinrude Centre will be closed from Friday (July 30) to Monday (August 2) for a move from the ice pad back to the multipurpose room. The clinic will reopen on Tuesday (August 3) for appointments and walk-ins.
Peterborough Public Health will also be offering three walk-in clinics during August in three selected communities in Peterborough County for residents 18 years and older.
Advertisement - story continues below
An Apsley clinic runs from 9 a.m. to 3 p.m. on Tuesday, August 3 at the North Kawartha Community Centre (340 McFadden Road). A Buckhorn clinic runs from 9 a.m. to 3 p.m. on Saturday, August 7 at the Buckhorn Community Centre (1782 Lakehurst Road). A Millbrook clinic runs from 9 a.m. to 3 p.m. on Tuesday, August 17 at the Cavan Monaghan Community Centre (986 Peterborough County Road 10).
These clinics will offer both first and second doses of mRNA vaccines, with no appointment necessary.
"There are still approximately 15,000 eligible local residents who are unvaccinated," says Dr. Rosanna Salvaterra, Peterborough's medical officer of health, in a media release. "We still have a long way to go before we reach herd immunity in Peterborough. By bringing the vaccine to our rural communities through these walk-in clinics, I'm hoping we can make it even more convenient for county residents to get the added protection of a two-dose summer."
To encourage people to get vaccinated, the health unit will be running a weekly raffle at the pop-up clinics, as well as at the Evinrude Clinic. Two winners will be drawn every week over the next four weeks, with each winner receiving a $50 gift card from the Peterborough Downtown Business Improvement Association (DBIA) that can be redeemed at downtown Peterborough businesses.
Advertisement - story continues below
Meanwhile, Peterborough Regional Health Centre announced it is scaling back the operation of the hospital's vaccine clinic.
After Wednesday (July 28), the clinic will only be operating from 8 a.m. to 12 p.m. on the following dates: Thursday, August 5; Tuesday, August 10; Thursday, August 12; Tuesday, August 17; and Thursday, August 19.
On these dates, the clinic will continue to offer vaccines for people who have scheduled appointments through the provincial booking system and for walk-ins aged 12 and older.
"As vaccination rates have continued to rise across the province and the country, Peterborough Regional Health Centre has seen activity in its COVID-19 vaccine clinic continue to steadily decrease," the hospital writes in a media release.
As of last Wednesday, 82,941 residents of the Peterborough area have received two doses of vaccine, including 65.7 of adults and 25.8 per cent of youth aged 12 to 17. This represents 63.3 per cent of all those eligible for a vaccine and 56 per cent of the area's total population.