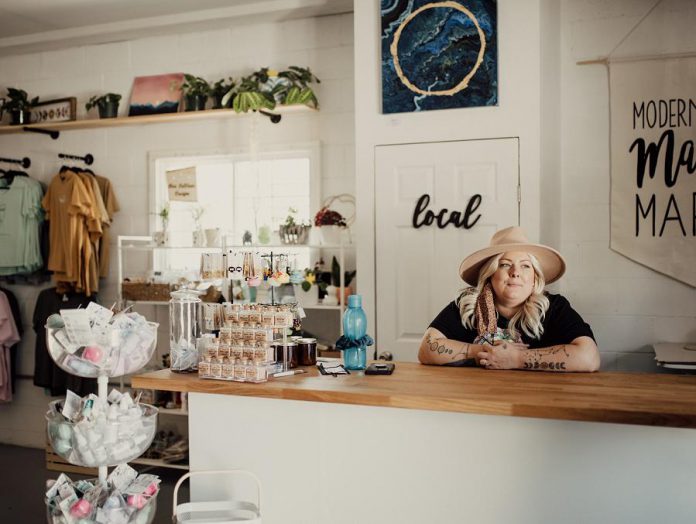 Modern Makers Market is holding a welcome back pop-up event on the weekend of August 14th at their retail shop at 651 Chamberlain Street in Peterborough.
The welcome back event is a momentous occasion for co-owners Chantel Coyle and Sarah McCarley, who originally founded Modern Makers Market with Laura Kasperlik in 2017 as an events-based way to promote local makers to the Peterborough community. It's their first event of the year due to the pandemic.
The pop-up market — which runs indoors and outdoors from 11 a.m. to 3 p.m. on Saturday, August 14th and Sunday, August 15th — features 16 local guest vendors along with the 30-plus makers from across Canada and the world already in the store.
Advertisement - content continues below
"We're going to be celebrating small business as a 'You did it — you got through this pandemic' event," says Chantel. "It's an event of love for small businesses in the community."
Makers at the pop-up market will include A Bee's Closet, Dawn Moon Studio, Blue Oasis, Honest AF Mom, Grey Willow Creations, Dragon Fly Design Studio, Dwyer Art, Perfectly Beaded Evelyn PearlBow Co., Pipher Blooms, Church House Studio, and Dog Rags, along with food vendors Hanoi House Peterborough, Taste of Russia, Lisa Bakes, and Sweet & Stuff'd Cookie Co.
The Modern Makers Market shop has been reconfigured for the welcome back event to allow for physical distancing, and the doors will be open to allow for traffic flow between indoor and outdoor markets.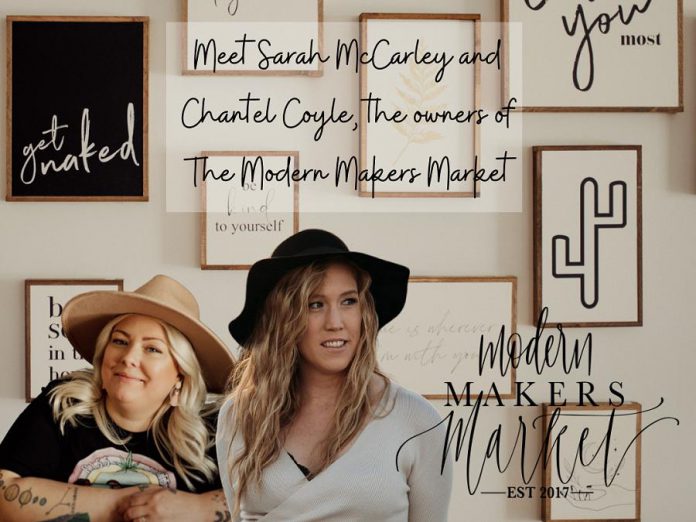 "We're spreading everyone out to make sure that there's enough room to be COVID compliant," explains Chantel, adding the shop is located in a residential area with a park just down the street. "You won't have to worry about parking issues or the congestion of other places in the city. It's a unique space to be in."
According to Chantel, the pop-up market will be a great COVID-safe option for people looking for something fun and social to do on the August 14th weekend after months of restrictions, while also supporting local makers.
"It's something to do in the middle of the month when you might not have plans because COVID has cancelled a lot of them," Chantel says. "That's the one thing people have been missing throughout the pandemic — human connection."
Advertisement - content continues below
At the welcome back event, guests can learn about various local businesses all in a single setting. Even if guests don't necessarily make a purchase from every vendor, the event will expand their knowledge of different local options for the future.
"Local businesses are the backbone of the community," Chantel points out. "I hope the businesses who come feel supported and the community comes out for them. I hope the people who do come are thoughtful and come with the intent to support the vendors."
The first in-person Modern Makers Market event for 2021 is also a return to their roots. Before the pandemic, Chantel and Sarah regularly held pop-up markets events where local artisans could sell their products. The pandemic transformed the Modern Makers Market, with Chantel and Sarah offering makers a way to sell their products while still keeping their staff and customers safe.
Last November, the pair opened the Modern Makers Market retail location on Chamberlain Street for restricted in-person shopping, carrying products from over 30 different small businesses from across Canada and worldwide. Products in the store vary from week to week, depending on which vendors are currently on contract.
When the province locked down again at the end of 2020 and in-store shopping was prohibited, Chantel and Sarah adjusted again by moving entirely online. In addition to online events and giveaways, they hired a local web designer to restructure their e-commerce website. Now, through their multi-vendor online platform, each vendor has their own digital space.
"When businesses sign up and pay for their spot, they can set up what looks like their own store on our website," explains Chantel. "Vendors can also link to their own shop on their page. It's really easy and user friendly."
Advertisement - content continues below
The investment into improving their online store was worthwhile, according to Chantel, since 40 per cent of their sales are still online even after reopening the physical store.
Modern Makers Market has also recently teamed up with SwiftPost to offer easy shipping throughout Canada and the U.S. Businesses can sign up for a SwiftPost account, package their goods, and drop the package off at Modern Makers Market for SwiftPost to pick up and deliver.
"We're cutting out steps and turning into a one-stop-shop for businesses," Chantel explains. "I'm proud to say we thrived and evolved into something that we wouldn't be now if the pandemic hadn't happened."
That includes a partnership with Hudson's Bay, with Modern Makers Market offering a pop-up shop in the Hudson's Bay location in Oshawa Centre until January 2022.
According to Chantel, it has taken a combination of hard work and community support to get Modern Makers Market to where it is right now.
"We have a lot of support but also we've worked a lot of hours," says Chantel. "Sarah lives in Australia due to COVID, so she's up all night answering emails and I'm up all day operating things. It's a cool team dynamic that we have going on — but I'm hoping she comes home one day."
Advertisement - content continues below
While Modern Makers Market has done relatively well despite the pandemic, they've also faced challenges. The return to in-person events is an important step towards recovering lost revenue.
"These events coming up are strategies to make back financials because we do have a lot of catching up to do," says Chantel.
"We're going to be working hard to turn that around for the vendors in our store — and for us."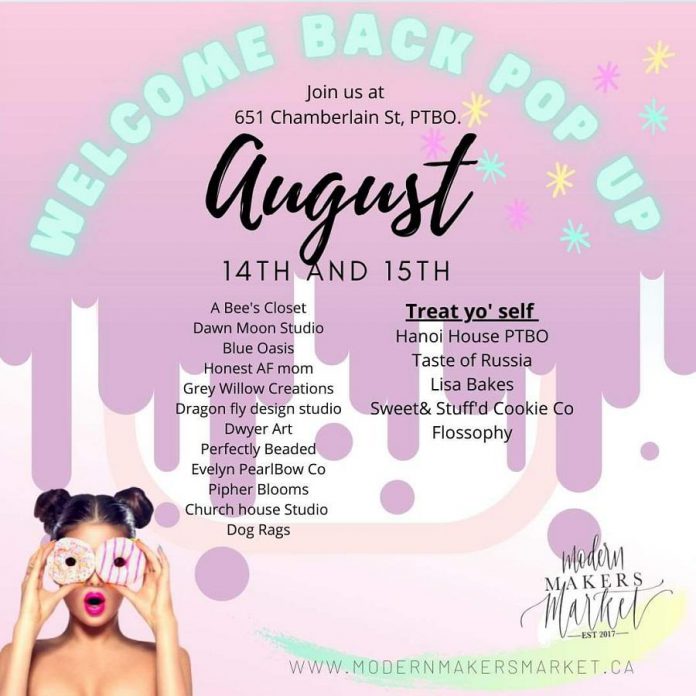 In terms of how the community can support the Modern Makers Market and the vendors they carry, Chantel asks everyone to keep local businesses in mind when shopping. You can also support Modern Makers Market and their vendors by following and engaging with them on social media.
"It doesn't cost anything to follow and share," Chantel notes.
To learn more about Modern Makers Market, their vendors, their welcome back pop-up event, and future events, visit modernmakersmarket.ca and follow them on Facebook and Instagram. Modern Makers Market also has a second Instagram account @modern.makers.shop dedicated to the retail shop.