On Sunday, September 19th, runners will depart form the DePave garden on Water Street in Peterborough for the second bi-annual Monarch Ultra Relay Run.
The previous Monarch Ultra relay run in 2019 saw 46 runners follow the monarch butterfly's migratory route from Peterborough, Canada, to Macheros, Mexico. The run raises awareness about the plight of the monarch butterfly.
Starting the same day as the run two years ago, this year's Monarch Ultra will remain north of the border due to the pandemic and travel 1,800 kilometres across southern Ontario.
Advertisement - story continues below
Carlotta James, Monarch Ultra co-founder and project director, notes that although the run is a bit different this year, it still has the same mission as the 2019 run.
"Our mission and message are the same, but the route and the communities we're running through are completely different," explains James. "We're still running for monarch butterflies. We're running to raise awareness and as a call to action to protect the environment."
This year's run will take runners from Peterborough southwest through Toronto, Burlington, Hamilton, Saint Catherines, and Niagara Falls before heading towards London, Cambridge, and Kitchener, and looping back to Barrie. The 1,800-kilometre run will take runners through Ontario's cities, towns, greenways and lakeshores along the Trans Canada Trail and the Waterfront Trail. On Saturday, October 9th, the 21-day run will come to an end in Barrie.
PDF: 2021 Monarch Ultra schedule
2021 Monarch Ultra schedule

"I'm excited to see the Trans Canada Trail and the Waterfront Trail," James says. "They're accessible. They're bike-friendly. They're for walking, running, and exploring. Those trails have been welcoming of a running project like the Monarch Ultra."
The route change has caused some other changes to the relay run this year as well. While runners collectively travelled 100 kilometres a day in 2019, they will run 80 kilometres a day this year. James explains they had to consider the fall weather in Ontario, noting that their runners need to be finished for the day before sunset.
Each morning, two ultra runners will begin a 50-kilometre run at 8 a.m. and finish around 1 or 2 p.m., depending on their pace. Another two runners will pick up exactly where the first two left off and run 30 kilometres,
Advertisement - story continues below
In addition to raising awareness of the declining populations of the monarch butterfly, an important pollinator, this year's run is raising funds for Camp Kawartha, a local non-profit organization that helps to educate future environmental stewards.
James says they decided to link up with Camp Kawartha because they're a "fantastic" non-profit teaching today's youth the importance of protecting nature.
"They are doing such good work to empower the next generation of earth stewards through their nature programming," James points out. "We thought they would be an awesome partner for the Monarch Ultra. Because we're not running to Mexico, we're staying in our province and that's another reason that made us decide to support a local organization rather than an international one."
VIDEO: Monarch Ultra 2021 by Rodney Fuentes

You can donate to Camp Kawartha's environmental stewardship programs for youth through the Monarch Ultra Run through their Race Roster webpage. Camp Kawartha will issue charitable tax receipts for all monetary donations of $25 or more.
So far, the Monarch Ultra has raised $4,100 for Camp Kawartha.
This year, the Monarch Ultra has also launched a virtual run for those who would like to support their cause but are not long-distance runners. Participants raise funds from friends and family and then walk, hike, or bike 10 kilometres. The 115 participants in the virtual run have so far raised $2,500 for Camp Kawartha.
Advertisement - story continues below
James says that supporting a local charity is one of the many silver linings to holding the run in Ontario for a year.
"We get to galvanize the province of Ontario and get many communities excited, connected, and united on this front," James notes. "We are getting to know our own backyard, and that's pretty neat."
While James will miss the Mexican food and culture this year, she wants to focus on the positives of running across Ontario and looks forward to running to Mexico again in 2023 — COVID permitting.
"Mexican people are very welcoming and hospitable and fun," says James. "When they heard about the Monarch Ultra, there was a festival almost every single day of our two-week stay."
"Canadians are full of joy as well, so we're going to have some fun time in our own province too," she adds. "We're not going to think about the things we're going to miss. Instead, we're going to think about the things we're going to inspire and create."
One thing James hopes will not change for this year's run is how it inspires and educates people along the way. She says that in every community they ran through during the 2019 run, they took the opportunity to talk to people about the decline of pollinators including monarch butterflies and the environmental destruction caused by human beings to their habitat.
Advertisement - story continues below
"For us, education is really big, and it's also an eye-opener," says James. "We met so many people who didn't know that monarchs even migrate, or that they're in decline, or that they need milkweed to survive."
"Once people get inspired, they'll educate their own families and communities," she adds. "So it's a ripple effect."
A documentary about the Monarch Ultra Relay Run is currently in production. James believes it will be another great educational tool that will be shown to thousands of schools, people, and communities.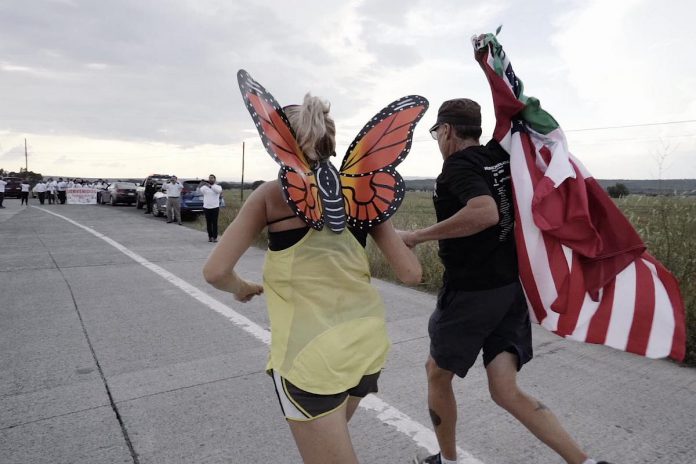 The Monarch Ultra team is also heading up a 'Mini Monarch Ultra Run,' where kids can run during their breaks and lunches to raise money and awareness for the cause.
"Kids will tally up their kilometres, and then there is a national total," explains James. "We're hoping to have tens of thousands of kilometres run by youth and students across schools in Canada."
There will also be a call to action attached to the run that will encourage schools and children to build pollinator gardens or to expand existing ones.
Creating a call to action is what inspired James in the first place to co-found the inaugural Monarch Ultra Run, following the monarch's migration route from Canada to Mexico.
"We can change our lawns into pollinator habitats," James explains. "We can reduce the use of pesticides. We can healthily raise monarchs, or at least provide food for monarch butterflies in our gardens."
This year's run will have pandemic protocols in place to make sure everyone stays safe. Only two runners are en route at a time, meaning there is plenty of space for physical distancing. In addition, any water, food, or gel for runners will be sanitized at rest points. People not running who cannot physically distance themselves will be required to wear a mask.
James hopes to garner support and encouragement for Monarch Ultra runners from communities along their route. Her dream, she says, is to have people cheering on the runners every hour of the relay run.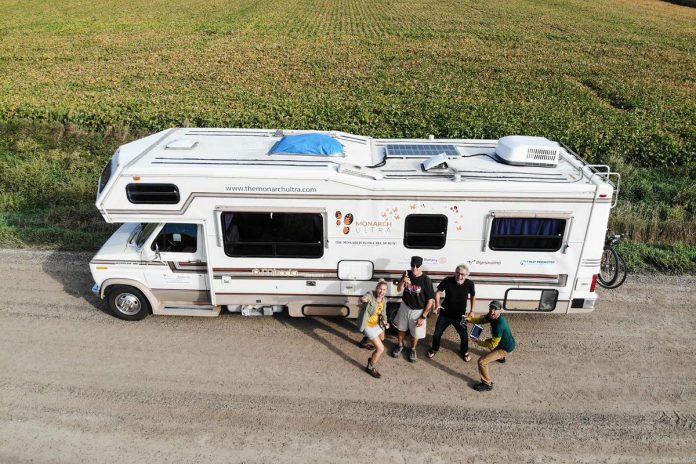 To keep up with the run and find out where you could stop by and show your support, follow the Monarch Ultra on Facebook, Instagram, and Twitter.
"We will do lots of social media stories," James says. "Two years ago, we had about 40,000 people following us on Facebook."
The relay run still has 20 vacant spots for ultra and long-distance runners to fill. James is committed to filling those spots if they remain vacant, but hopes to have them filled by the start of the run on September 19.
"Come on, people," she urges. "We need you to sign up. We need your legs. We need your voice."
To register as a runner for the relay run, visit raceroster.com/events/2021/40048/monarch-ultra-relay-run. A complete map of the route is also available at https://www.plotaroute.com/route/1422512.
Visit the Monarch Ultra website at themonarchultra.com for more information about the run and its mission.