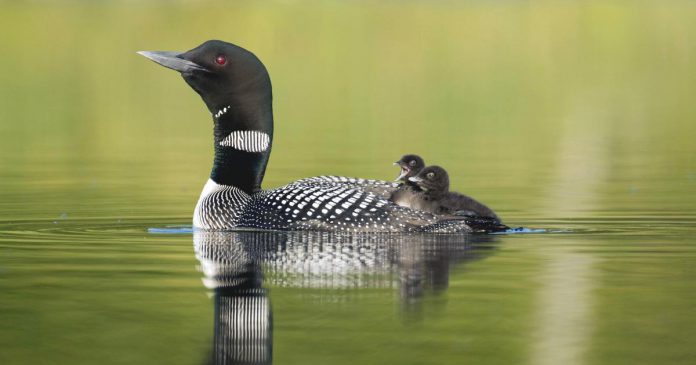 Anyone who has ever spent time on a lake in the Kawarthas has heard the plaintive wail or tremulous call of the common loon, with photographers relishing the opportunity to capture the iconic bird's profile or, if they're lucky, a mom with her chicks.
But new Canadian research reveals something is wrong with the loon, raising a red flag about the health of the species as well as the health of Canada's lakes.
On Monday (August 23), Birds Canada — a non-profit organization whose mission is to conserve wild birds — released the Canadian Lakes Loon Survey, a study based on 40 years' worth of data submitted by volunteer citizen scientists who have been watching loons on lakes across Canada and submitting their observations since 1981
Advertisement - story continues below
While the data collected through the survey has contributed to loon and lake conservation and increased public awareness of the importance of loons and healthy lakes, researchers with Birds Canada have also used it to identify an alarming trend: in the past three decades, the loon has experienced mysterious declines in the number of chicks surviving to adulthood across southern Canada.
Previously, the decline in loon chicks raised to independence has been formally documented in only one other study, which was focused on a single county in northern Wisconsin. Thanks to the contributions of thousands of citizen scientists, the Canadian Lakes Loon Survey provides the first evidence the problem is much more widespread.
"Without the dedication of the volunteers providing reliable and carefully collected data, the world would have no idea the common loon is in trouble in such a wide area," says Dr. Doug Tozer, director of waterbirds and wetlands for Birds Canada, in a media release.
While scientists aren't sure why there has been a decline in common loon productivity, they have a working hypothesis.
Using the massive amounts of data from the survey, they explored the impact of more than a dozen different factors, including acid rain, fish mercury contamination, shoreline development, boating activity, predation from bald eagles, competition from double-crested cormorants, and weather variables.
After ruling out many possible causes, researchers believe the complex interplay between global warming, damage from acid rain, and mercury pollution may be at least partly to blame for the decline in common loon productivity. Further research is now underway to test this hypothesis.
While this research continues, Birds Canada is also encouraging more citizen scientists to volunteer to help find the cause for the decline and determine conservation actions that will halt the decline.
Advertisement - story continues below
Birds Canada is also encouraging everyone to take precautionary actions now to protect the common loon. These include minimizing boat wakes (which can damage loon nests on shorelines), using non-lead fishing tackle, disposing of fishing lines properly, reducing your carbon footprint, and conserving the native wetland plants that provide shelter for loon chicks and the fish habitat that feeds loons.
"Without the haunting cry of a loon from a distant lake, the northern woods would just feel wrong," Dr. Tozer says.
To find out more about the Canadian Lakes Loon Survey, how to become a citizen scientist for Birds Canada, and for tips to help loons, visit www.birdscanada.org/loons.
VIDEO: The Canadian Lakes Loon Survey