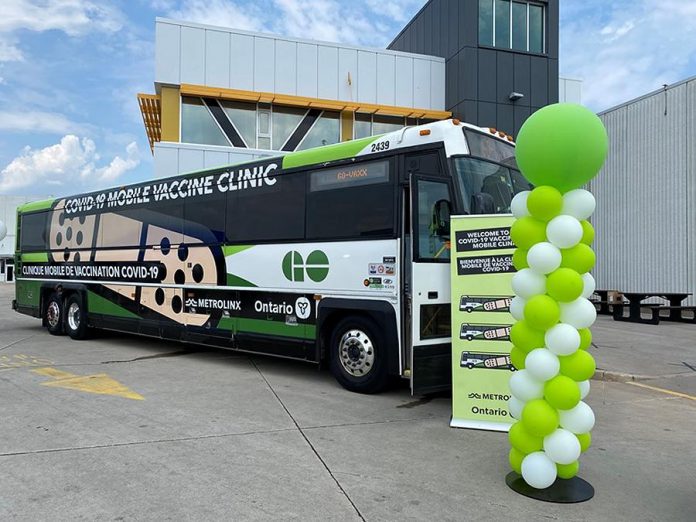 The Haliburton, Kawartha, Pine Ridge District Health Unit is bringing a COVID-19 vaccination clinic on a modified GO Transit bus to Haliburton and Lindsay in September.
A partnership between the Ontario government and Metrolinx, two GO-VAXX buses have been travelling to malls, festivals, community hubs, and events over the summer.
A GO-VAXX bus will be in Haliburton County from 1 to 4 p.m. on Sunday, September 19th. The bus will be at Abbey Gardens at 1012 Garden Gate Drive, located 10 minutes from Haliburton Village (towards Carnarvon) just off Highway 118.
Advertisement - story continues below
On Sunday, September 26th from 5 to 9 p.m., the GO-VAXX bus will be at the Lindsay Exhibition at 354 Angeline Street South, coinciding with the demolition derby at LEX.
"We're pleased to be working with the province and Metrolinx to bring the GO-VAXX bus to our communities," says Doreen Boville, a health promoter with the health unit, in a media release. "We encourage anyone who still needs COVID-19 vaccine to get aboard the bus and get a first or second dose so they are fully protected against COVID-19, especially as we head into a fourth wave."
Each GO-VAXX bus operates as a fully functioning vaccine clinic, with the necessary supplies and trained staff to provide assistance to people and ensure vaccines are administered safely. All COVID-19 safety precautions are followed on board, including the required pre-vaccination screening and post-vaccination monitoring.
The buses are fully accessible and no appointment is needed.
Anyone wishing to take advantage of the GO-VAXX bus to receive a vaccine is reminded to bring their health card. If you do not have a health card or your health card is expired, bring another form of government-issued photo identification such as a driver's license, passport, Status card, or birth certificate.
The health unit recommends you dress for the weather in case there is a line-up, while wearing clothing that allows for easy access to the upper arm such as a loose-fitting shirt or top.
Wear a mask that covers your nose, mouth, and chin and do not visit the GO-VAXX bus if you have symptoms of COVID-19.