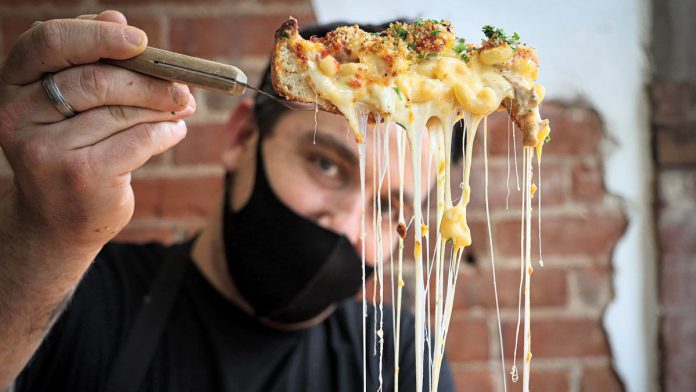 Paying homage to le fromage is nothing new for cheese lovers the world over but when you toss macaroni into the mix, well, that leads to all kinds of culinary possibilities.
Locally, that timeless food combination is at the heart of the inaugural Peterborough Mac + Cheese Festival that, during October, will see 18 downtown Peterborough restaurants put their best comfort food foot forward in a bid to be declared mac 'n' cheese champion, which comes with a trophy and all the associated bragging rights.
Organized and presented by the Peterborough Downtown Business Improvement Area (DBIA), the festival is being staged in conjunction with Kawartha Food Share, which will receive a donation in the winning eatery's name.
Advertisement - story continues below
In addition, each participating restaurant will collect non-perishable food donations for Kawartha Food Share at their respective locations.
A list of all participating restaurants, and a map of their locations, is available at www.ptbomacandcheesefest.com.
Festival participants can dine in or order takeout and then vote for their favourite mac 'n' cheese dish online via the website.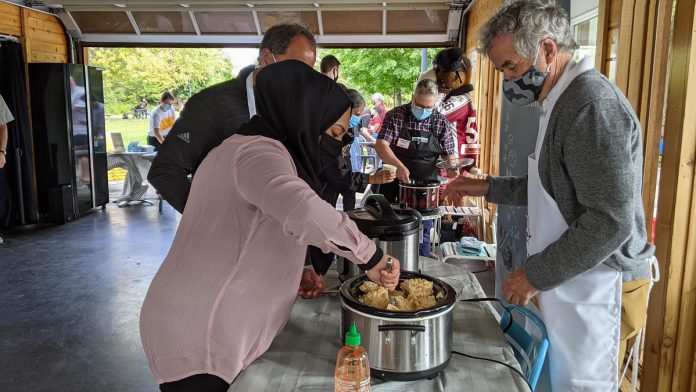 On Tuesday (September 21) at the Silver Bean Café in downtown Peterborough, the DBIA revealed details of the festival. In addition, a mini mac 'n' cheese competition was held involving the Peterborough Petes (represented by team mascot Roger), Kawartha Food Share's Kim Sanderson, and Trent University president Dr. Leo Groarke, with the latter noting he's not quitting his day job to become a chef any time soon.
"Mac 'n' cheese isn't one of my things — I shouldn't admit that — but it is important to our students," said Dr. Groarke, adding, "We tried to create a mac 'n' cheese that we think would be appropriate for students."
"We have a vegan and we have a meat," he said. "In the vegan one, there are two special ingredients. One is cilantro. We put three or four cheeses including Parmesan. We wanted to have some kick to it. But in the meat one, the real secret ingredient is bacon. We asked around and were told to put lobster in it. Well, students can't afford lobster, so instead we put hot dogs in it. We're calling that 'student lobster'."
Advertisement - story continues below
The traditional post-secondary student connection to mac 'n' cheese wasn't lost on DBIA executive director Terry Guiel when organizing the festival was initially discussed.
"We really felt that if we can connect Trent University and Fleming College with our downtown, it's a win," said Guiel.
"What better way to do that than connecting them with the downtown than through a food that's historically connected to students? We have so many unique restaurants downtown. A hamburger is a little too boxed in, where mac 'n' cheese is exciting in terms of where it can go."
"We have a lot of dairy farms around here, and cheese manufacturers," Guiel explained. "We're going to integrate them more in this as we move forward. As the event grows, we're going to look at sponsorships and partnerships that connects them to this event."
During a lengthy stretch that has seen a number of popular annual DBIA-organized events such as Ribfest, Taste of Charlotte, and Hootenanny On Hunter cancelled due to pandemic restrictions, Guiel says the need for "a safe, passive event" became clear, adding the festival is the advent of what may well become a new direction for DBIA events.
"You take a break and you have time to evaluate. Every event has its end time. We're evaluating what events we want to continue with and whether large events are something the DBIA should be doing, quite frankly."
Advertisement - story continues below
"We're trying to take the DBIA on a different path, concentrating more on beautification and public art," Guiel noted. "Events take a lot of money and an exorbitant amount of time. I see a host of smaller events like this and less of the big major festival events."
Thrilled over the staging of the Peterborough Mac + Cheese Festival is Tracie Bertrand, director of tourism with Peterborough and the Kawarthas Economic Development.
"The culinary aspect really drives local visitors to the region," she said. "Peterborough and the Kawarthas, and downtown Peterborough, really punch above their weight when it comes to culinary experiences."
"We consider it innovative whenever you add a culinary component to an event. Everyone has to eat. Mac 'n' cheese — how much more innovative can we get?"
"Entrepreneurs and small business owners are constantly thinking of ways to do things different. We've see that here in Peterborough and the Kawarthas. Yes, it's been a really hard time for all of them but we've seen some really innovative things that I think are going to stick."
Restaurants and eateries participating in the Peterborough Mac + Cheese Festival include:
Dreams Café and Bistro
The Food Forest
One Eighty Sports Pub
Sam's Place
La Hacienda Mexican Restaurant
The Dirty Burger Company
The Black Horse Pub
Real Thai PTBO
Taso's Restaurant and Pizzeria
The Boardwalk Lounge
Amandala's Restaurant
BrickHouse Craft Burger
The Whistle Stop Café
McThirsty's Pint
Nateure's Plate
Dr. J's BBQ & Brews
Champs Bar and Grill
Pizza Bodega
For more information on the Peterborough Mac + Cheese Festival, including photos of some of the mac 'n' cheese creations and a map of participating restaurants, visit www.ptbomacandcheesefest.com.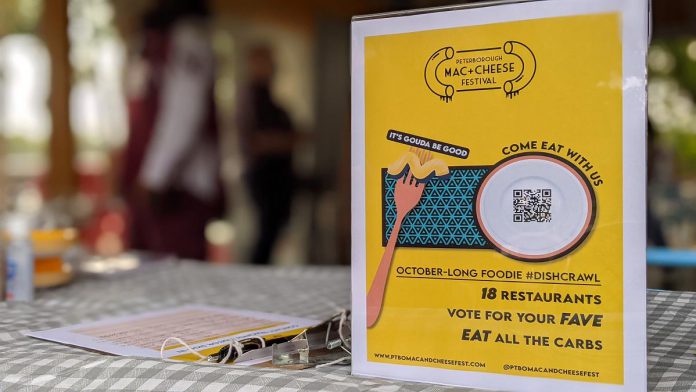 This story has been updated to correct the name of the representative from Kawartha Food Share.