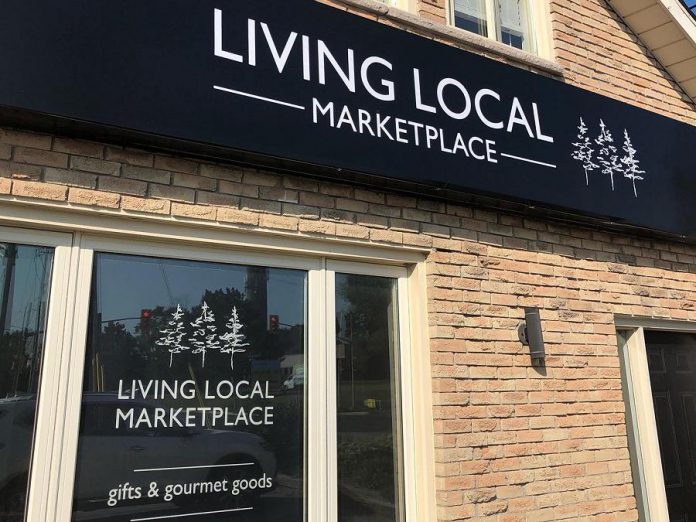 businessNOW™ is our monthly round-up of business and organizational news from Peterborough and across the greater Kawarthas region.
In this month's column, we feature the opening of Living Local Marketplace in Peterborough on September 24, Peterborough author Michelle Berry's novel being adapted to the screen, Peterborough author Joanne Culley's latest novel available on September 24, Peterborough-area paralegal Rebecca Tripp launching a new business, and Peterborough's Baked 4U bakery under new ownership in October.
We also feature the new executive director of Heads Up for Inclusion in Peterborough, the Peterborough District Masonic Association donating $20,000 to YWCA Crossroads Shelter, Habitat for Humanity opening its new ReStyle store in Peterborough's Lansdowne Place Mall, Cottage Toys breaking ground on a new retail location in Lakefield, and Manitoulin Transport opening a new terminal in Peterborough.
Advertisement - content continues below
Living Local Marketplace opens in Peterborough on September 24
Alicia Doris, founder of online subscription box business Living Local, is opening a new retail storefront in Peterborough on Friday (September 24).
Located at 1179 Chemong Road, across from Portage Place, Living Local Marketplace provides an in-person alternative to Doris' online offerings.
Living Local sells gift boxes featuring artwork, bath and body products, food and drink, and lifestyle products by artisans and small businesses from across Peterborough and the Kawarthas. You can subscribe to a seasonal box or build your own online, and now you can shop in person as well.
Doris, who was most recently communications director at The Canadian Canoe Museum before becoming a small business owner last year, also recently launched a sister business to Living Local, called Living Local Ontario.
In fall 2020, the Lakefield resident received a $5,000 microgrant from Starter Company Plus, a provincially funded entrepreneurial program administered by Peterborough & the Kawarthas Economic Development. Earlier this month, Living Local was named as a finalist in the entrepreneur innovation category of the Kawartha Chamber of Commerce & Tourism's Awards of Excellence.
The opening weekend hours for Living Local Marketplace are 10 a.m. to 5 p.m. Friday to Sunday.
For more information about Doris' businesses, visit www.livinglocalbox.com and livinglocalontario.com.
Peterborough author Michelle Berry's novel to be adapted to the screen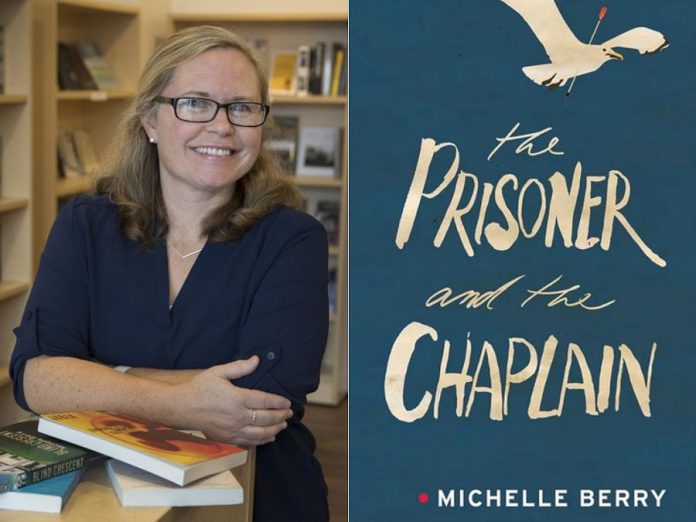 Peterborough author Michelle Berry's 2017 novel The Prisoner and the Chaplain is in development with Canadian actor Gabriel Hogan (Heartland, Traders, The Associates, Tacoma FD) and Canadian producer and director T.W. Peacocke (Schitt's Creek, Traders, North of 60, Murdoch Mysteries) for a future screen adaptation.
Berry has also recently published her latest novel, the literary thriller Everything Turns Away, available from Wolsak and Wynn Publishing and at bookstores. It weaves together the story of two couples whose lives are about to be unravelled by the murder of a neighbour, a babysitter that has gone missing, and the aftermath of the collapse of the World Trade Center.
In 2016, Berry opened Hunter Street Books in downtown Peterborough. She closed the physical store last summer, but continues to operate an online bookstore and rents space in Meta4 Contemporary Craft Gallery.
Peterborough author Joanne Culley's latest novel available September 24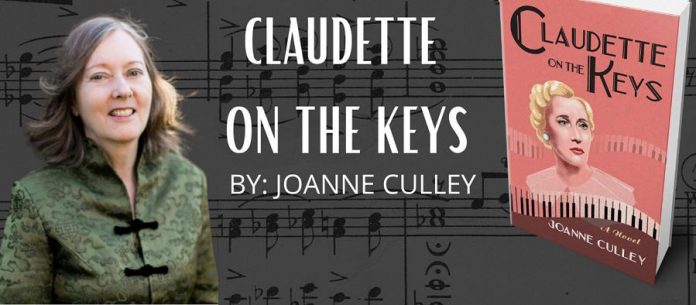 Peterborough author Joanne Culley's latest novel Claudette on the Keys is being released on Friday (September 24) by Crossfield Publishing.
Set during the Great Depression and inspired by true events, the story is about a female pianist who follows fortune but instead finds fascism on the rise in this tale of intrigue in pre-war times.
"The book was inspired by my grandmother Ida, stage name Claudette, a child piano prodigy who continually re-invented herself during her life, from demonstrating pianos in showrooms, to playing live for the silent movies, and becoming part of a two-piano four-hands team with my grandfather Harry, playing on radio and onstage at Toronto theatres such as Shea's Hippodrome, to performing the songs of the day such as George Gershwin's Rhapsody in Blue," Culley writes in an email to kawarthaNOW.
Advertisement - content continues below
"The novel tells about how Ida and Harry, known as the Black and White Spotters and Toronto's premiere two piano artists, had regular shows on CFRB and CKCL, but lost everything in 1936 when the show sponsors withdrew," Culley explains. "They travelled to England to work on the music hall stage and on Radio Luxembourg, a commercial station that was challenging the BBC's monopoly at the time."
An award-winning writer and documentary producer, Culley's first book was Love in the Air: Second World War Letters, a historical memoir telling the wartime love story of her parents, 24-year-old Helen Reeder and 29-year-old Harry Culley.
There will be an online book launch for Claudette on the Keys on YouTube on Friday from 7 to 7:30 p.m., with a book signing at META4 Gallery (164 Hunter St. W., Peterborough) from 2 to 4 p.m. on Saturday. For more information, visit facebook.com/ClaudetteOnTheKeysNOVEL/.
Peterborough-area paralegal Rebecca Tripp launches new business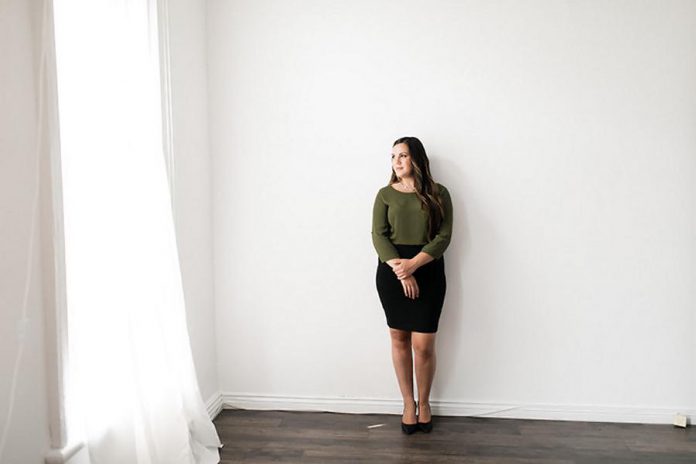 Peterborough-area paralegal Rebecca Tripp has launched her new business, the Immigration & Paralegal Law Office of Rebecca B. Tripp, offering paralegal and notary public services, immigration representation and coaching services, and legal outsourcing services.
"As a Trent University and Fleming College grad, I noticed a significant gap in the market regarding the support of young adults navigating the legal system," Tripp tells kawarthaNOW. "From study permits to lease agreements and employment contracts, the legalities of adulthood can be overwhelming. As a Licensed Paralegal and Regulated Canadian Immigration Consultant (RCIC), my goal is to provide approachable and personalized support to those who need it."
Her business provides assistance to foreign nationals who wish to come to Canada, including help with visas and permits, as well as providing legal outsourcing to fellow legal professionals — a service she has already been providing for the last year as a paralegal.
"Through working in both a multi-national law firm and as the lead of legal for an in-house legal department, I noticed the demand for efficient support within law firms, but only during peak times," she explains. "Offering contracted support gives small law firms peace of mind that the resources are there, when they need them."
For more information, call Tripp at 705-977-5494 or visit rebeccabtripp.com.
Peterborough's Baked 4U bakery under new ownership in October
Baked 4U, a neighbourhood bakery located at 1837 Lansdowne Street West in Peterborough, will be under new ownership as of October 4.
After six years, Janet and Brian Healey are selling the business.
"As the business has evolved, our lives have also changed since starting our little west-end bakery," the pair write on the bakery's website at www.baked4u.ca. "That being said, after much consideration, we decided to sell the bakery and begin a new chapter in our lives."
The new owner is Sandi Wiggins, who will take over as of Monday, October 4th, although Janet will be assisting Sandi for a couple of weeks thereafter to ensure a smooth transition.
"Thanksgiving orders will be limited this year due to the timing of the change in ownership, so please get your orders in early," Janet and Brian write.
Tiffany Christie is new executive director of Heads Up for Inclusion in Peterborough
Tiffany Christie is the executive director of Heads Up for Inclusion, a non-profit organization in Peterborough dedicated to promoting the development of meaningful connections and inclusion of youth and adults.
A Fleming College graduate with a background in developmental services, disabilities studies and alternative communication, Christie has been involved with Heads Up for Inclusion for four years, first as a board member and then as an employee.
Christie, who began in her new role on September 7, is taking over from Christa McCorquodale.
Advertisement - content continues below
Peterborough District Masonic Association donates $20,000 to YWCA Crossroads Shelter
The Peterborough District Masonic Association has donated $20,000 to YWCA Peterborough Haliburton's Crossroads Shelter.
YWCA Crossroads Shelter provides physical safety, 24-hour support, nutritious meals and personal care essentials for women and children in crisis.
"Community leaders like the Masonic Association who prioritize equity, safety, and an end to gender-based violence are absolutely vital to our organization," says Kim Dolan, executive director of YWCA Peterborough Haliburton. "We sincerely appreciate the commitment of local association members, and those who generously support their fundraising efforts on behalf of the YWCA each year."
Tom Mortlock, in his role as district deputy grand master and along with his family, has been actively involved in the YWCA's fundraising events for many years, believing that support services for women and children fleeing abusive situations are very much needed in our community.
"The vital and essential services provided by the caring YWCA Family is a resource that the Masons of Peterborough District were very proud to support again this year," Mortlock says.
Applications for fall intake of Starter Company Plus program close September 26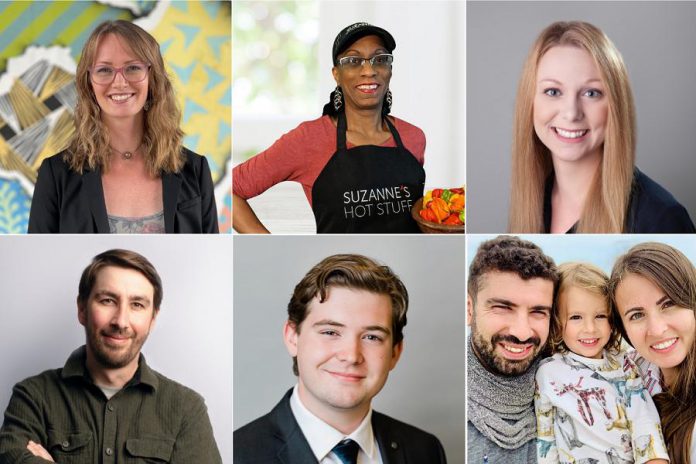 Applications for the fall intake of Starter Company Plus, an entrepreneurial program funded by the Ontario government and administered by the Peterborough & the Kawarthas Business Advisory Centre, close on Sunday, September 26.
The program offers 12 participants a five-week online business training course, after which six entrepreneurs will each receive a $5,000 microgrant based on the strength of their business plan and pitch.
In the summer intake of the program, the following six businesses were awarded funding:
Chris Carvalho of East City Knife Sharpening, offering knife sharpening for all types of knives with 24-hour turnaround service
Emily Nigro of Dead End Lures, a family-owned eco-friendly fishing lure company
Kelsey Watts of Worthy Truth Wellness, offering mindful movement yoga classes in a kind space of compassion and non-judgmental awareness
Lucas Graham of Countdown Creative, a full-service e-Commerce agency that helps small businesses start selling online
Suzanne Schmidt of Suzanne's Hot Stuff, offering hand-crafted and small-batch gluten-free hot sauces, pepper jellies, jerk marinade, mango salsa, and more
Tuncay Alkan and Laura Wilson of MEZE, a vegan deli and café serving traditional Turkish food and drink.
To apply for the fall intake of Starter Company Plus, visit peterboroughed.ca/starter
Habitat for Humanity's ReStyle store now open in Peterborough's Lansdowne Place Mall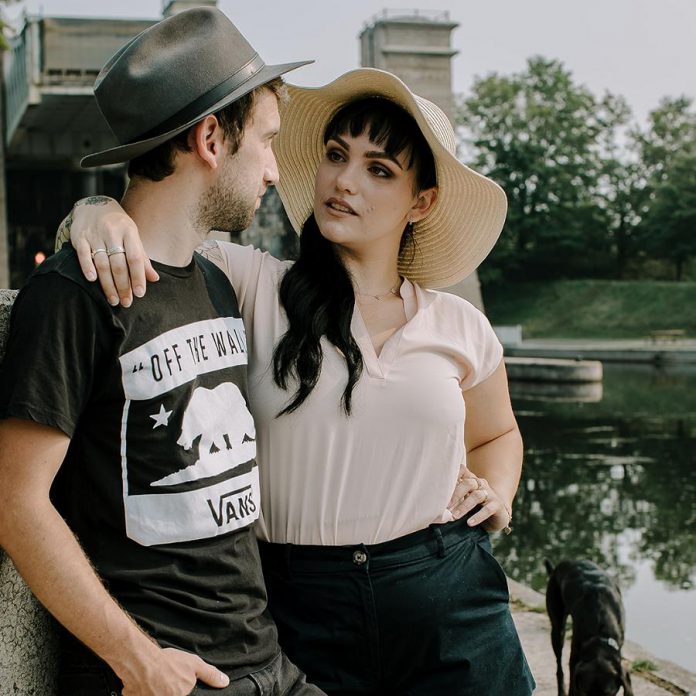 Habitat for Humanity Peterborough & Kawartha Region has opened ReStyle, a new second-hand clothing store, at Lansdowne Place Mall in Peterborough.
The store is located on the lower level of Lansdowne Place at 645 Lansdowne Street West, beside Sport Chek. The store features men's, women's, and children's clothing and accessories.
All items at the store are tax free, with new items arriving daily. Proceeds from the sale of items at the store will help fund Habitat for Humanity's efforts to build affordable homes in the region.
If you have new or gently used clothing to donate, you can take the items to one of the three ReStores in Peterborough and Lindsay (donated items cannot be accepted at ReStyle).
For more information, visit habitatpeterborough.ca/restyle/
Cottage Toys breaks ground on new retail location in Lakefield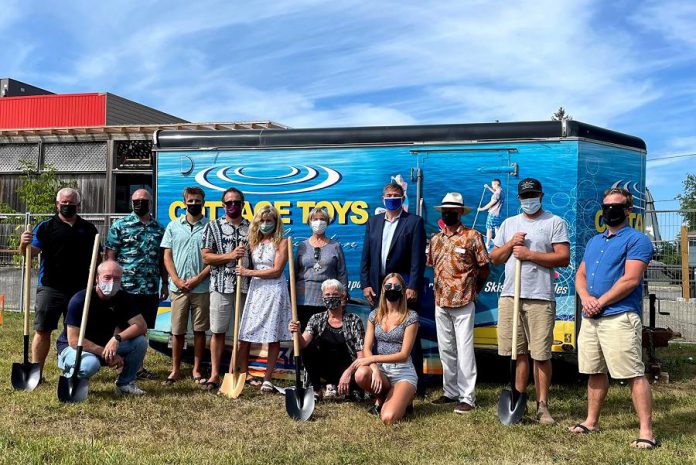 Watersports retailer Cottage Toys has broken ground for its new retail location at 37 Concession Street in Lakefield.
Owners Donna and Andrew Rork purchased the land on the corner of Queen Street and Concession Street, the location where they began the business in 1989.
"When you sell watersport equipment like kayaks and paddle boards, you need a lot of space to properly display them," Donna says. "Our new showroom will give us the space we need, more parking, and high visibility when you drive through Lakefield."
Cottage Toys currently has locations in Lakefield, Peterborough, and Stoney Lake. The new retail location will operate year round.
Four Points Construction has been awarded the building project, which is expected to be completed by May 2022.
Manitoulin Transport opens new terminal in Peterborough
Trucking services provider Manitoulin Transport has opened a new terminal at 1900 Technology Drive in Peterborough.
The 10,088 square-foot facility, with 10 dock doors and an outdoor ramp, will increase operating capacity by more than 30 per cent. Two additional employees will be added to the existing nine to manage increased volumes.
"In a time when many businesses are closing or leaving smaller markets, this investment affirms Manitoulin's commitment to being in Peterborough for the long term," says Jeff King, Manitoulin Transport president, in a media release. "Operating out of local communities like Peterborough allows Manitoulin to provide superior service and direct coverage for our customers. This new terminal increases our shipping capabilities, improves shipment handling, and creates a safe and efficient work environment for our teams."
The new Peterborough facility is part of Manitoulin's extensive network of 82 terminals across Canada. Manitoulin offers a wide array of trucking services including expedited less-than-truckload and truckload, transborder, intermodal, private fleet, guaranteed service, temperature-controlled, dangerous goods, and supply chain management.
Advertisement - content continues below
Other business and organizational news
Kaitlynn McLennan has opened The Green Treefrog, which offers Canadian-made refillable and eco-friendly products for bath, body and home, at 42B Bolton Street in Bobcaygeon.
George Eliopoulos and Adam Tomic have opened Gyros & Pizza Express at 74 Bolton Street in Bobcaygeon.
One Eyed Jack has opened a new location at 171 Kent Street West in downtown Lindsay, the former location of The Grand Experience.
Thairapy Beauty Bar has moved to a new location at 3 Kent Street West in downtown Lindsay.
For business-related events in the Kawarthas, check out our Business Events column.