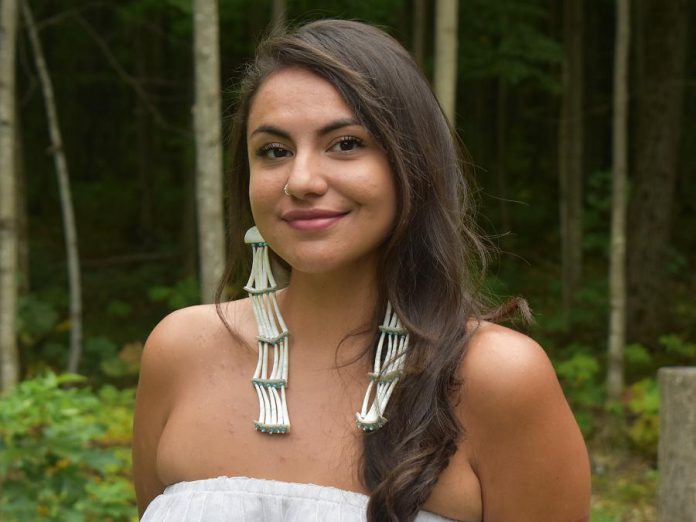 Sarah Lewis, a spoken word artist from Curve Lake First Nation, has been selected as Nogojiwanong-Peterborough's first poet laureate.
The Electric City Culture Council (EC3) and the City of Peterborough made the announcement on Thursday afternoon (September 23).
Lewis will serve in the honorary position — established to recognize the excellence and outstanding achievements of local professional poets (both print/page and spoken word) and to enhance civic identity — from September until April next year.
Advertisement - story continues below
In her role, Lewis will create and present four new works for various civic occasions, including city council meetings and city events and occasions, as well as undertake a program of special events and activities to promote literacy, poetry, local arts, culture, and civic identity.
She will receive an honorarium of $2,000 and an additional $500 from EC3, provided by an anonymous donor.
Lewis is an Anishnaabe Kwe (Ojibwe/Cree) spoken word artist from Curve Lake First Nation who has lived in Peterborough and holds a bachelor's degree in social work from Trent University.
She is a member of the 2019 Peterborough Poetry Slam Team, as well as a national semi-finalist at the 2019 Canadian Festival of Spoken Word, who has performed her works at approximately 15 slam poetry competitions and dozens of community events. Lewis' work has been published in the Edmonton Indigenous Artists Anthology and she will soon be featured on CBC's Arts YouTube channel.
"She is a mother, social justice activist, performer, community organizer, dreamer, and curious spirit in pursuit of answers about the universe," reads a media release from EC3. "Her poetry highlights the struggles and, more importantly, the resiliency within Indigenous communities."
Lewis was selected as poet laureate through a multi-step competitive process by a committee including well-recognized writers, academics, poets, songwriters, and spoken word artists Jon Hedderwick, Gordon Johnson, Lillian Allen, Andrew Ihamaki, and Nick Ferrio. The selection was reviewed and endorsed by the City of Peterborough's Arts, Culture and Heritage Advisory Committee (ACHAC).
Advertisement - story continues below
During the selection process, three candidates were shortlisted, participated in an interview, and presented their work to the selection committee. The other two finalists were accomplished artists Justin Million and Ziysah von Bieberstein.
"The selection committee was deeply impressed by the beauty of Sarah Lewis' language, the remarkable 'architecture' of her work, the creativity and finesse of her presentation, and the all-embracing concepts she brings to bear on ideas about community, citizenship, history and identity," reads a media release.
The City of Peterborough is responsible for the Poet Laureate Pilot Program, administered by the Electric City Culture Council (EC3) under the guidance of ACHAC.
Peterborough Mayor Diane Therrien will introduce Lewis at the city council meeting scheduled for 6 p.m. on Monday, September 27.
"Through poetry, a poet laureate inspires us and encourages us to reflect on our lives and the life of our community," Therrien states in a media release. "Thank you to Electric City Culture Council for working with the city to create this exciting new pilot program."
"The arts community is a key part of the cultural, social and economic vibrancy of Peterborough," Therrien adds. "Our first poet laureate is arriving at a milestone in the history of our community as we look forward to emerging from the COVID-19 pandemic when we will build back better together."