Construction on the new Canadian Canoe Museum on Ashburnham Drive in Peterborough will begin in October, with an expected completion date in 2023.
The museum announced on Wednesday (September 29) that it has signed a $27.4 million integrated project delivery contract with Chandos Construction Ltd. and Lett Architects Inc. for design and construction work for the new facility on the Johnson Property at 2077 Ashburnham Drive.
The museum completed the purchase of the Johnson Property from the City of Peterborough last Wednesday, paying $1.58 million for the five-acre parcel of land. The sale was subject to a number of conditions including rezoning, project validation, and confirmation of site appropriateness, all of which have been met to the satisfaction of both the museum and the city.
Advertisement - story continues below
"Canadian Canoe Museum is thrilled to have completed these critical milestones so that we may commence with construction as planned in October," says the museum's executive director Carolyn Hyslop in a media release. "Our project team is working at lightning speed to stay on schedule so that we may be ready to open the new museum in 2023."
The total cost of the project is $40 million, of which the museum has raised just over 82 per cent, including contributions from all three levels of government as well as the Weston Family Foundation. The museum also intends to sell its current property at 910 Monaghan Road to help fund the project.
The museum is taking an integrated project delivery (IPD) approach to the design and building of the new museum. Unlike traditional design and construction delivery methods, IPD is a collaborative approach where all project stakeholders are brought on board at the very beginning of the project, sign a multi-party contract, and share the responsibility for the project — including the financial risk.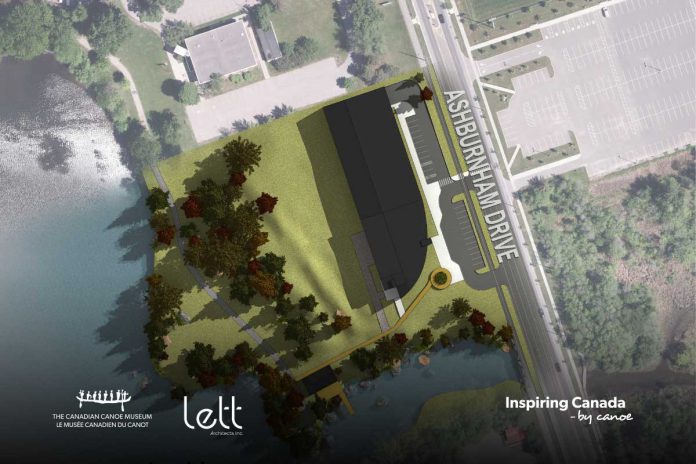 Along with Lett Architects Inc. of Peterborough as the architect and Chandos Construction Ltd. of Toronto as the general contractor, other project partners include LEA of Markham as structural engineer, Kelson Mechanical of Sharon as the mechanical trade partner, DG Biddle & Associates of Oshawa as mechanical and electrical engineer, Lancer Electric of Peterborough as electrical trade partner, and Engage Engineering of Peterborough as civil engineer.
The Johnson Property is located north of Beavermead Park and south of the Parks Canada-Trent Severn Waterway head offices. The new museum will be built on a flat portion of the property, away from the floodplain, on the open land along Ashburnham Drive so as to preserve the existing trail, shoreline, and natural waterfront.
The new facility will house the museum's complete collection of canoes, kayaks, and watercraft in a building that meets Class A conservation standards. With its location on the water, the museum will be able to offer increased on-water and in-person programming.