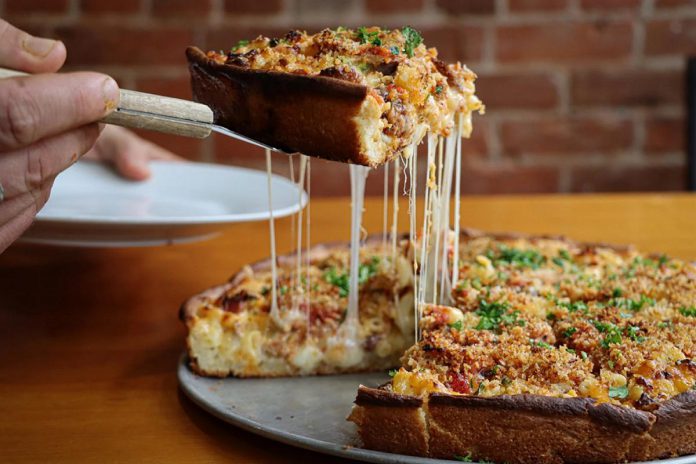 Mac and cheese fans will love the variety of carb-loaded dishes coming to downtown Peterborough for the month of October during the first-ever Mac + Cheese Festival — and they'll also find comfort in their hearts knowing they are supporting locally owned restaurants while also helping to address food insecurity for those in need.
The brainchild of the Peterborough Downtown Business Improvement Area (DBIA), the Mac + Cheese Festival is the ultimate festival for lovers of the comfort food. Dishes range from classic macs to adventurous and fancy macs, created especially for the festival by 18 downtown restaurants including pubs, cafes, delis, burger joints, pizzerias, and fine dining and vegan restaurants.
"Peterborough's downtown offers the best culinary experience in the region, including a diverse array of restaurant experiences that bring the flavours of the world together in one place," says DBIA executive director Terry Guiel.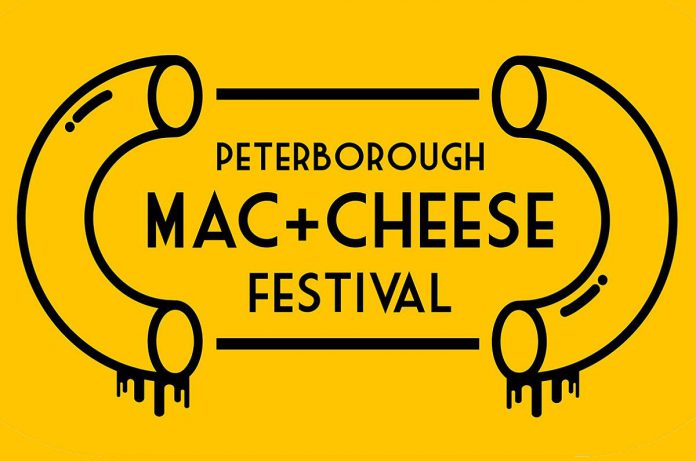 "To showcase this quality that our downtown restaurants possess, we decided to bring the king of comfort food — mac and cheese — to their kitchens and let them create cheesy masterpieces," Terry explains. "Hopefully this initiative will introduce new customers to a restaurant they haven't yet experienced. Mac and cheese will definitely get people's hunger on and entice them with the temptations that only cheesy dishes can bring."
Hillary Flood, the DBIA's communications manager, says the participating restaurants have embraced the concept behind the festival. Some, like Real Thai PTBO, are adding an "international flair" to the dish, while The Boardwalk Board Game Lounge is taking fall-centric approach by serving their mac and cheese dish in a miniature pumpkin.
"Sam's Place is also thinking very outside-the-mac with a mac and cheesewich," she adds.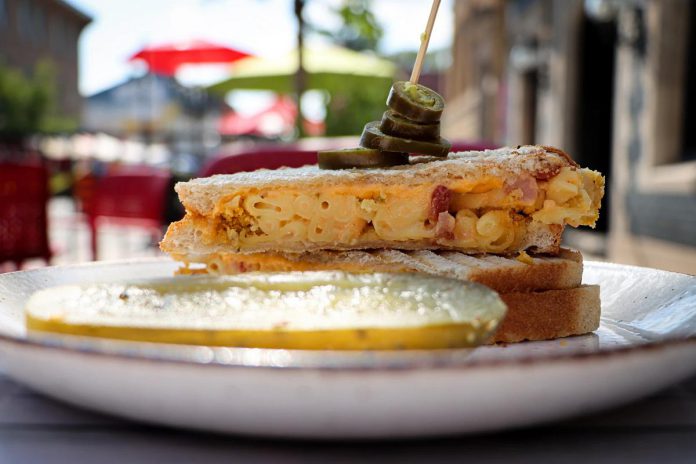 "It's a competition, and of course some folks are in it for the glory," Hillary says. "But our 18 restaurant partners are just happy to help bring a little comfort back into the community. I don't think it gets any more comforting than mac and cheese."
The festival will culminate with the crowning of a Mac + Cheese Champion who will win a "cheesy hand-crafted trophy", according to Hillary, along with a "sizeable donation" made to Kawartha Food Share in their establishment's name. The champion will be selected by festival goers, who will be able to vote for their favourite dishes online at www.ptbomacandcheesefest.com all month long.
"We are excited to see how our COVID-friendly festival will help keep local momentum going for our restaurants after patio season ends," Hillary adds. "We couldn't be prouder of the incredible dishes the Peterborough Mac + Cheese Festival will have on offer this October."
Battle of the pizzerias
Taso's Restaurant and Pizzeria and Pizza Bodega are taking the festival's carby shenanigans to unparalleled heights, with Taso's offering a Chicago-style deep dish mac and cheese pizza and Pizza Bodega a thin crust New York-style version.
Pizza Bodega owners Sean Crooks and Jennifer Assally, who opened the doors to their popular restaurant around two months ago, were excited to get involved when they found out about the festival.
"We decided to join because we can get some exposure in Peterborough and get our restaurant's name out there," Sean says. "It just seems like a great opportunity for a new business like ours."
"My girlfriend and I are very carb-heavy people," Sean points out. "We like carbs — we're not afraid of them. Mac and cheese is a classic dish and we've eaten it since we were kids. I've made different renditions at restaurants that I've worked in. It's one of those dishes you just can't pass up."
Sean says that his goal was to load his dish with carbs and create a homemade masterpiece worthy of any dieter's cheat day.
"Pizza dough has a lot of flour of course, so we tried to make the sauce without flour," he explains. "We decided on a straight-up cheese sauce. We added double-smoked ham, and our garlic parmesan sauce is part of the base to ensure it doesn't dry out."
"Fresh mozzarella, dry mozzarella, and parmesan make up the three staple cheeses in the dish. Noodles add more carbs and then we've topped it with chives and a crunchy Cheetos crumble to add a little bit of texture."
"If you're coming to a Mac + Cheese Festival, you're probably not looking to cut back on your carbs," Sean laughs. "You're definitely not on the Keto diet."
Sean says he is happy to be facing off against Taso's Restaurant and Pizzeria, which he believes has included "even more carbs" with their Chicago-style deep-dish pizza.
"It should be very interesting," Sean says. "A fun little challenge to encourage people to come downtown and try something new. Most festivals last just a few days — this is going to last for a month and people don't have to gather in large groups to participate. A lot of mac and cheese will be consumed over the month of October in Peterborough."
For his part, Taso's owner and chef Taso Hatzianastasiou says that he "loves a challenge" and sees the festival as his perfect opportunity to create a very "unique pie."
"The festival is an exciting way to bring the community together and give everyone an opportunity to experience something or somewhere new," he says. "I made a classic deep dish Chicago-style pizza with a mac and cheese twist. It's layered with old cheddar and mozzarella, then my three-cheese mac with chorizo, pancetta, and diced jalapeños, and it's finished with a garlic parmesan panko crust for a nice crunch. It's creamy, ultra cheesy, and has a bit of a kick."
Taso is happy to be part of the downtown Peterborough community and considers himself fortunate to call many customers and other business owners by name within his close-knit downtown community.
Mac and Cheese fusion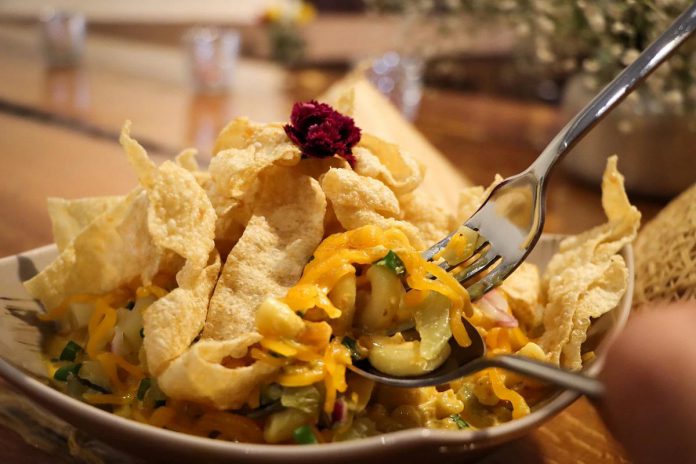 Like Pizza Bodega, Real Thai PTBO opened its doors during the pandemic. Co-owner Sathit Thanomphan (Chef Tom) says that, despite the challenges of opening during a pandemic, he and his wife Samantha are very happy to be operating their new restaurant in downtown Peterborough.
"It is an honour to bring authentic Thai food to this community," Chef Tom says. "It's important to us to participate in a community event. When we came here, I wanted to bring authentic Thai food to Peterborough, and I've done my best to do that. I hope that my kitchen will bring more newcomers here because they've heard that there is a Thai food restaurant they can't miss in Peterborough."
Chef Tom explains that creating a new Thai dish is always a challenge because of the delicate "architecture" of Thai food and flavours that are used. For the mac and cheese challenge, Tom says he opted to "keep it simple", creating a fusion dish based on one of his most popular menu items.
"I based my dish on a very popular Thai dish called Khao Soi," he says. "It's a noodle dish traditionally made with egg noodles, spicy Thai red curry, and coconut milk."
Real Thai PTBO's "Spicy Curry Mac" also features gooey cheese and a crispy wonton topping.
Comfort food bringing comfort
Running in tandem with the Mac + Cheese Festival will be a month-long food drive for Kawartha Food Share. Participating diners are encouraged to bring non-perishable items to any of the 18 participating restaurants.
Kawartha Food Share general manager Ashlee Aitken says they are excited to partner with the DBIA for the premiere Mac + Cheese Festival, as the pandemic has resulted in higher demand among those dealing with food insecurity.
"This year has been particularly hard for our food bank clients as well as the wonderful community members running our 37 member agencies," she explains. "Many people have been without work for long periods of time and have had to rely on our services more than ever. The winter months, especially around the holidays, bring a lot of added expenses for our clients."
"Unfortunately, 16.5 per cent of household in Peterborough are food insecure. Every donation, no matter how small, will ensure we can provide safe and reliable access to emergency food for those who need it most."
During the festival, each participating restaurant will be set up to collect non-perishable food donations. Ashlee says that, while packaged mac and cheese is an item they are always in need of, they are currently short on their supply of pork and beans, canned vegetables, and individually wrapped school snacks (such as granola bars, apple sauce, and fruit chews).
While the fast-approaching Thanksgiving weekend is a time when many people traditionally donate food, Ashlee says donations are needed all year long — especially in the winter months.
"Donations can be dropped in any of our collection bins, at grocery stores, or at our warehouse," adds Ashlee. "Monetary donations can be made on our website. Hunger doesn't end when the holidays do, and we would like the public to know that we accept and appreciate donations all year long."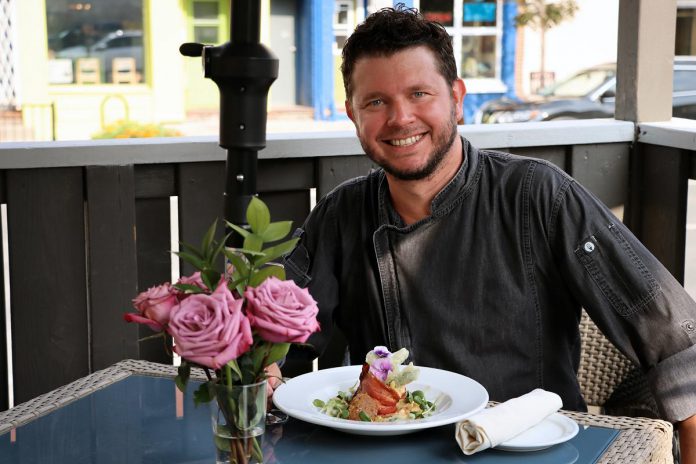 You can support Kawartha Food Share and locally owned restaurants by heading to downtown Peterborough for the Mac + Cheese Festival throughout the month of October. Whether you're looking for a traditional dish, something more unusual, or a vegan or gluten-free option, there's a mac and cheese for everyone's taste.
For more information about the festival, including a description of all the dishes and a map of participating restaurants (which you can also find below), visit www.ptbomacandcheesefest.com, where you can vote for your favourite mac and cheese dishes. You can also follow the festival on Facebook and Instagram.
For more information about Kawartha Food Share and to make a monetary donation, visit www.kawarthafoodshare.com.
MAP: Downtown Peterborough restaurants participating in the Mac + Cheese Festival

View a larger version of this map.
This story was created in partnership with the Peterborough Downtown Business Improvement Area.