It is often in the darkest skies that we see the brightest stars. – Author Richard Evans
Melissa and Alex Lamore are surrounded by stars; bright lights that they can not only see but also hear and sense and, yes, hug.
The Peterborough couple's sky turned dark in July 2020 when a neurosurgeon at Kingston General Hospital confirmed the cause of Melissa's severe migraine headaches and multiple seizures was a brain tumour.
Their sky grew much darker when she was diagnosed with glioblastoma, an aggressive brain cancer with an extremely low survival rate — the same cancer that came to nationwide attention in 2015 when the late Gord Downie, lead singer of The Tragically Hip, was diagnosed.
Advertisement - story continues below
But then the stars showed themselves in growing numbers, bringing light to their world and shining brighter, with each day since.
In February 2021, "Team Mellie" really took flight in the form of a public Facebook group where not only support for the Lamore family — the couple has two children, Megan and Murphy — could be coordinated but also provide a forum for Alex to provide updates on Melissa's battle. As of this writing, that group was closing in on an incredible 600 members.
Also active are two GoFundMe fundraisers to help the couple cover their bills and hospital visit-related expenses in the wake of lost job income.
The first, titled Let's Help Mel Beat This, was created in August 2020 by Melissa's friend Monica Fowler, while the second, titled Help Melissa Lamore And Her Family Fight Cancer, was created in February 2021 by another friend, Catherine Wheeler. Collectively to date, those two appeals have brought in $8,745 for the family.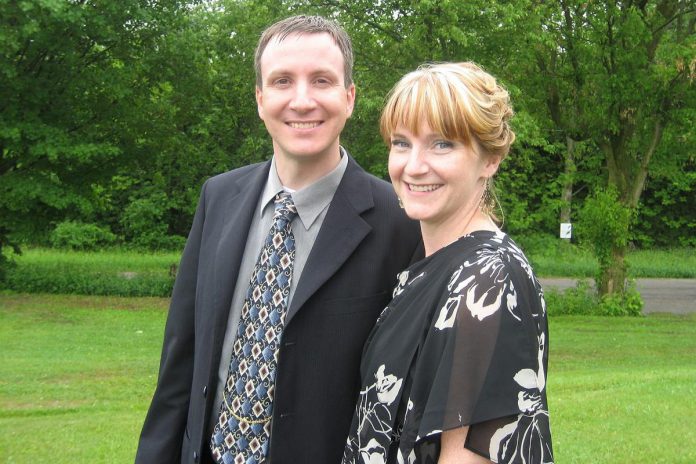 Make no mistake. The darkness will turn darker but the stars — family members, friends, Melissa's hairdressing clients, and complete strangers — are shining brilliantly, easing the pain and frustration of the couple's cancer journey in a very big way.
"Melissa's big concern was how we're going to cover the cost of everything," says Alex, Melissa's full-time caregiver since early August after taking a leave from his job as an insurance broker.
"And then the people came and the money came. Food just shows up at our door. We have what we call the Magic Mailbox. Every day something shows up in it. A friend of Melissa's works at Larry Dow Automotive (in Selwyn). They said that any time our car needs anything, bring it in and they'll look after it for us. We were running back and forth to Kingston two, three times a month. They've got our car tip-top."
Advertisement - story continues below
Rhonda Preston is the founder of the Team Mellie Facebook group. She met Melissa some 15 years ago. It was "an instant connection" as she recalls.
"I was like 'Oh, I've never had a real hairdresser. Can you do something fun to my hair?' She said 'I feel like you should be pink.' She dyed my hair pink and I've been pink ever since. Megan at the time was a year-and-a-half old. I very quickly became Auntie Rhonda. We were inseparable … some interesting and fun nights."
"She's a kind old soul. You feel like she should have been born many, many decades ago. She would do anything for anybody. She's that person who'd be like 'Oh, I saw this and it made me think of you, so I bought it for you.' When she met Alex it was a match made in heaven because he's the exact same way."
Through Rhonda's Facebook group, the support effort was ramped up big time. Keychains, vehicle decals, t-shirts, and hoodies emblazoned with Team Mellie were created and distributed.
"I feel like I'm saying 'Yes' every day to someone who's requesting to join," Rhonda says of the Facebook group. "When Mellie was more lucid and able to have good conversations, she was constantly telling me 'Stop doing this. We're fine. You're going to stress yourself out.' I was like 'That's not an option.' People have stepped out of the woodwork."
"Alex was very self conscious of that help in the beginning. He's usually on the other side — he's never been on the receiving end. He was almost uncomfortable with it. We kept telling him 'Nope. This is how it is.'"
Advertisement - story continues below
Kathy Scollard, a cancer survivor and yet another client of Melissa's, got together gift baskets that were raffled off. And then there's Sarah Scott, another friend and client of Melissa's who has coordinated the collection and delivery of food and meal donations.
"People have helped in any way they can," says the Millbrook resident, who befriended Melissa years at a wedding and subsequently reconnected by chance a number of times.
"People cooked meals and dropped them off," Sarah says. "People messaged me and said they absolutely can't cook and asked if they can send money to purchase groceries for someone else to cook meals. Some live out of town but wanted to send money for restaurant gift cards."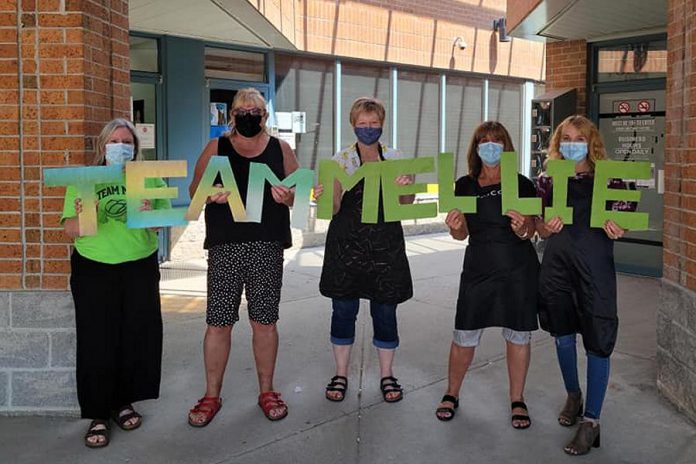 "There's good people in the world but I also think this is a testament to the love that Alex and Melissa have shown other people in their lives — the light that they shine on other people's lives," Sarah says. "People feel compelled and driven to help in any way they can."
Sarah adds that as Melissa's health has deteriorated, it has been very hard on her emotionally.
"You go into something like this feeling like you're going to beat it," she says. "The longer it went on, and the more details that came out, it just felt so unfair. Melissa just shines this bright light. You can't help but love her. I felt instantly connected to her. This whole Team Mellie thing has made me realize that she has that impact on everyone."
Advertisement - story continues below
The Lamore family's cancer journey began on July 1, 2020, when Alex took Melissa to the emergency department at Peterborough Regional Health Centre. "I found her sitting on the couch staring out the window and she wasn't responding to me," he recalls.
That same day, Rhonda had a hairdressing appointment with Melissa.
"Alex called me from the hospital and said Melissa's upset that she has to cancel your appointment," she says. "After all of the testing and finding the tumour, she FaceTimed me when they got home from Kingston and said 'I have a tumour. They're going to remove it.'"
"She knows I'm an emotional person on a good day. She doesn't want people crying but she gives me a bit more leeway. That moment was a hyperventilating cry."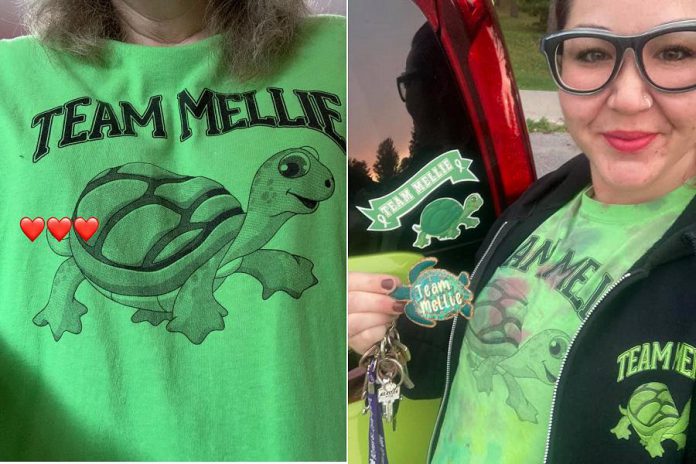 The Lamore family's journey has been a gut-wrenching trial punctuated by both hope and uncertainty, compounded by a dizzying blur of hospital visits and doctors.
After her brain tumour was removed in late July 2020, Melissa was sent home the next morning, with the next step in her treatment being six weeks of radiation and chemotherapy in the fall.
"She actually started working a bit again but come January she was feeling off again," recalls Alex, noting a subsequent MRI revealed the tumour had reformed but no spread had occurred. Still, that necessitated another surgery to remove the tumour as well as part of her frontal brain lobe — a six-hour operation.
"In May, she started having a lot of word issues again and then, in June, we realized she was having vision issues," continues Alex.
"After another MRI in Kingston, the oncologist said it's back and it looked like there was spread this time. She had another surgery. They cleaned it up but they could visually see the spread. The surgeon there's no way he could cut it out without causing harm."
Late September saw Melissa undergo yet more treatment to slow the spread down. She was scheduled for another MRI, but Melissa decided enough was enough. Last Wednesday (October 6) marked the couple's final trip to Kingston. On that same day, Alex shared news of her decision with the Facebook group.
"Melissa has chosen to stop treatment," he wrote. "No more trips, no more hospitals, no more doctors, no more scans, no more pokes in the arm. It was hard to be the guy in the room watching and hearing this conversation, but Melissa was happy that the doctor agreed. You could see Melissa's smile through her mask. Melissa wants to spend her time with family and be at home."
Noting Melissa hasn't left her bedroom since October 8, Alex says "She has good days and she has bad days."
"If you bring her the wrong thing, she'll let you know about it. If you do the right thing, she's happy. If she sees a certain person, she'll light up. She still cracks a smile and she'll still crack the odd joke. She has more of a child-like disposition."
Alex says his focus has been, and remains, "keeping things as normal as possible for the kids. They've been happy and healthy through this whole thing because we've maintained a sense of normalcy in the house."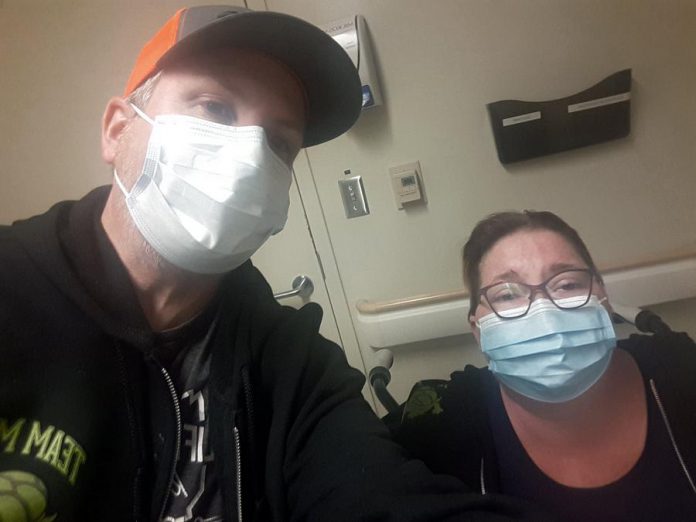 Still, there's an inescapable reality that has to be faced. This past Wednesday (October 13), Alex had his first meeting with a funeral director.
"I'm like a duct tape boat … I'm still floating," says Alex of how he's holding up.
"It's going to be hard. I have to be strong for our kids but I have my quiet moments. There's only been a few times when people have caught me crying. That's going to happen more as time goes on. The other side of the coin is I've had 15 months to think about this."
But, as heartbreaking as the past 15 months has been, Alex says he's left with one undeniable truth that brings him great comfort.
"There are good people in this world. It's been very overwhelming. I can't say thank you enough. It's flipping unbelievable. I couldn't live enough lifetimes to repay everyone for their kindness."