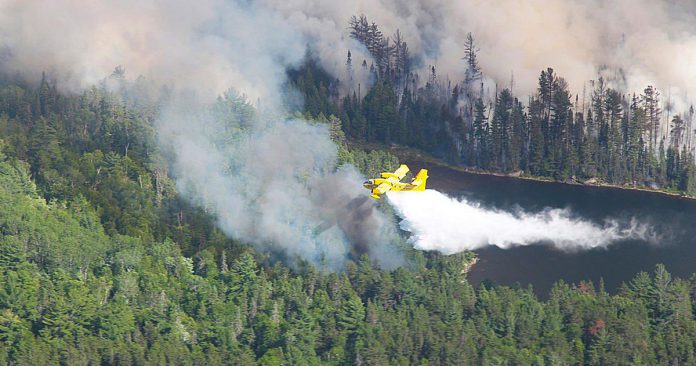 Ontario experienced a record number of wildfires this year, including one of the largest in the province's history, due to severe drought and dry weather conditions that began in July.
The Ontario government released the information in a media release on Monday (November 1) marking the official end of the 2021 fire season and thanking fire ranger and support staff for their courage and dedication.
Between April 1 and October 31 this year, there were 1,198 fires in Ontario — almost double the 607 fires in 2020 and well above the 10-year average of 839 fires for this period.
Advertisement - story continues below
According to the government, Ontario experienced arid and hot weather and faced drought conditions not seen in close to 50 years in northwestern Ontario.
Around 793,325 hectares of forests were burned, including a 200,000 hectare fire — one of the largest in Ontario's history — that prompted the government to issue an emergency order for northwestern Ontario and call upon fire crews from the United States, Mexico, and Australia for assistance.
During this year's fire season, Ontario received the assistance of nearly 500 fire personnel and 25 aircraft. This support included assistance from Canada, the United States, and 20 specialized fire personnel from Australia and over 100 firefighters from Mexico.
"We are deeply thankful to all members of our fire staff and the staff of our national and international partners," says Greg Rickford, Minister of Northern Development, Mines, Natural Resources and Forestry.
Advertisement - story continues below
"Our thanks and appreciation also go out to local businesses that worked with the province to protect their communities during these trying times," Rickford adds. "Our hearts go out to Indigenous communities affected by this historic season. They faced hardship, enduring the pain of being separated from their homes, families, and communities."
In addition to fighting fires in Ontario, the province deployed more than 80 fire personnel to Manitoba and one to the Northwest Territories to assist with their firefighting efforts.