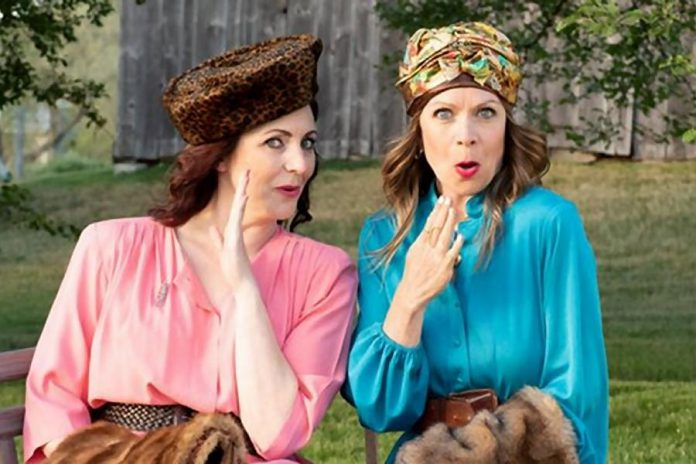 The Kawartha Haliburton Children's Foundation and Century 21 United Realty Inc. are raising funds to make Christmas brighter for local children in need.
The Barnyard Benefit Concert on Sunday afternoon (November 7) at Hollowbrook Highlands in Bethany Hills will feature a performance of The Verandah Society with Kate Suhr and Megan Murphy with special musical guest Irish Millie. The event also includes a silent auction along with trail walks, campfire chili, a cash bar, and surprise guests.
Tickets are $75 each, with proceeds shared between the Salvation Army Toy Drive and Kawartha Haliburton Children's Foundation's Santa's Sleigh.
Advertisement - story continues below
For more than 30 years, Century 21 United Realty Inc. has donated to the Salvation Army Community and Family Services of Peterborough, which provides toys for families who otherwise wouldn't be able to buy them.
The Kawartha-Haliburton Children's Foundation's Santa's Sleigh, hosted in partnership with the Peterborough & Kawarthas Association of Realtors and the East Peterborough Lions, takes place at Walmart on Chemong Road in Peterborough from November 25 to December 6. Shoppers choose a child's name from the tree and drop gifts off in Santa's Sleigh. The donated toys are delivered by Kawartha-Haliburton Children's Aid Society social workers for children to open on Christmas Day.
Emceed by Kim Blackwell, managing artistic director of 4th Line Theatre in Millbrook, the Barnyard Benefit Concert takes place at Hollowbrook Highlands (formerly South Pond Farms), with new owner Andrea Lehman donating the venue as well as a two-night stay in the Hollowbrook Highlands country cottage as a silent auction item.
Megan Murphy and Kate Suhr first created The Verandah Society, which melds music with personal stories of the region, in the summer of 2020 to connect with and perform for people during the pandemic. They have since travelled around the region, performing on people's porches and verandahs and in their backyards, and performed this past August at a residency at 4th Line Theatre along with musician Saskia Tomkins.
Irish Millie is the stage name of Peterborough's Amelia Shadgett, a fiddling prodigy whose debut album Thirteen has been nominated for a 2022 Canadian Folk Music Award.
Tickets are available now through 4th Line Theatre's online box office at secure1.tixhub.com/4thlinetheatre/online/ or by calling Donna at Century 21 United Realty at 705-743-4444.
Sponsored by Holiday Ford Peterborough, The Barnyard Benefit Concert runs from 1 to 5 p.m. on Sunday, November 7th at Hollowbrook Highlands (1020 Gray Rd., Pontypool), with free parking on site. Proof of vaccination and face masks are required indoors.