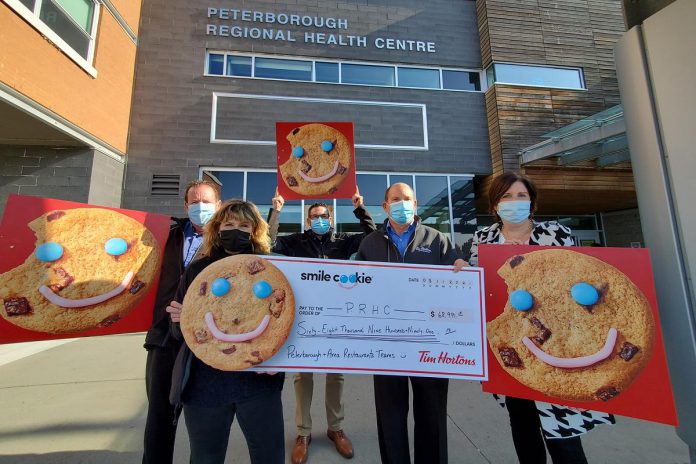 The 25th annual Tim Hortons Smile Cookie campaign in the Peterborough area, which ran in September, has raised $68,991.15 to support mental health care at Peterborough Regional Health Centre (PRHC).
During the week of September 13th, people were encouraged to buy Tim Hortons chocolate chunk "Smile Cookies" for $1 each at one of the 14 participating Tim Hortons locations in Peterborough, Lakefield, Bridgenorth, and Curve Lake, with all proceeds going to the PRHC Foundation for mental health care services at the regional hospital.
The donation from Tim Hortons to PRHC means that almost 68,000 Smile Cookies were baked, decorated, and purchased during the week-long campaign.
Advertisement - story continues below
"Thank you so much to everyone — our Tim Hortons restaurant partners and their hardworking teams, the volunteers who helped ice the signature smiles, everyone who purchased and enjoyed those delicious Smile Cookies, and those who shared our social media posts and their own Smile Cookie selfies in support of this wonderful initiative," writes the PRHC Foundation in a Facebook post on Wednesday (November 10).
According to Melinda Wall, director of mental health services at PRHC, there were more than 35,000 mental health related patient visits to PRHC last year, an increase of 3,000 from the year before.
"In the past decade, the number of visits by adults and adolescents seeking support in our mental health and addictions crisis unit has doubled to 3,600 visits in 2020," adds Wall, who attributes the increases in part to the COVID-19 pandemic and its resulting economic impacts.
The Tim Hortons Smile Cookie program started in 1996 to help raise funds for the Hamilton Children's Hospital in Ontario. Today, more than 625 local charities and organizations in communities across Canada benefit from Smile Cookie sales, receiving 100 per cent of the proceeds (excluding taxes).