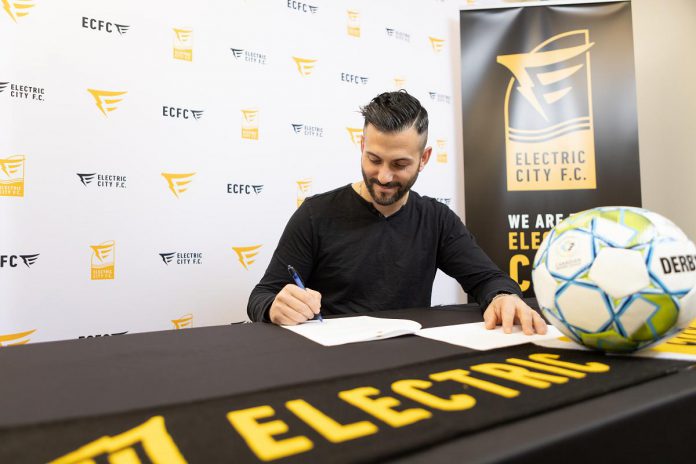 Peterborough's Electric City Football Club (FC), the first professional soccer club in the greater Kawarthas region, has announced the signing of its inaugural head coach and technical director.
London, Ontario native Michael Marcoccia will lead the club when it plays its first season in League1 Ontario in 2022.
"We have been searching for the right head coach for this project for over a year and conducted countless interviews with individuals from across North America," says Electric City FC president Rob Jenkins in a media release. "We couldn't be more pleased to have been able to land such a great coaching talent to lead our project."
Advertisement - story continues below
Marcoccia is possibly the most successful League1 Ontario head coach since the league was founded in 2014. For the past six years, he was head coach and technical director at FC London, where he coached the club's women's and men's League1 Ontario teams, with a record of 100 wins and 14 draws against 28 losses.
"The first thing that drew me to Peterborough and Electric City FC was the project itself," Marcoccia says. "The more I learned from talking to Rob, the more I realized that this project was much bigger than I originally thought and something that I wanted to be a part of at this stage in my career."
Marcoccia has won more League1 Ontario titles than any other coach, including three championships, five regular season titles, and one League1 Ontario Cup. Marcoccia has also been named League1 Ontario Coach of the Year three times. He has also been selected to coach the League1 Ontario All-Stars on three separate occasions.
VIDEO: Meet Michael Marcoccia, head coach and technical director of Electric City FC

"Michael brings with him a tradition of excellence in League1 Ontario on both the men's and women's side and has the ambition and ability to take this project to the next level," Jenkins says. "We feel very fortunate to have him in Peterborough."
Electric City FC will be launching a men's and women's side in League1 Ontario in 2022, and Marcoccia will lead both squads in their inaugural season — with the aim of taking Electric City FC o the top of the sport in Canada, including the Canadian Premier League in the future.
"With our ambitions set high, it is going to take the whole community getting behind us and in response to that support I think it's important for this team to be a reflection of this community. Fans can expect to see a team on the pitch that is hardworking, passionate and dedicated to working together."
Advertisement - story continues below
Prior to his coaching career, the Italian-Canadian spent time with multiple clubs in Italy's Serie C2, Serie D, Eccellenza, and in France's Championnat National. Marcoccia also played locally for London City Soccer Club and FC London, where he bagan coaching after retiring from play.
"The next steps are to build our team and we are looking for players who have the same ambition to go professional as we do," Marcoccia says. "This is an excellent opportunity for individuals to start in League1 Ontario and work their way with the club to the next level."
Open tryouts for both the Electric City FC men's and women's teams are being held on Wednesday, December 1st indoors at the Ontario Soccer Centre in Vaughan. Registration is limited to 75 participants per team. To register, visit electriccityfc.com/tryouts.