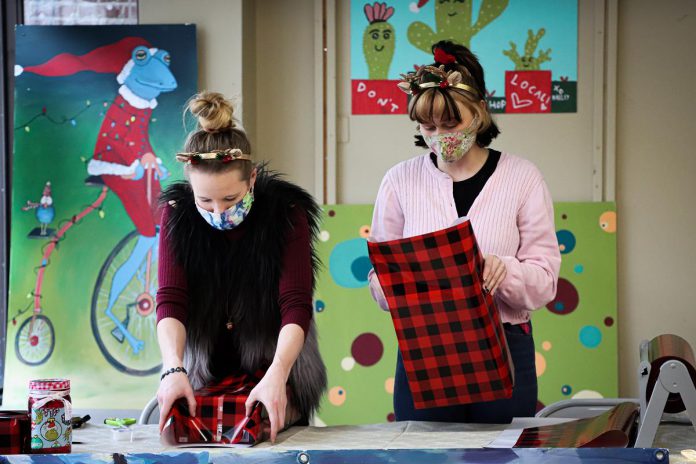 There's another reason to choose local and do your shopping in downtown Peterborough this holiday season. You can get your gift purchases wrapped for free by two local elves at the new festive Holiday Hub on George Street.
Located at 373 George Street, the former location of Pensieri Shoes, the Holiday Hub is open to the public each Friday until December 17 from 12 to 5 p.m.
Complimentary gift-wrapping services are available for any items you've purchased at a downtown business (just show your receipt). While you're there, you can collect a free stamp for your holiday shopping passport.
Advertisement - story continues below
The Holiday Hub also features a selfie station with painting of The Grinch by local artist Tim Wale and a holiday-themed art gallery. You can also donate a toy for the local toy drive in support of Salvation Army and Children's Foundation.
On two Saturdays in December (December 11 and 18), the Holiday Hub will host a pop-up festive art market, with free gift-wrapping services available from 8 a.m. to 1 p.m.
The Holiday Hub was originally intended as a placemaking initiative while a section of George Street was under construction for emergency storm water repairs.
Now that repairs have been completed, the Holiday Hub has become festive space to support holiday shoppers, with murals by local artists on the exterior construction fencing repurposed as a festive art gallery.
"We are so excited to see George Street animated for the holidays and hope this positive intervention will provide a new template for our organization to explore emergent placemaking in the future," says Dawn Pond, placemaking project manager with the Peterborough Downtown Business Improvement Area, in a media release.
Advertisement - story continues below
The retail space for the Holiday Hub has been donated by property owners Delor and Andrew Damiany, who also own the adjacent business Gentry Apparel.
"For us the spot was empty, and we are so excited to see the space buzzing with activity and holiday spirit," Andrew Damiany says. "It's a great idea for the downtown, and especially the George Street businesses who have been dealing with the impact of construction."
For more information about the Holiday Hub events and promotions, holiday shopping passports, and more, visit theboro.ca.