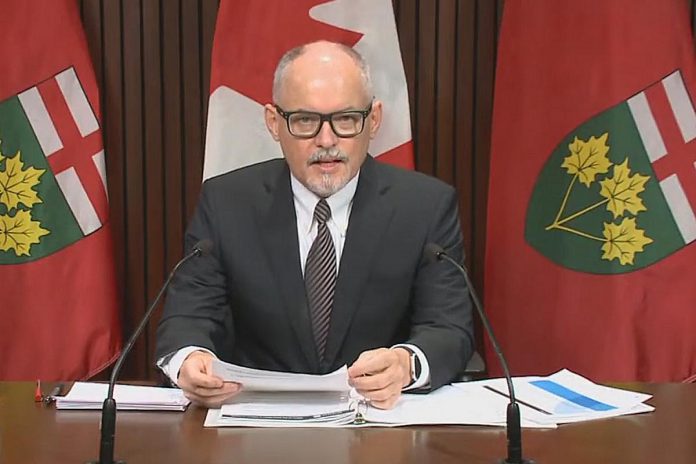 One day after the Ontario government confirmed the first two cases of the Omicron COVID-19 variant of concern in Canada, the province's chief medical officer of health Dr. Kieran Moore held a media conference on Monday morning (November 29) in which he said he "would not be surprised" if more cases are confirmed.
The Omicron variant (B.1.1.529) has a high number of mutations, raising concerns the strain may be more transmissible and be able to evade existing vaccines. First detected in southern Africa on November 9, Omicron has now been found in multiple countries.
The first two cases in Canada were confirmed in Ottawa in two people who had recently travelled to Nigeria. Ottawa Public Health is conducting case and contact management and the two infected people are in isolation.
Advertisement - story continues below
According to Dr. Moore, the two individuals arrived at the Montreal International Airport.
"Their testing was initially done in Montreal," Dr. Moore said. "We received the results through a partnership with the province of Quebec, and the National Medical Lab and the Public Health Agency of Canada. These cases are being monitored very closely by both the the Public Health Agency of Canada and now Ottawa Public Health."
The Ontario government is recommending testing of all people who have returned from, or travelled in, the following countries since November 1: South Africa, Botswana, Lesotho, Eswatini, Mozambique, Namibia, and Zimbabwe. Asymptomatic family members and other household contacts of these travellers are also eligible for testing. The province will be conducting genomic sequencing on all positive test results to determine the variant behind the infection.
The Public Health Agency of Canada has identified 375 people who have returned to Ontario from these seven countries in the past two weeks, according to Dr. Moore, and they are being contacted for testing.
"We are investigating other cases, so I would not be surprised if we find more in Ontario," Dr. Moore said, adding the province is waiting for genomic sequencing results for four other travellers who have returned from southern Africa, including two in Ottawa and two in the Hamilton area.
Dr. Moore said the province is acting out of an "abundance of caution", as there are still a lot of unanswered questions about the Omicron variant.
"We need to understand if this is a virulent infection — if it makes people significantly sick or leads them to hospitalization," he said. "We really don't have that information yet."
Advertisement - story continues below
Dr. Moore said the Ontario government is not planning to implement any additional public health measures at this point.
"If we see widespread presence of Omicron across Ontario, which is not the case at present, then we could review any measures that we need to take at a provincial level, as well as certainly work with our public health agency colleagues about limiting the number of international flights potentially to one or two airports where we can have concentrated testing and assessment capacity."
Dr. Moore also said it would be "prudent" to expand testing to all returning travellers.
"We're learning from the epidemiology that this virus (strain) has been present on the globe for probably many many weeks, if not months, and it has spread to multiple locations around the globe — as we're learning every minute of every hour," he said. "It may be more prudent to broaden the testing to all returning travellers to ensure that they can have a take-home PCR test, to get that test done and have the results tested for this strain in particular."
When asked by a reporter whether the government will accelerate booster shots because of Omicron, Dr. Moore explained that is one option currently being reviewed. Although the vaccine's effectiveness against Omicron is still unknown, it has proven more than 90 per cent effective against the dominant Delta variant.
Advertisement - story continues below
"The third dose would only continue to protect Ontarians, so that is absolutely one strategy we will be reviewing and presenting to government this week," he said. "You can anticipate potential acceleration of our third dose strategy."
Dr. Moore pointed out it took three to four months for Delta to become the dominant strain of COVID-19 in Ontario. If Omicron is more infectious than Delta, it may be two to three months before it becomes dominant in the province.
However, unless the Omicron variant is more virulent and is able to evade the existing vaccine, he said he does not foresee additional public health measures.
"If it's a less lethal virus (strain), less impact on the hospital sector, and our vaccines can continue to work against it, we will continue our current strategy and not have to have any further public health restrictions."
"We'll kept calm, we'll continue wearing our masks and doing all the basic actions we know work against COVID-19, until we get further information on this virus (strain), which we anticipate in the coming weeks," he added.