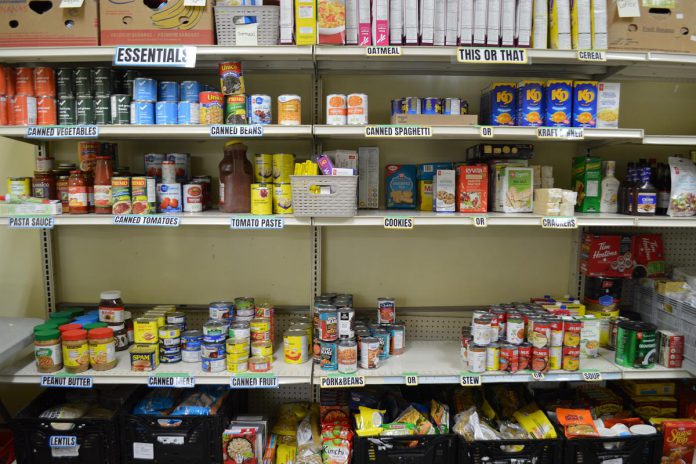 Income insecurity is the main reason why most people in the City of Kawartha Lakes visit local food banks, according to Kawartha Lakes Food Source — a situation that echoes the provincial findings of Feed Ontario's 2021 Hunger Report released on Monday (November 29).
According to the annual report from the collective of more than 1,000 food bank and hunger-relief agencies across the province, over 592,000 Ontarians visited food banks during the first year of the pandemic.
This represents an increase of 10 per cent over the previous year, the largest single-year increase since 2009. The proportion of senior citizens accessing a food bank in Ontario has grown by 36 per cent over the previous year, with senior citizens nearly twice as likely to access a food bank compared to adults under 65 years of age.
Advertisement - content continues below
Ontario's insufficient social assistance programs, precarious employment, and the lack of affordable housing are the primary drivers of food bank use, the report states.
In the Kawarthas Lakes, 70 per cent of food bank visitors cite social assistance — including Ontario Disability Support Program, Ontario Works, or Old Age Security — as their primary source of income, according to data from Kawartha Lakes Food Source. This compares to 59 per cent of food bank visitors provincially.
Seventy-five per cent of food bank visitors in Kawartha Lakes are rental or social housing tenants, according to Kawartha Lakes Food Source, and nearly 70 per cent are single parent or single adult households.
Feed Ontario found that over 60 per cent of food bank visitors have less than $100 left per month after paying for housing and utilities.
"Employment in the rural setting of the City of Kawartha Lakes comes with added transportation challenges and sparse childcare options," reads a media release from Kawartha Lakes Food Source.
Feed Ontario recommends building a stronger social safety net by investing in social programs, aligning Ontario's social assistance rates with the poverty line of the recipient's community, and adjusting rates annually with inflation.
Advertisement - content continues below
The Hunger Report also found that less than one per cent of those who visited food banks were receiving the Canada Emergency Response Benefit, which the federal government introduced to help those who lost income due to COVID-19. According to Feed Ontario, the $2,000 monthly benefit meant people did not have to choose between their housing and utilities and food.
"In order to ensure that food bank use does not continue to escalate, Feed Ontario is calling on the Government of Ontario to address the province's income security and affordability issues immediately," the 2021 Hunger Report states.
Kawartha Lakes Food Source — a not-for-profit central distribution centre in Lindsay that supplies food and other household essentials to member organizations that provide support to individuals in need — is endorsing the 2021 Hunger Report's recommendation that the provincial government pass Bill 60.
The legislation would establish a social assistance research commission to ensure people with lived experience have the opportunity to advise the provincial government on the development of policies that will impact their daily lives.
"The food insecurity crisis is worsening," reads the media release from Kawartha Lakes Food Source. "Your voice matters. Help bring anti-poverty platforms to the forefront of the 2022 provincial and municipal elections."
The organization is also encouraging people to learn about issues in the community, educate family and friends, and advocate for policy changes by continuing local politicians.
To read Feed Ontario's Hunger Report 2021: How The Pandemic Accelerated the Income and Affordability Crisis in Ontario, visit feedontario.ca/research/hunger-report-2021/.