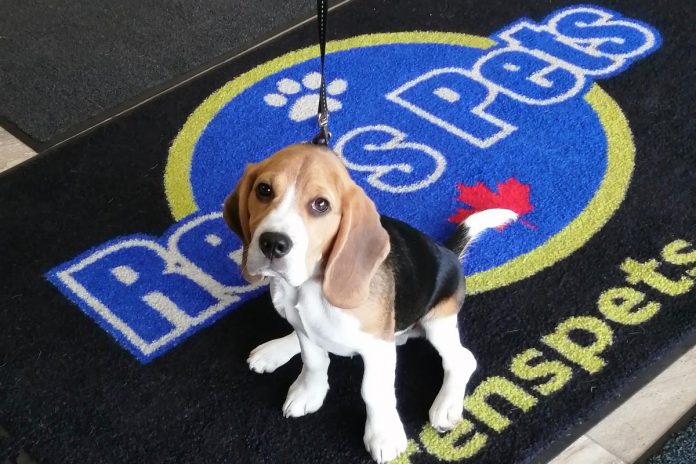 Ren's Pets, which is soon opening its first store in the Kawarthas, has pledged $25,000 worth of support to the Peterborough Humane Society's new animal care centre.
The donation includes an annual contribution of $3,000 for five years towards the capital campaign for the new facility, currently under construction on Technology Drive, along with $10,000 worth of grooming equipment and supplies for the facility once it opens in October 2022.
Founded in 1975 in Oakville, Ren's Pets is Canada's largest independent retailer of pet supplies. On Tuesday (December 7), the company is opening its new store at 871 Rye Street in Peterborough, located in the Boston Pizza Plaza opposite Best Buy.
Advertisement - story continues below
"Our support of the capital campaign to build the Peterborough Animal Care Centre is really meaningful to us," says Scott Arsenault, chief executive officer of Ren's Pets, in a media release. "Ren's is here for your pet's best life, and the Peterborough Humane Society shares that sentiment in giving pets their best to live happy, healthy lives."
In recognition of the company's support, the Peterborough Humane Society will name the grooming room of the new centre after Ren's Pets.
"We've been looking to open a Ren's store in Peterborough for quite awhile now," Arsenault says. "We love becoming part of the pet community where we have stores, and our relationship with the Peterborough Humane Society will be central to that with our new store opening soon in Peterborough."
Earlier reports that Ren's Pets would be opening a store at Lansdowne Place Mall, in the new building where Sears was previously located, were incorrect. The company never intended to open a store there.
For more information about the new Peterborough store, including grand opening promotions, visit renspets.com/pages/peterborough-grand-opening.