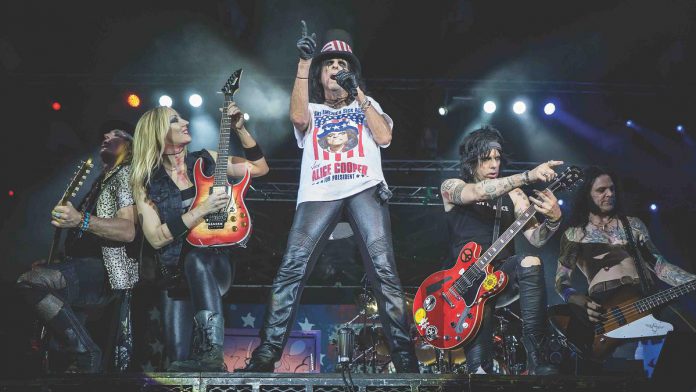 Alice Cooper will be performing at the Peterborough Memorial Centre on March 27, 2022.
The veteran goth rocker — who will be 74 when he performs in Peterborough — was originally scheduled to perform at the Peterborough Memorial Centre on April 1, 2020, but the show was cancelled because of the pandemic.
Born Vincent Damon Furnier, Cooper began his career more than 50 years ago, first as the frontman of the Alice Cooper Band — discovered by Frank Zappa in 1969 in Los Angeles, where he signed them to his record label — and then as a solo artist.
Advertisement - story continues below
The Alice Cooper Band's collaboration with young record producer Bob Ezrin led to the break-through third album Love It to Death, which hit the charts in 1971, followed by Killer, School's Out, Billion Dollar Babies, and Muscle of Love.
In 1975, Cooper released his first solo album Welcome to My Nightmare in 1975, accompanied by the legendary groundbreaking theatrical Welcome to My Nightmare concert tour.
In February, he released his 21st solo album Detroit Stories, produced by Bob Ezrin with a variety of artists contributing on a number of instruments.
VIDEO: "Rock & Roll" – Alice Cooper

VIDEO: "Our Love Will Change The World" – Alice Cooper

Advertisement - story continues below
A celebration of the sound and spirit of the golden era of rock in Detroit, where Cooper was born and raised until he was 10 years old, it debuted on the Billboard Album sales chart at #1 and was the first chart-topper for Cooper in the 29-year history of the Top Album Sales chart.
Known for his grisly theatrics and black humour, Cooper's concerts draw from horror movies, vaudeville, and garage rock, with props including electric chairs, guillotines, fake blood, and boa constrictors.
California rockers Buckcherry will be opening Cooper's Peterborough show.
Tickets are $49 to $89 plus taxes and fees, with VIP packages available. Tickets go on sale Friday (December 10) in person at the Grant Thornton Box Office (151 Lansdowne St., Peterborough), by phone at 705-743-3561, and online at www.memorialcentre.ca.