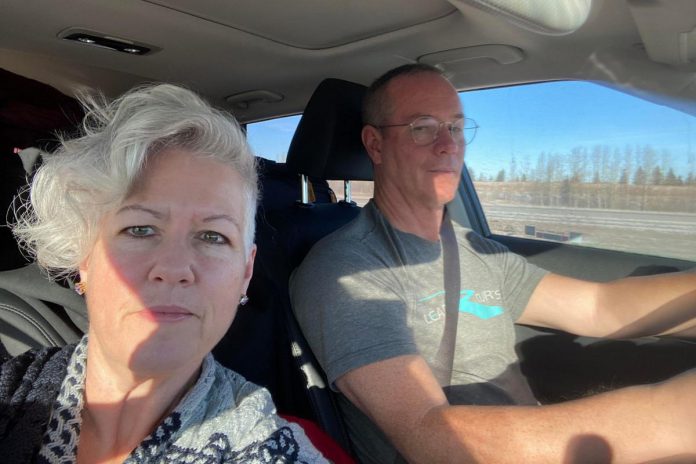 Displaying equal helpings of determination and dedication, with a side order of daring, two Northumberland-based entrepreneurs are going above and beyond, and then some, to serve their clients.
Bonnie Annis and her longtime partner Will Roderick own and operate L'Moor just east of Cobourg, a distributor of skin and body care products for spas and aestheticians. She and Roderick are returning home on a cross-country trip to British Columbia, their rental vehicle filled to the brim with some 700 pounds of product.
When it became apparent that, due to supply chain challenges, Moor Spa Natural products couldn't be shipped east any time soon from Richmond B.C., it was time for Annis to take action and quickly. Thus "Homeward Bound: One Moor Journey" was born.
Advertisement - story continues below
"If my clients don't get their products right away, they're going to lose their holiday sales," Annis says. "I can't do that to them. Many of my clients were closed for 10 months over the period of the pandemic. Personal services were shut down — hairstylists, aestheticians. So many are independent practitioners and they have no other way of generating revenue."
With Roderick at the wheel of their rented Kia SUV, the pair was in Lake Louise, Alberta on Friday morning (December 10) hoping to drive straight through to Regina, Saskatchewan by Friday night. If all goes well, they'll be back home in Northumberland at some point Monday.
"People think we're crazy," admits Annis. "The car rental guy wasn't terribly encouraging. That made me a little sad. The Ministry of Transportation stopped us just as we got on the highway and asked us the purpose of our travels. We told them. I have never seen such a look of skepticism on anyone's face."
VIDEO: Bonnie Annis and Will Roderick head to Vancouver
Road trip!

Posted by L'Moor on Wednesday, December 8, 2021
Annis says the trip — they flew to Vancouver from Kitchener — was necessitated by the fact that others means of bringing her product east were either too cost-restrictive or couldn't deliver on time.
"We looked at a truck. We couldn't get a truck. We couldn't get on a train. It would take weeks to get here. For air freight, we were quoted $5,000 plus there would be a seven-day delay. There was no other option. There are tens of thousands of dollars in back orders that people are waiting for."
The experience, says Annis, has given her a whole new appreciation for truck drivers, "The people who bring stuff that gets to the shelves in the stores."
Advertisement - story continues below
"We take that for granted. When lettuce gets wilted, you throw it out because you think 'I can just go get more.' Then you see the mountain passes that drivers are driving through. And they are alone. I have such an appreciation for the people who get us stuff. That's a visceral awareness I didn't have before."
"The word for 2020 was unprecedented. The word for 2021 was pivot. Moving forward, I think the word for 2022 — the catch phrase — is going to be supply chain. Consumers are becoming more aware of that. In addition to what we need to do for our business, we want to bring awareness to what's happening in the supply chain. We want people to understand that they're going to have to be flexible moving forward."
To pass the time on the road, Annis is knitting and, with Roderick at the wheel, is enjoying a Spotify playlist featuring close to nine hours worth of songs contributed by followers of their journey home. Many of the songs are travel or road themed. Think "Drive" by The Cars and "Life is a Highway" by Tom Cochrane and you get the idea.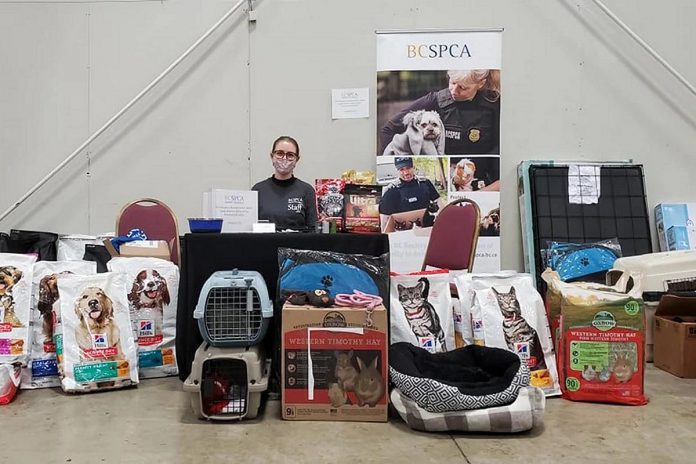 "I was crying yesterday every time I looked at the Spotify playlist and saw new songs pop up," Annis says. "Those contributing are expressing their belief in us. Being on the road feels quite isolating and really tiring. I haven't slept for more than three hours at any one time. Hearing those songs has been an amazing joy."
As well, because so many lower B.C. residents displaced by recent flooding had to leave their homes quickly without supplies for their pets, Annis and Roderick are appealing for monetary donations to the B.C. Society for the Prevention of Cruelty to Animals (SPCA) that is supplying crates, pet food, and other supplies to owners in need. So far that effort has brought in close to $500.
To donate, visit the L'Moor fundraiser page on CanadaHelps. To add a song or two to the Spotify playlist, visit lmoor.com and use the provided QR code to gain access to the playlist titled "Homeward Bound: One Moor Journey". Donations to the B.C. SPCA can also be made on that same page, again via a QR code.
Advertisement - story continues below
Annis, who has a Bachelor of Science in midwifery, has operated L'Moor for 15 years now. She says her plan was to be a midwife but this opportunity arose.
"Almost, without exception, my clients are women," she says. "I love being in the role of nurturing and supporting and being that cheerleader for women. A client in Tobermory wrote 'You guys are being such a role model and you make me want to work harder.' I like to present to my clients the idea that whatever you've got to do, you can overcome any challenge. I want to be that kind of role model."
Client support and care isn't anything new to Annis.
"In our industry, we're a small fish. Our industry is made up of lots of large multi-location, brick-and-mortar distributors that sell 25 or 30 different lines of product. What we do is connection. We do community. We do education. We do support."
"At the beginning of the pandemic, we hosted our first Zoom call for our clients," Annis recalls. "That has evolved into a weekly call that deals with multiple issues for small business owners — financial issues, marketing issues, education issues. There's a face to everyone who has an order with us."
With L'Moor's tagline reading 'Trust Us To Bring More,' Annis and Roderick are clearly doing just that for their clients. Their mission to transport their product themselves, over thousands of miles, so their clients can fulfill their holiday sale commitments is an extension of that.
"I think the pandemic has helped us see what's possible," says Annis. "You can look at something and say 'We can't do that' or you can look at something and ask 'What is possible?' I think entrepreneurs are optimistic. Nothing gets you down for terribly long."
For more information about L'Moor, visit lmoor.com. To follow them on their journey back home, visit Annis' Facebook page.