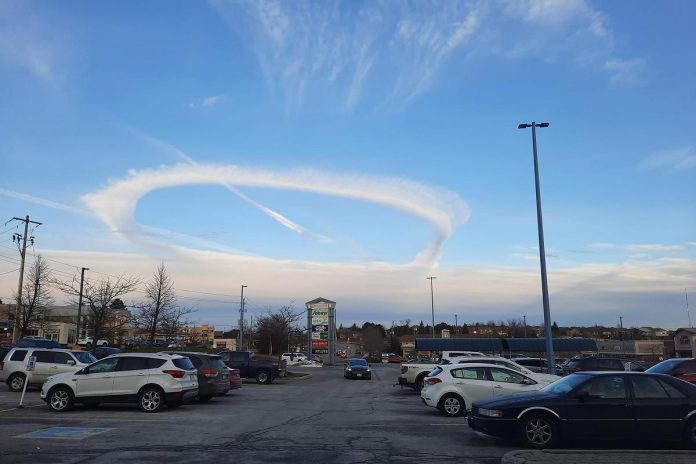 If you noticed a circular cloud in the sky about the Kawarthas yesterday, don't worry — it probably wasn't an interdimensional portal into another universe.
People posted photos on social media of the unusual cloud formation, which appeared in the sky late Tuesday afternoon (December 14), speculating as to the cause.
There were sightings of the odd cloud in the Peterborough area as well as in the Kawartha Lakes and even Muskoka, meaning it was a a high-altitude cloud.
Advertisement - story continues below
Anyone else notice the strange cloud shape north of Lindsay?
Thoughts @weathernetwork @StormhunterTWN @JillTaylorCity pic.twitter.com/6S3IRGhTK0

— John Chambers (@_JohnChambers) December 14, 2021
The most likely explanation for the cloud is that is was a remnant of a "fallstreak hole", also known as a "hole punch cloud".
These circular or elliptical holes are formed in cirrocumulus or altocumulus clouds at seven to 12 kilometres altitude.
When supercooled water droplets in the cloud encounter ice crystals, the droplets suddenly freeze, causing them to fall and create a hole in the cloud layer. However, usually this results in a "hole punch" in the cloud layer, and not a cloud ring surrounded by clear sky.
Advertisement - story continues below
Because a ring-shaped cloud looks like a contrail, some people have speculated the cloud is formed by a circling jet.
While that seems unlikely, jets passing about a cloud layer can create the ice crystals that cause a fallstreak hole to form.
There are more bizarre theories for what could create a circular cloud, ranging from mammoth smoke rings to UFOs and conspiracies about the U.S. military. And, of course, it could also be an interdimensional portal into another universe.