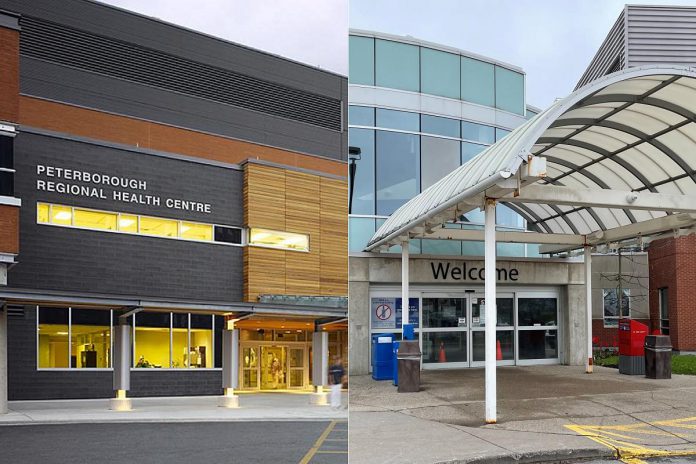 Effective Thursday (December 23), both Peterborough Regional Health Centre (PRHC) and Ross Memorial Hospital in Lindsay have introduced more restrictive visitor policies to help protect the health and safety of patients and staff in the face of surging COVID-19 cases due to the omicron variant.
At PRHC, patients belonging to specific groups may have two designated essential caregivers registered to them. In most cases, only one designated caregiver will be permitted in the patient's room at one time.
An essential caregiver or care partner is a person who provides support to a patient with limited capacity, an urgent medical condition, age-related issues, a disability. or chronic health concerns. Caregivers may be family, friends, or neighbours, and there is no age requirement to provide care.
Advertisement - story continues below
Designated essential caregivers will be permitted at PRHC for the following patient groups only:
Patients who are near end-of-life.
Patients who are under 18 years of age (supported by parents or legal guardians).
Patients who require a support person in the emergency department, at the discretion of the care team.
Patients who are giving birth at the hospital (supported by birthing partner).
Patients who clinically require a support person to safely attend their appointment or support inpatient care. This includes patients with physical, cognitive and developmental disabilities, and who have challenges with communication and mobility.
Patients who require a support person when receiving a life-altering diagnosis or experiencing a mental health crisis. In the Emergency Department, this will be at the discretion of the care team due to capacity limitations and infection control protocols.
Other critical or urgent circumstances requiring family presence, including visits to the ICU.
Visiting hours for designated essential caregivers will continue to be 12 p.m. to 8 p.m., subject to additional restrictions as detailed on PRHC's website. For more information, visit
prhc.on.ca/about-us/covid-19-novel-coronavirus/visiting-prhc-during-covid-19/
Designated essential caregivers coming to the hospital will continue to be screened at both public entrances and will be required to check in with their name and phone number at the hospital's main information desk. They will be asked to wear a mask at all times when in the hospital, including in the patient/bed area, and to clean their hands well and frequently while at the hospital.
Advertisement - story continues below
At Ross Memorial Hospital in Lindsay, each admitted patient is now allowed only two designated visitors for the duration of their hospitalization (visitors must be at least 16 years of age) and only one can visit each day.
Exceptions apply for end-of-life, critically ill, childbirth, and vulnerable patients. For a full list of exceptions, visit rmh.org/covid-19 and see the "Visiting Restrictions and Protocols" section.
All visitors must be double vaccinated except visitors who fall under specific exceptions, who will be required to submit to a rapid antigen test upon entering the hospital. All visitors will be screened for COVID-19 symptoms, and those who fail screening will be denied entry.
Visitors must wear a hospital-issued mask at all times and maintain at least two metres distance between patients and members of the care team at all times. Cloth masks or any other face-covering brought from home will not be accepted.
Both PRHC and Ross Memorial Hospital offer virtual visits through video calls or telephone calls.