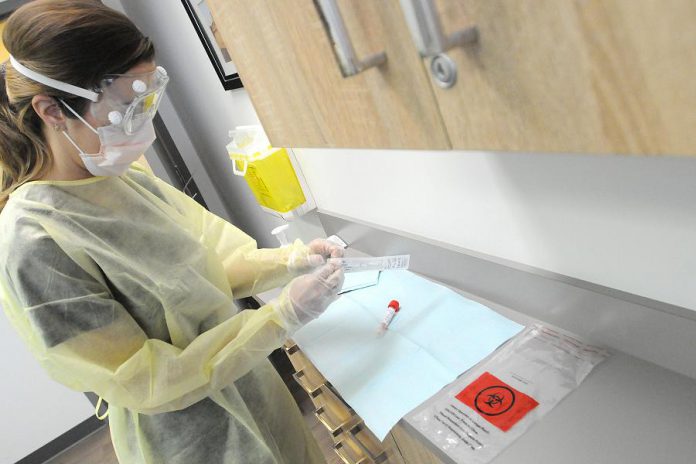 As Christmas Eve nears and with the number of new local COVID-19 infections rising in unprecedented fashion, Peterborough's medical officer of health is urging a night more silent than anything we've experienced.
During a Peterborough Public Health media briefing held Thursday (December 23), Dr. Thomas Piggott said it's more than important now than ever before that residents follow local and provincial guidance, including limiting indoor gatherings to 10 or less people (25 or less outdoors), confirming family members and guests are vaccinated, screening for symptoms, and ensuring that the gathering space is well ventilated and all are wearing tightly fitting masks as much as possible.
"If you're looking to use rapid antigen tests to make a holiday gathering that already fits within the guidance safer, be sure to do testing immediately before the gathering because test results can change quickly," advised Dr. Piggott, noting test results should not be considered valid for any longer than the day of the gathering.
Advertisement - story continues below
"Rapid antigen testing is only one layer of protection. Just like we have to layer up to go outside in the cold winter, we need to layer up in our response to COVID. If you don't have access to rapid antigen testing, the other layers are just as, or more, important."
Dr. Piggott's guidance for gatherings comes as number of active cases of COVID-19 in the Peterborough region hit a pandemic high, with 208 reported as of late Wednesday afternoon. Provincially, Ontario has also reported a pandemic high of 5,790 daily cases on Thursday.
Fuelling the number of active cases locally is a high daily new case count, with 23 new cases confirmed on both December 19 and 20, 51 reported on December 21, and 38 new cases recorded December 22. This week to date, 112 new cases have emerged, just one shy of last week's pandemic-high weekly new case count of 113.
That number will rise dramatically today (Thursday), with Dr. Piggott noting that 91 new cases have been confirmed since Wednesday's tally was provided.
"That is far beyond anything we've experienced to date in the Peterborough region," Dr. Piggott said.
"What we're seeing is probably the tip of the iceberg. Because of delays and challenges accessing testing and because of the fact that many people may be asymptomatic, and may not think they need testing because they have just one or two symptoms and they're protected by the vaccine, I suspect transmission is much more rampant than we're aware of."
Meanwhile, the number of local COVID-related deaths has risen to 28, with Dr. Piggott confirming the death of an individual in their 40s who was vaccinated with two doses but had a complicating medical condition.
There are two outbreaks locally, both reported Wednesday: one associated with Crestwood Secondary School and the other at Extendicare Lakefield.
Advertisement - story continues below
Speaking to local vaccination efforts, Dr. Piggott said a new approach has just been adopted due to "significant" issues with the Pfizer vaccine supply in Ontario. To counter that, all residents over the age of 30 will receive the Moderna vaccine for their third dose.
"We have to save supply of the Pfizer vaccine for people under the age of 30 — there is a NACI (National Advisory Committee on Immunization) recommendation of preferentially using the Pfizer vaccine for that population due to a lower risk of myocarditis and pericarditis," said Dr. Piggott, adding "There's emerging evidence that the Moderna booster is slightly more effective against the omicron variant. It's a great vaccine."
To date, 23.9 per cent of eligible local residents aged 18 and up have received a third booster shot. Those seeking a third shot can book an appointment online at covid19.ontariohealth.ca or by phone at 1-833-943-3900. Walk-ins will not be accommodated. Some local pharmacies are also offering booster shots.
"In the past week, we've seen a nearly six-fold increase in the number of vaccine appointments we are able to offer residents in an effort to accelerate rollout of the booster," said Dr. Piggott. "Up until the middle of January, we have 6,300 appointments available at last check."
As of late Wednesday afternoon (December 22), 84.5 per cent of eligible residents aged five and up have received one dose while 79.6 per cent have received two doses. Meanwhile, first dose vaccination of local children aged 5 to 11 has again seen a huge uptake this past week, now at 40 percent. With no walk-ins being taken, parents and guardians must book a vaccination appointment. Visit peterboroughpublichealth.ca/clinics for a listing of locations and times of clinics.
Advertisement - story continues below
Based on the number of residents who have received a booster shot in a relatively short time, as well as the growing demand for that extra protection, Dr. Piggott is heartened.
"People are starting to realize that this (the omicron variant) is here," he said. "I'm very heartened to see all the individuals coming forward for the third dose, and to see the wonderful support and compliance we're getting from the public, and also our businesses."
"Everyone is collaborating. Everyone wants to get through this. I think we will, but we're not through the thick of it yet. We have a lot of work to do."
As for daily case counts and active cases over the next week, Peterborough Public Health will be updating its daily COVID-19 dashboard found at localcovidtracker.ca once more this week, at noon on Friday (December 24), before returning to daily updates again next Wednesday (December 29).
Also participating in Thursday's media briefing were Peterborough mayor Diane Therrien, county warden J. Murray Jones, Hiawatha First Nation chief Laurie Carr, and Selwyn mayor and Board of Health chair Andy Mitchell.
All expressed their thanks to public health staff and vaccine clinic volunteers for the long hours and unrelenting effort to keep local residents both safe and informed.