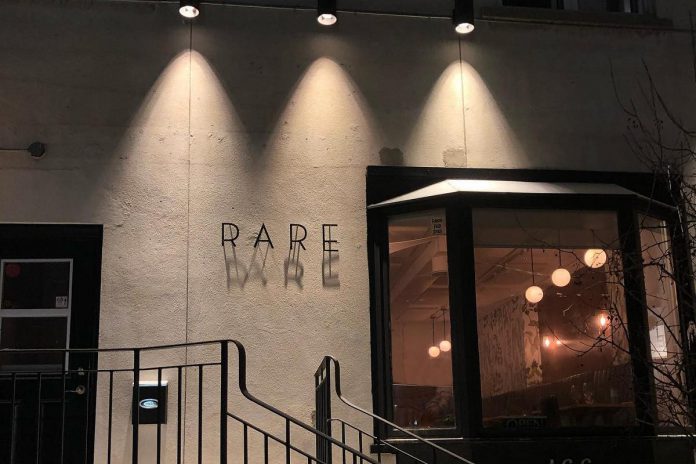 Four restaurants in Peterborough have decided to temporarily close this week due to COVID-19.
On Tuesday (December 21), Rare restaurant at 166 Brock Street announced they are closing after they were notified a guest who dined at the restaurant on December 14 has tested positive for COVID-19.
"We have not yet been contacted by Peterborough Public Health, but Tyler and I have decided it best to close down the restaurant early before the holidays to allow our staff time to self monitor for symptoms and get tested if needed," writes co-owner Kassy Scott on social media.
Advertisement - story continues below
Using their contact tracing information, Rare has contacted all diners who were at the restaurant on December 14, and has cancelled all reservations for the remainder of the week. They will be reopening next Tuesday (December 28).
"Instead of feeling sad about it we are going to try to look at it as time off we wouldn't have had with our kids," Kassy writes. "We will look forward to feeding you again soon!"
On Wednesday (December 22), One Fine Food at 800 Erskine Avenue announced on social media they are closing until further notice, "due to a COVID-19 close contact in the restaurant and an abundance of caution."
On Thursday (December 23), Capra Toro at 139 Hunter Street West announced they "proactively" closed the restaurant as of December 22.
"We were informed that one of our team members may have been in close contact with a positive COVID case outside our restaurant," they write on social media. "We feel it is safest to close our doors preemptively until we have their test results and guidance from public health to reopen in a safe manner."
Advertisement - story continues below
The restaurant says it is contacting all guests who have dined there recently to inform them of the situation.
Also on Thursday, The Night Kitchen at 168 Hunter Street West announced they were closing at least for the day.
"One of our employees has come into close contact with a positive rapid test roommate," they write on social media. "Out of an abundance of caution we have decided to close."