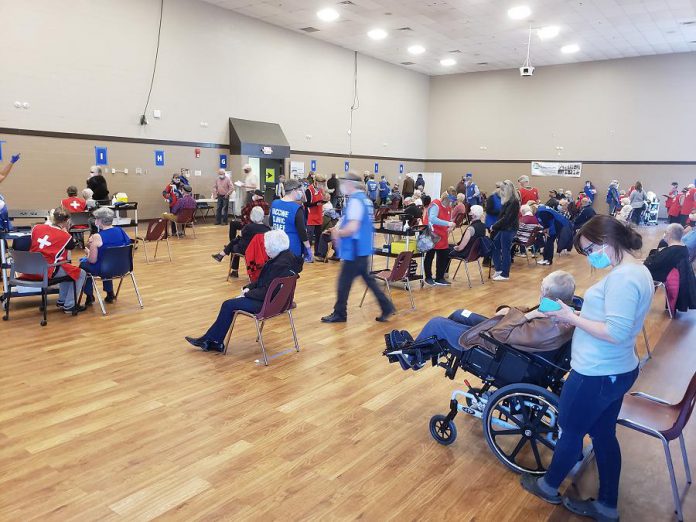 Peterborough Public Health is hosting two walk-in clinics this week at the Healthy Planet Arena (911 Monaghan Rd., Peterborough) for residents 70 years of age and older who have experienced difficulty booking an appointment for a COVID-19 vaccine booster dose.
The first walk-in clinic on Thursday (December 30) will be for residents 80 and over, with the second walk-in clinic on Saturday (January 1) for residents aged 70 to 79.
Walk-ins for both clinics will be staggered based on the first letter of a resident's last name, with residents whose last name begins with A to J asked to arrive between 1 and 2 p.m., K to R between 2 and 3 p.m., and P to Z between 3 and 4 p.m.
Advertisement - story continues below
"Older adults in our community are at a heightened risk for complications related to a COVID-19 infection compared to the younger population," says medical officer of health Dr. Thomas Piggott in a media release. "It is very important that we provide these residents with every opportunity to receive a booster dose."
Regardless of age, people must wait at least 84 days (12 weeks or 3 months) after their second dose before they are able to receive a booster dose.
Anyone attending these walk-in clinics will receive the Moderna vaccine for their booster dose, as there is a shortage of Pfizer vaccines across the province.
"The best third dose is the first one you can get, even if that means changing the mRNA vaccine brand that you previously received," Dr. Piggott says. "I personally received the Moderna vaccine. It is an excellent vaccine along with the Pfizer vaccine."
Only residents aged 70 and over are eligible for these two walk-in clinics. All other clinics are by appointment only. Residents not eligible for the two walk-in clinics must book an appointment for their booster dose through the provincial booking system online at covid-19.ontario.ca/book-vaccine/ or by calling 1-833-943-3900.