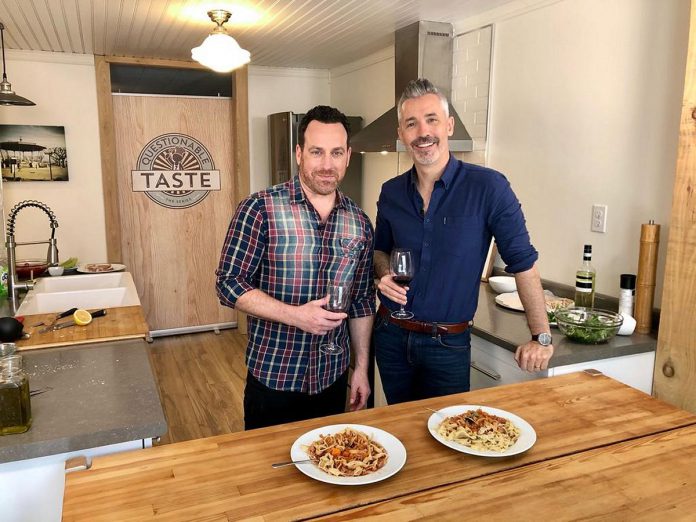 A new cooking show filmed in Peterborough is highlighting local food in the Kawarthas region with the help of celebrities.
Questionable Taste sees actor Ray Galletti (Pretty Hard Cases, Ransom, iZombie, My Ex Ex, The Core) welcoming celebrity guests to the kitchen where they attempt to recreate a favourite recipe using locally sourced ingredients.
Co-directed by Peterborough natives Chad Maker and Kirk Comrie and filmed by Peterborough's Michael Hurcomb, the six-episode series was conceived by Galletti's manager Ryan Goldhar, who is also the executive producer of the show.
Advertisement - story continues below
Galletti is not a chef but loves to cook and Goldhar suggested he do a cooking show, Maker tells kawarthaNOW.
"Ray, Kirk, and I have been good friends since we worked together on the movie My Ex-Ex," Maker says. "When Ray brought up the idea to us, we brainstormed a bit and came up with the idea of having some celebrities come cook with him."
The celebrity guests featured in the first season of Questionable Taste include Toronto comedian Salma Hindy, actress Katherine Barrell (best known as Sheriff Nicole Haught in Wynonna Earp, and also married to Galletti — the couple celebrated the birth of their son in September), and Toronto-based singer-songwriter Martina Ortiz-Luis, along with three local celebrities: musician and Lakefield native Royal Wood, and writer Shantelle Bisson and Murdoch Mysteries star Yannick Bisson, who own Shantilly's Place on Chandos Lake in North Kawartha.
VIDEO: Yannick and Shantelle Bisson on "Questionable Taste" with Ray Galletti
"The charm would be that maybe the dishes work out and maybe they don't," says Maker of the concept behind the show. "But the conversation would be great and the journey through the recipe would be fun regardless. And I believe it was Kirk that named the show after we had kicked around a few ideas."
Maker and Comrie attended Thomas A. Stewart Secondary School in Peterborough together and went on to found the Toronto-based film marketing and distribution company A71 Entertainment, which has brought several indie films to Peterborough in the past decade. In 2019, the pair sold the film distribution portion of the business to Vortex Media, and rebranded the marketing portion as Key Art + Design.
"Key Art primarily does film poster art and movie and TV trailers, but it also provides us the opportunity to pursue our creative production projects such as Questionable Taste," Maker says.
Advertisement - story continues below
While Maker says they plan to make the episodes available on YouTube in spring of 2022, Questionable Taste is currently available on Bell Fibe TV1 and the Bell Fibe TV app.
"Kirk and I had gotten to know Paul Gardner at Fibe TV, who mentioned to us that Fibe TV had just added Peterborough to their regional production funding," Maker recalls. "So Ray, Kirk, and I pitched the show to Paul and John Buffone at Fibe TV, adding in the angle that we'd use and feature a local ingredient or two into each episode."
With its focus on local ingredients, Questionable Taste also features some local food producers and suppliers in the Kawarthas, including Daemin Whetung of Black Duck Wild Rice in Curve Lake First Nation, Greg Elmhirst of Elmhirst's Resort in Keene (which hosted the crew and guests during the COVID-safe production), Grant Slavin of Sweet Beast Butcher Shop in Peterborough, Anthony Lennon of The Food Shop in Peterborough, and Keri Gray of Indigenous Treats in Alderville First Nation.
The show has received support from Peterborough & the Kawarthas Economic Development (PKED), through economic development officer Joe Rees and marketing and communications director Kelly Jessup.
"Joe Rees and I met when Kirk and I were hosting the Canadian Indie Film Series at Market Hall, and kept in touch about various ideas about bringing more television and film production to the area," Maker explains. "It was a natural fit when we pitched him and Kelly at PKED and they have been incredibly supportive and fantastic about connecting us with local suppliers. PKED will be showing off some additional QT content that we produced for them sometime in the new year."
Maker, who moved back to Peterborough from Toronto in 2016, lives in East City and the kitchen portion of Questionable Taste was filmed at his home.
Advertisement - story continues below
"The food culture here is fantastic, the local farms and shops are vibrant, and every vendor we dealt with was willing to help," Maker says. "I am proud to be from Peterborough, so highlighting how awesome the area is and helping bring attention to local vendors is a pleasure."
As for another season of Questionable Taste, Maker is optimistic.
"We'd love to do more episodes," he says. "The more views we get on Bell Fibe TV and social traction will hopefully lead to season two — and we already have a few guests lined up. In the meantime we are also pitching sales agents to see if we can sell the show around the world."
As well as releasing season one on YouTube in 2022, Maker says they plan to release more additional content through the show's social media channels on Facebook and Instagram.
Maker adds that Key Art + Design is also working on another project already shooting in Peterborough: a music show called Cover 2 Cover, developed by Michael Hurcomb, to be completed in early 2022.
"We also have some film projects that are in early development and are partnered on a VR project for science centres and museums called Spacewalk: The Virtual Experience, that is in the final stages of production aiming to make its debut later in 2022," Maker says.
Advertisement - story continues below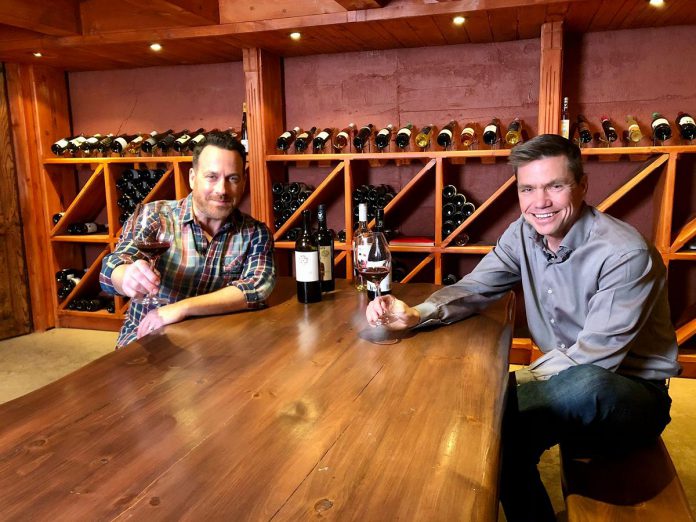 Along with helping to bring productions to Peterborough and the Kawarthas, Maker is part of a working committee lobbying the Ontario government to create a film and television production fund for southeastern Ontario.
Similar to the Northern Ontario Heritage Fund, which promotes and stimulates economic development initiatives in northern Ontario, the South Eastern Ontario Production Accelerator Fund (SEOPAF) would do the same for domestic film and television production in southeastern Ontario.
"If successful, SEOPAF would span from the Kawarthas to the edge of Ottawa along the Trans Canada and 401 corridor, and could provide millions of dollars of production business and economic development to the area as well as job creation," Maker explains.
For more information, visit www.seopaf.ca.