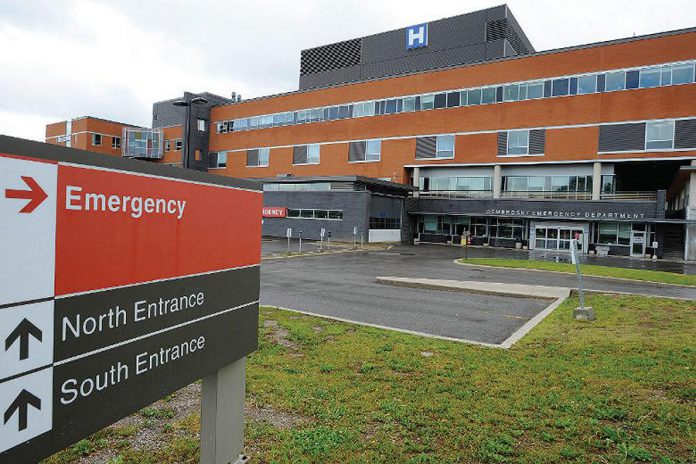 The Peterborough region has seen a disturbing rise in the number of COVID-related deaths in 2022, with 10 deaths having occurred since January 1 — five of those this week alone. That amounts to almost a third of the total 35 deaths since the pandemic began almost two years ago.
During a Peterborough Public Health virtual media briefing held Thursday (January 13), medical officer of health Dr. Thomas Piggott said six of the people who have died this year had the delta variant, while the remainder were bring treated for the omicron variant.
"Four of those individuals were unvaccinated," he said. "Six had received a vaccine, either two or three doses. The average age was 76 years old, but it ranged from in their 40s to in their 90s. Of concern, the youngest individual in their 40s who passed away was unvaccinated. Seven of the 10 individuals that we have had pass away had passed away in hospital and three in long-term care settings."
Advertisement - content continues below
Of the 10 vaccinated people who died from COVID-19, four had received two doses and two had been fully immunized with three doses. Dr. Piggott said the fact that most of the deaths were among people who had received vaccinations is "not surprising," given the majority of people are now vaccinated.
"The fact that four of these 10 (deaths) were unvaccinated is a much, much higher rate, given that only one in 10 people in the public are not vaccinated now," he pointed out.
Dr. Lynn Mikula, executive vice-president and chief of staff at Peterborough Regional Health Centre (PRHC), also attended the virtual media briefing. While acknowledging the recent increase in local COVID-related deaths is disturbing, she said "This is largely a question of math."
"We haven't seen anything close to this number of infections," she said. "Even with a large percentage of the population vaccinated, there are so many cases out there. If you just do the math, even with a smaller percentage of deaths, these numbers are going to up in the way that we're seeing. There's an awful lot of COVID circulating."
At PRHC, the pandemic is taking an increasingly difficult toll. According to Dr. Mikula, as of Thursday morning, there were 32 patients with COVID admitted, three of those in the ICU with critical illness. In addition, the hospital is dealing with outbreaks in three units.
Not helping matters is the number of hospital staff unavailable to work due to either having COVID or isolating because of a close contact. Earlier this week, that number was reported as being close to 200. But despite the staffing pressures the hospital is experiencing, Dr. Mikula assured the public that all patients requiring urgent care will be seen in quick fashion and receive the medical attention they need.
Advertisement - content continues below
"These are, by far, the highest numbers we've seen at any point in this pandemic," said Dr. Mikula, "Our biggest constraint is staffing, not space. Not physical beds, not rooms."
While the number of COVID-related deaths has shown a sharp spike upwards, the number of confirmed active cases has actually dipped to 1,072 from 1,111 one week ago. As of 4 p.m. on Wednesday, 185 new COVID cases had been confirmed this week.
However, Dr. Piggott noted, the number of actual cases is higher due to changes in the PCR testing criteria that sees only prioritized individuals being tested.
Meanwhile, new outbreaks continue to be declared regularly with 19 outbreaks, accounting for a total of 192 cases, currently active. Nine of those are related to congregate living settings in the community. Outbreaks are also reported at Royal Gardens Retirement Residence, Rubidge Retirement Residence, St. Joseph's at Fleming, Fairhaven Long-Term Care, Riverview Manor, Extendicare Lakefield, St. Paul Elementary Catholic School, and the three aforementioned outbreaks at PRHC.
With public health officials continuing their plea that all get vaccinated or receive their booster shot as soon as possible, Dr. Piggott said he's relatively pleased with local vaccination progress, with more than 300,000 total doses administered.
As of late Wednesday afternoon, 86.8 per cent of those 18 and older eligible for a vaccine had received two doses and 49.4 per cent had received three doses. Meanwhile, 48.4 per cent of children aged five to 11 have received one dose — a number that's particularly relevant in relation to the return to in-class learning on Monday (January 17).
Advertisement - content continues below
"I know there's a lot of trepidation and uncertainty amongst people," said Dr. Piggott on the reopening of schools. "There's a lot of messaging in the media and on social media that makes this to be a black-and-white issue: schools are dangerous, schools are safe."
"The reality is it's a grey area. When we look at risk, it's a formula based on the hazard of something and the exposure that somebody can have to that hazard. Risk is different for everyone. It's different for me. It's different for you. It's a personalized issue. For kids, the hazard is lower. We know that kids are at lower risk of severe COVID-19 infection and hospitalization."
"Next week as schools go back to in-person learning, there will be transmission. But we know schools are much safer now with better ventilation, with access to rapid antigen tests, and with improved and tighter-fitting masks. But there will be cases of COVID in our schools. At the end of the day, it's parents making a personal decision (whether to have their children return to school)."
Also participating in the media briefing were Peterborough-Kawartha MPP Dave Smith, Peterborough County Warden J. Murray Jones, and Selwyn mayor and Board of Health chair Andy Mitchell.