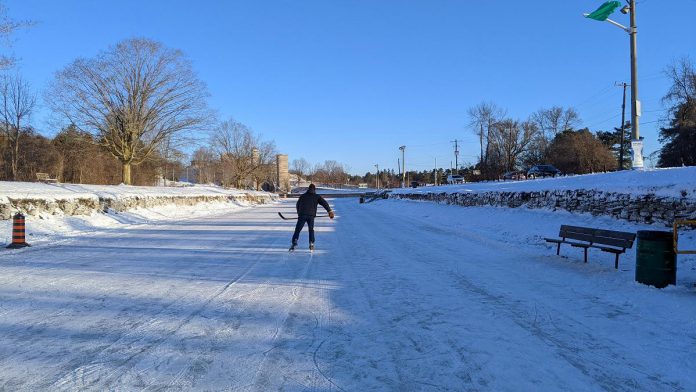 As of Friday (January 14), the green flag is flying beside the Trent-Severn Waterway canal below the Peterborough Lift Lock for the first time this winter — meaning the ice is safe and skating on the canal is officially allowed.
The City of Peterborough's public works department maintains the ice surface on the canal, as allowed by weather conditions, with a flag flying beside the canal to indicate the status. A green flag means ice conditions are safe and skating is permitted, and a red flag means the opposite. The green flag went up on Thursday afternoon.
Although people have already been skating on the canal this winter while the red flag was flying, they've been doing so at their own risk. The city's public works department monitors ice thickness on the canal throughout the season to assess if conditions are safe for public skating.
Advertisement - story continues below
The city asks all skaters to follow COVID-19 public health guidance and restrictions, including physical distancing. Outdoor gatherings are currently limited to 10 or fewer people.
If you heading to the canal for a skate on Friday or on the weekend, bundle up to keep warm and cover exposed skin to avoid frostbite.
Wind chill values will be -24°C on Friday morning, -19°C Friday afternoon, and -24°C on Friday evening. On Saturday, wind chill values will be -34°C in the morning and -21°C in the afternoon.