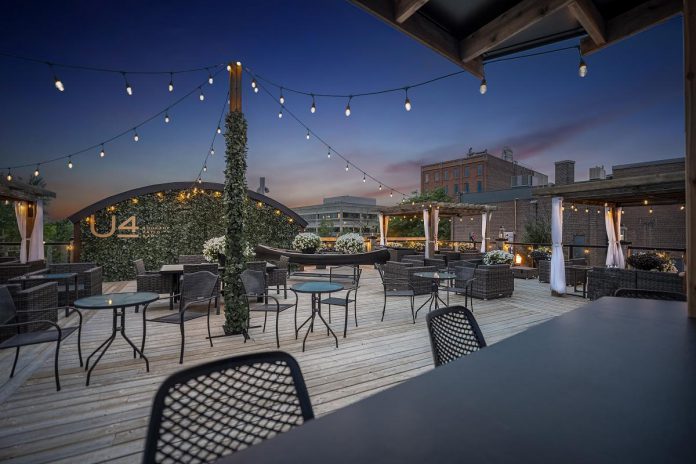 Imagine celebrating with your family, friends, or colleagues in an elegant open-air space, kicking back in a chaise lounge while sipping a hand-crafted cocktail and enjoying scenic views.
Now imagine doing all of that in the heart of downtown Peterborough. That's the promise of U4 Rooftop Patio Bar, located on the roof of the award-winning Euphoria Wellness Spa.
When Euphoria owner Simone Dobson expanded her 10-year-old spa business into the historic building at 290 Water Street in 2016, she realized the rooftop would be an ideal location for a unique outdoor event space and, in July 2021, launched U4 Rooftop Patio Bar.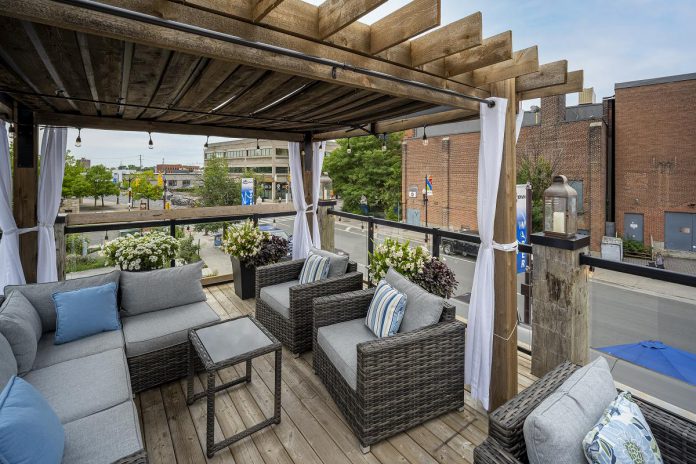 Tweet this quote
"We have a fully licensed bar and we include bartending staff for every event," says director of operations Mackenzie Dobson. "We have an outdoor heating system to keep everyone warm regardless of the weather. We've installed a beautiful lighting system, and there is a state-of-the-art sound system as well."
Along with all the amenities, U4 exudes an atmosphere of sophistication, luxury, and comfort, with its tastefully decorated private cabanas where guests can relax and socialize.
"On the conceptual side we wanted to create an inviting space that brings people in and keeps them here," he explains.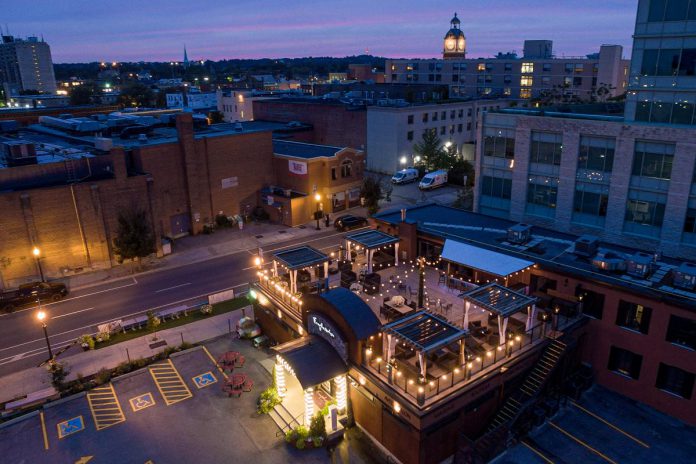 Tweet this quote
Since opening last summer, early bookings for U4 came very quickly through word of mouth. Now, nearly a year later and with a light at the end of the pandemic tunnel, U4 is already booking private events and weddings for the 2022 season.
"We are booking up, but we still have availability," Mackenzie points out. "We encourage anyone in the community who needs an event space to reach out to us to discuss their needs and our availability. We want this to be a space where anyone can come to relax and enjoy a sophisticated private event in a beautiful and relaxing setting."
Adding to U4's unique charm is the fact it sits atop a historic building that once belonged to the Peterborough Canoe Company, which manufactured wooden canoes there from the 1890s to the early 1960s. A repurposed canoe on the patio pays homage to the building's heritage. Along with U4 and Euphoria Wellness Spa, the building is also home to the Canoe Co. Café, a café and gelateria that owes its name to this important part of Peterborough's history.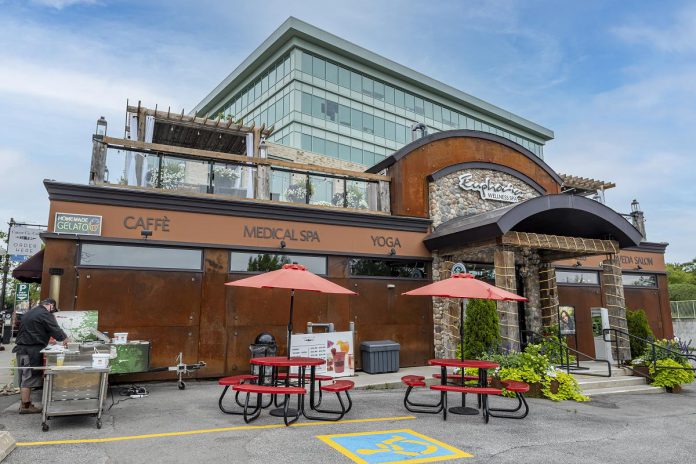 "Canoe Co. Café is independently owned with a license to serve Starbucks, and they also have the most delicious gelato in town," Mackenzie says. "Students like to gather at the café, but it's also great for spa clients who want to experience the luxuries of a coffee shop within the spa ambience as well."
While U4 has already started booking weddings for the upcoming season, Mackenzie says dates are still available to book corporate events, birthday parties, and other private events — as well as more weddings. U4 is a popular wedding venue because, along with its elegant atmosphere and amenities, a full-service spa is located right downstairs.
"We really offer a perfect venue," Mackenzie explains. "People can get their makeup and hair done on the spot, and then come right up after to enjoy this beautiful space and attend the event that brought them here."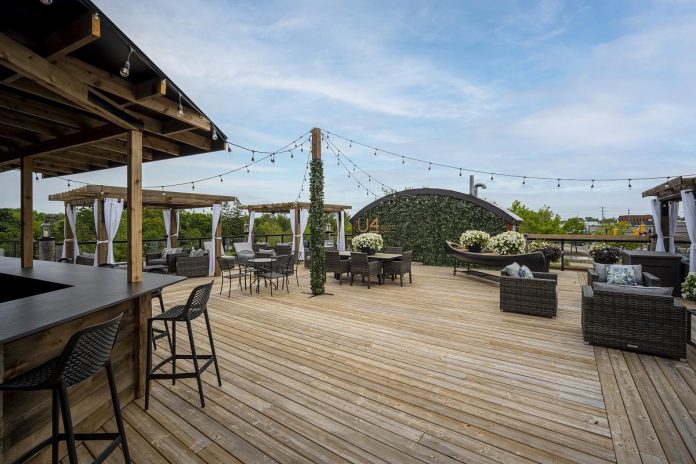 Tweet this quote
When it comes to weddings, Mackenzie says U4 is prepared to accommodate requests for the preferences and special touches that will make the big day even more special. Along with carefully curated wines and cocktails, U4 can also serve signature cocktails selected by the married couple.
"We always provide bartending staff for events, and we do have some of our own signature drinks that sell very well," Mackenzie says. "Last summer our strawberry mojito pitchers were a huge hit. This summer we have plans to make a beautiful cocktail with purple gin."
As an outdoor space, U4 has been able to accommodate the ever-changing capacity limits during the pandemic (when no capacity restrictions are in place, U4 can accommodate 100 guests or more). That flexibility has made it an ideal location for a wide range of private events.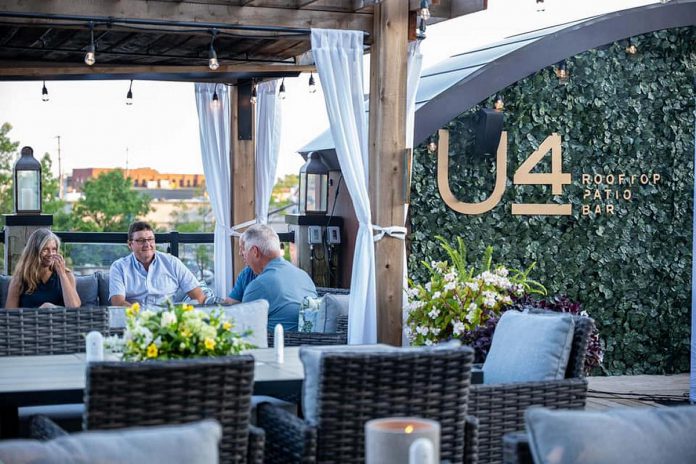 Tweet this quote
Following its mantra "Together is a beautiful place to be," U4 had a successful inaugural season last year despite the pandemic. Mackenzie believes the family-owned business will only see that success expand as pandemic restrictions ease and people are able to once again freely come together and celebrate — whether for a company party, a social gathering, or a wedding.
"Our business model is 'Business, Laughter, Happily Ever After'," Mackenzie says. "We're providing Peterborough with a luxurious rooftop patio bar where we can host any type of event."
As Mackenzie is quick to point out, U4 is not only available for guests of private events — clients of Euphoria Wellness Spa can also take advantage of the rooftop patio bar.
"The space is also open to clients receiving spa services outside of event hours," he says. "So people can enjoy U4 while coming in for a massage. It's truly the best of both worlds."
U4 Rooftop Patio Bar is located at 290 Water Street in downtown Peterborough. For more information and to inquire about bookings, visit u4rooftop.com or email events@U4rooftop.com.
This story was created in partnership with U4 Rooftop Patio Bar.