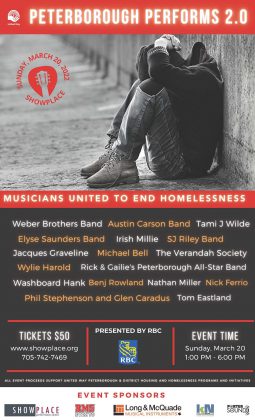 Back in 2020, when the best of times was followed so closely by the worst of times, who knew then that it would take so long for the former to return?
On March 5 of that year, the best of times was very much in evidence at the Showplace Performance Centre as local musicians and the community at large came together to raise more than $31,000 for shelters and housing initiatives funded by the United Way Peterborough & District.
But just a week later, the worst of times dawned and a new term — COVID — quickly took up residence in our collective vocabulary.
Now, just more than two years since "Peterborough Performs: Musicians United Against Homelessness" saw 15 local music acts perform on two stages over four hours, "Peterborough Performs 2.0: Musicians United To End Homelessness" is a go for Sunday, March 20th from 1 to 6 p.m. — with Showplace again donating the venue for a fundraiser to help provide housing and shelter for people who are marginalized.
Advertisement - story continues below
Tweet this quote
Stepping up again are Andy and Linda Tough of RMS Events who, through their technical wizardry and working in conjunction with Porter Sound, will allow the audience in each room to see and hear, on a big screen, who's performing in the other space in real time. In addition, Long and McQuade is donating the use of onstage sound equipment while kawarthaNOW is on board as the event's digital media sponsor.
General admission tickets cost $50 and are available at the Showplace box office (290 George St. N., Peterborough), by phone at 705-742-7469, and online at tickets.showplace.org.
"Nothing soothes like music — nothing reminds us more of our connection to one another than the steady heartbeat of rhythm," says United Way Peterborough & District CEO Jim Russell. "Peterborough Performs 2.0 is a beckoning from our COVID bunkers, a chance to toe tap and sway with each other. But it's also a call that we must end homelessness in our community; that we need to make the human right of safe, affordable housing for all a priority."
VIDEO: Andy Tough's profile of the 2020 Peterborough Performs benefit concert

"Two years of COVID has been difficult for our community," Russell adds. "It has been most difficult for our neighbours who find themselves homeless. Join us in this celebration of unity and inclusion, and the belief that everyone deserves the dignity of a safe, affordable place to live."
Presented by returning event sponsor RBC, 17 acts will perform this time around, and an event-related online silent auction sponsored by LLF Lawyers with more than 40 items donated by local businesses, organizations, and individuals runs until 5 p.m. on March 20.
"Frankly, we didn't know what to expect two years ago," recalls Paul Rellinger, a United Way Campaign Cabinet member is once again organizing and producing the event. "Presenting four hours of live music simultaneously on two stages — in the Erica Cherney Theatre and in the lower level Nexicom Studio — had never been tried before, so I was a little nervous. In the end, it worked. There was a great atmosphere in both rooms, a palpable feeling of togetherness that provided a lot of help to those most in need."
Advertisement - story continues below
Tweet this quote
"There are two reasons this works: the Peterborough music community's continued unselfish giving of itself and its talent to help any cause identified, and the generosity of our sponsors and a community that consistently steps up to improve the lot of strangers in need of a hand up," Rellinger says.
Slated for Peterborough Performs 2.0 is a combined roster of returning acts from the first go-round and acts new to the event: The Weber Brothers Band, The Austin Carson Band, Rick and Gailie's Peterborough All-Star Band, The Elyse Saunders Band, Sarah-Jane Riley, Michael Bell, Irish Millie, Washboard Hank, Wylie Harold, The Verandah Society (Megan Murphy and Kate Suhr), Tami J Wilde, Benj Rowland, Phil Stephenson and Glen Caradus, Jacques Graveline, Nathan Miller, Tom Eastland, and Nick Ferrio. Jordan Mercier of 90.5 FM will serve as emcee for the event.
"It seems so long ago — you're talking way, way back," says The Weber Brothers' Ryan Weber of the inaugural Peterborough Performs. "What I remember most from that night was just another example of Peterborough rising to the occasion, as it always seems to do. Showplace is a great-sounding room. There was a great buzz."
"It (getting together with so many other musicians) doesn't happen that often, but I would say it probably happens more here than anywhere else. Peterborough is truly remarkable for that. If somebody is in need or if there's some kind of a cause, everybody comes together and it's always great."
With the lineup in place, a long list of silent auction items secured, and Showplace ready and able to welcome audiences back, those looking for assurance it's safe to attend can rest assured it will be. Face masks will be required, regardless of the regulations in place come March 20.
"This is the third coming of Peterborough Performs 2.0," Rellinger points out. "We planned on two separate occasions last year to organize and present this event, but postponed it due to safety concerns and regulations in place."
Advertisement - story continues below
Tweet this quote
"In close consultation with Showplace general manager Emily Martin, and at the direction of the United Way, we set this date with confidence that we're in a much better place pandemic-wise and, as such, can safely gather and enjoy live music at what is a wonderful venue," Rellinger says. "When all is said and done, it's time."
United Way campaign chair Marcus Harvey fully concurs.
"Prior to the pandemic, Peterborough's United Way had the terrific idea of bringing together civic-minded local musicians to advance our campaign to alleviate the problems of homelessness," he says. "The result was Peterborough Performs. It was immediately apparent that coming together to protect the most vulnerable among us had value far beyond our fundraising goals. Then the world changed."
"For the past two years, protecting one another has meant staying home, keeping distant, and getting vaccinated," Harvey adds. "Advancing the common good required disengagement and so we disengaged. Now it is time to reengage. Healthy communities ultimately require connection. Peterborough Performs 2.0 will provide one of our first opportunities to reconnect after a long absence."
"Anybody sitting on the fence and sort of waiting, I really understand that," adds Weber. "Throughout this time, it has been 'Yup, these things are happening' and 'Nope, these things aren't happening.' But we're able to do it now — so let's do it."
Peterborough Performs 2.0 has sponsorship opportunities, at all levels, available. For more information, contact the United Way's philanthropy director Anne Ondercin or development and communication officer Sara Mountenay at 705-742-8839.
kawarthaNOW is proud to be the digital media sponsor of Peterborough Performs 2.0: Musicians United To End Homelessness.