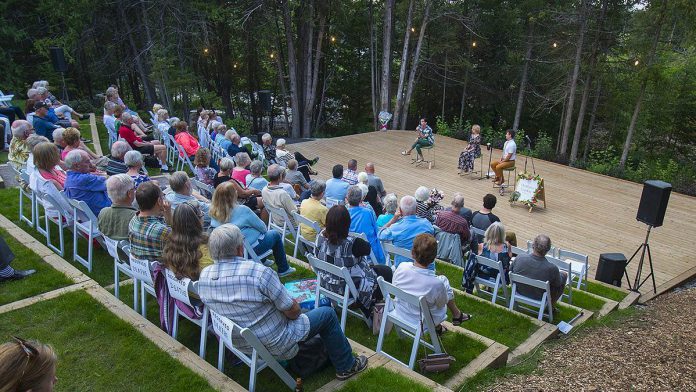 The Grove Theatre — the new outdoor amphitheatre built into the garden grove of the fairgrounds in Fenelon Falls — has announced its first summer production along with a series of live music, comedy, and theatrical events this spring.
"This spring we have put together an exciting list of events including a couple of country music concerts, a few comedy nights, two musicals, a new play, a rock legend and more," write artistic directors Sean Cox and Christy Yael in an email. "We will also present our first production this summer of The 39 Steps. We hope you join us at The Grove this season as we celebrate Fenelon Falls' new outdoor amphitheatre together."
Based on the 1915 novel by John Buchan and the 1935 film by Alfred Hitchcock, The 39 Steps will run at The Grove Theatre from July 28 to August 28. This award-winning parody by Patrick Barlow, based on an original concept by Simon Corble and Nobby Dimon, features four actors playing 150 characters in a fast-paced comedic spy thriller.
Advertisement - story continues below
Prior to its first summer production, The Grove Theatre is also presenting the following performances in May and June:
Friday, May 20 – Sweet Alibi with Ben Kunder
Saturday, May 21 – Comedy Night featuring Kate Davis
Sunday, May 22 – Brothers Wilde with James N. Wilson
Friday, May 27 – Zachary Lucky and Band
Saturday, May 28 – ABBA Tribute Concert
Sunday, May 29 – "Confessions Of A Redheaded Coffeeshop Girl" (a one-woman musical created and performed by Rebecca Perry)
Thursday, June 9 – Country Legend Tribute (with Alan Jackson and George Jones tribute performances)
Friday, June 10 – Broadway Through the Ages (a musical theatre cabaret led by Heather McGuigan)
Saturday, June 11 – Neil Osborne and A Family Curse
Sunday, June 12 – "The Tracks" (a two-person musical by Mark Weatherley starring Lauren Bowler and Kale Penny)
Thursday, June 16 – Comedy Night featuring Elvira Kurt
Friday, June 17 – Stories and Country Music (a wrtiers' round featuring Emily Clair, Amberlea Bruch, Jessie T, Ali Walker, Mackenzie Leigh Meyer, Rich Cloke, Graham Scott Felmming, Patrick James Clark, and Matt Morson)
Saturday, June 18 – The Marvellous Magic Show
Sunday, June 19 – "The Wonder Of It All" (a new comedy-dramma by Mark Weatherley starring Monique Lund and Mark Weatherly)
All performances of the spring series as well as The 39 Steps this summer begin at 7:30 p.m. with tickets priced at $35 ($65 for premium stating), with the exception of the June 18th magic show which begins at 4 p.m. and costs $10.
Advertisement - story continues below
Tickets are available at The Grove Theatre box office (2 Water St., Fenelon Falls) from 1 to 5 p.m. on Thursdays, Fridays, and Saturdays or online anytime at www.grovetheatre.ca/2022-season.
The Grove Theatre was created with the help of the Kawartha Works Community Co-operative, a collective that supports a wide range of not-for-profit initiatives that benefit the local community. Initial funding was provided from the Ontario Trillium Foundation, with additional support from members of the local community.
The theatre opened last August with a scaled-down season of concerts because of the pandemic. Originally, the theatre was going to open with a full-scale production of A Midsummer Night's Dream The Musical last summer, but the show was cancelled due to public health restrictions.