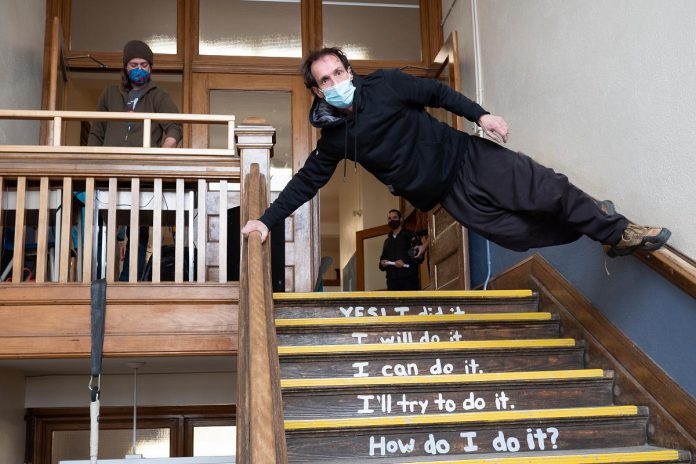 Where many saw an old building that had long outlived any future useful purpose, Bill Kimball saw an opportunity to bring that space back to life.
In 2018, the executive director of Public Energy Performing Arts in Peterborough approached the Kawartha Pine Ridge District School Board to enquire if the former King George Public School in East City could be made available for a performance and visual art showcase he had in mind.
Fast forward to this past Thursday (April 14), when details of 'Erring at King George', billed as Peterborough's largest multidisciplinary arts festival, were revealed by Kimball at a launch attended by artists and arts supporters as well as a number of event sponsors, kawarthaNOW among them.
Tweet this quote
Set to take place the first two weekends in May at the former school at 220 Hunter Street East (at Armour Road), Erring at King George will see artists perform or display their work using all three floors of the building, converting former classrooms, the gymnasium and even stairwells into a stage for their combined talents.
"You've got to have a space that has numerous rooms — a place that you might get lost in," said Kimball, noting the former school fits the bill perfectly. "You need an empty building and there aren't too many of those around. I had heard that King George was being closed, so I approached the school board and asked 'Can we do this after it's closed?' This has been in the works for four years."
The festival runs Friday, May 6th to Sunday, May 8th, and again from Friday, May 13th to Sunday, May 15th, from 7 to 10 p.m. on Fridays, 3 to 6 p.m. on Saturdays, and 2 to 5 p.m. on Sundays. Tickets for each day of the festival range in price from $5 to $30 in increments of $5 and can be purchased in advance online at eventbrite.ca/e/311827001957. Tickets will also be available at the door.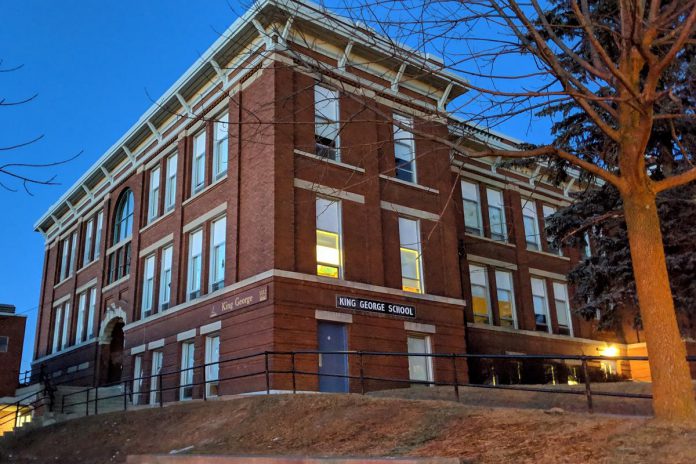 Tweet this quote
Kimball noted this is the third Erring event held in Peterborough. The first took place in 1996 on the upper floors of the Hunter Street East building that is now home to the Gordon Best Theatre. The second, Erring on the Mount, was held in 2014 at what is now The Mount Community Centre. Kimball pointed out the success of both events, particularly the latter, made staging the event yet again a no-brainer.
"In 2014, we had more than 2,000 people file through in three days," he said, noting that while the location has changed, the premise remains very much the same. "This event will is very much based on that experience. The artists take over an entire building, and fill every nook and cranny."
"The idea is to give artists a challenge — something new to do — and to give audiences a new way to experience art. Something that's not like a theatre or an art gallery. Theatre can be staged anywhere. Art can be put anywhere. That's what this is about."
As for the word 'erring' in the festival's name, Kimball explained it can be used in two ways.
"One is the modern version, which is to make a mistake — that might happen here, who knows?" he laughed. "The other definition of 'erring' is more old-fashioned, which is to wander or to get lost. You're wandering … you're getting lost in this building, getting lost amongst among the art."
That will present no challenge for the festival, with more than 70 artists participating through the mediums of visual art, film, multimedia, dance, theatre, music and spoken work poetry. While most are based locally, some are coming from as far away as British Columbia. A complete list of installations on view during the festival and scheduled performances is available at publicenergy.ca/erring-at-king-george-festival-schedule/.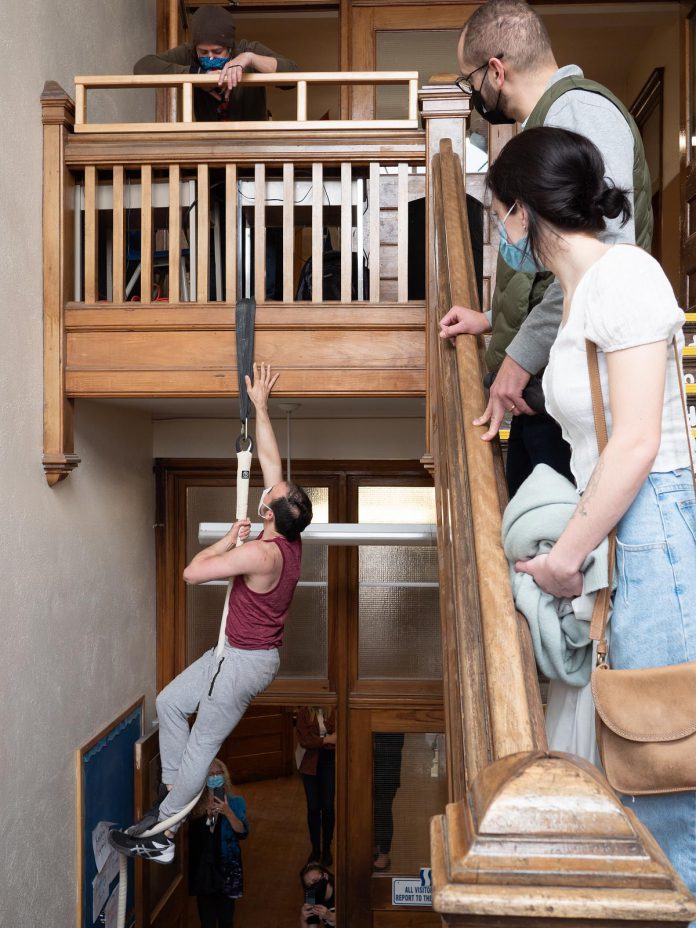 Each installation and performance takes full advantage of the former school's rustic interior and ambience. However, one of those installations — One Day In December, a film written and produced by Rob Fortin and Susan Newman with filmmaker LA Alfonso — leans heavily on the former school's unique physical position as an eyewitness to local history.
On Monday, December 11, 1916 at 10:20 a.m., an explosion at the Quaker Oats plant — the result of a spark from a grinder igniting grain dust — abruptly shattered the morning calm. The explosion and subsequent fire, which burned for several days, took 24 lives. At King George Public School, then only three years old, students whose classroom windows faced the south witnessed that event and its aftermath.
"We decided we would try to present that morning from the point of view of a fictional teacher in the classroom and the students, who would have been in the middle of doing whatever you do on a normal school day," Newman said. "We called it One Day In December because it was just an ordinary day until 'BOOM.' It's a look at an everyday occurrence with just everyday people and the impact that something like that can have."
Newman and Fortin wrote five songs for One Day In December, with the original plan being to present their piece as a live performance in the classroom. When that became impossible to do because of COVID restrictions at that time, it evolved into a film project at the suggestion of Alfonso.
The film features Marsala Lukianchuk as the teacher and the choral group from the Peterborough Theatre Guild's upcoming production of Annie as the students. Not seen on film but clearly heard is a choir from Kaawaate East City Public School.
"We made the classroom look like it did in 1916," Fortin said. "How often do you get the chance to tell a story and recreate it in the very place that it happened? It was like 'Wow.' You really felt the ghosts."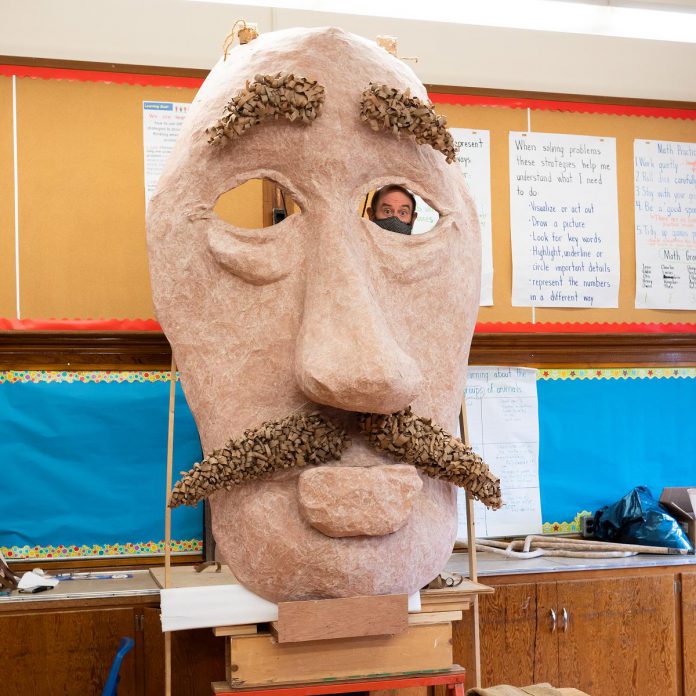 One Day In December will be projected on multiple screens in one of those classrooms as part of Erring at King George's Spirit Week, an immersive travelling theatre work written and directed by Kate Story where "a charming and mysterious custodian" will lead audiences throughout the building (and outside at times) where they will encounter scenarios inspired by actual events and people who worked and studied at the school.
Along with Fortin, Newman, and Alfonso's film, Spirit Week will feature Daniel Smith, Jenn Cole, Nicole Malbeuf, Kelli Marshall, The McDonnel Street Gospel Quartet, Norah von Bieberstein and Sahira Q, and Ryan Kerr.
Spirit Week takes place for one hour at the beginning of each day of the festival (6 p.m. on Fridays, 2 p.m. on Saturdays, and 1 p.m. on Sundays) and requires a separate ticket that must be purchased in advance at eventbrite.ca/e/311791545907. Tickets, which range from $10 to $30 in increments of $5, also allow access to the entire Erring at King George festival for that day, so there's no need to purchase an additional ticket for the festival itself.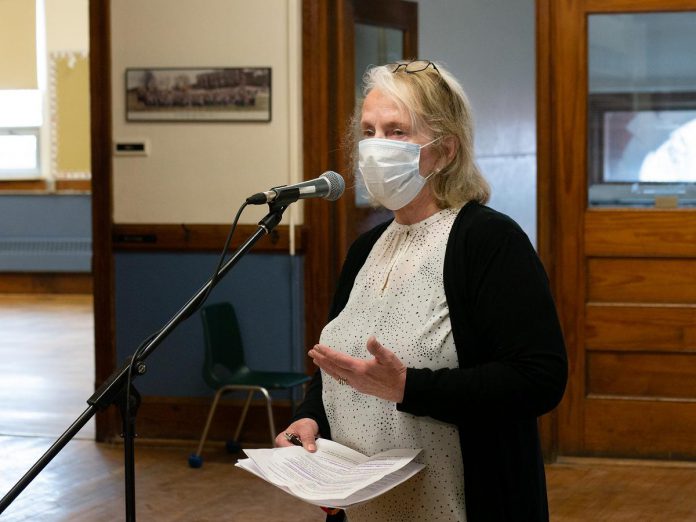 Tweet this quote
Among the many who attended Thursday's launch was Diane Lloyd, chair of the Kawartha Pine Ridge District School Board. She said the former school "is a perfect venue for what they are doing here."
"There's a school exactly like this in New York that has become an arts centre," she said, pointing out that would be more difficult to do with King George. "In New York, there are all sorts of people who support the arts. It would take community support to do it here. But having this open again and having people come back is wonderful."
As to what will become of the former school property after the Erring event, Lloyd won't commit to an answer. However, she said the board "values the heritage aspect of this building."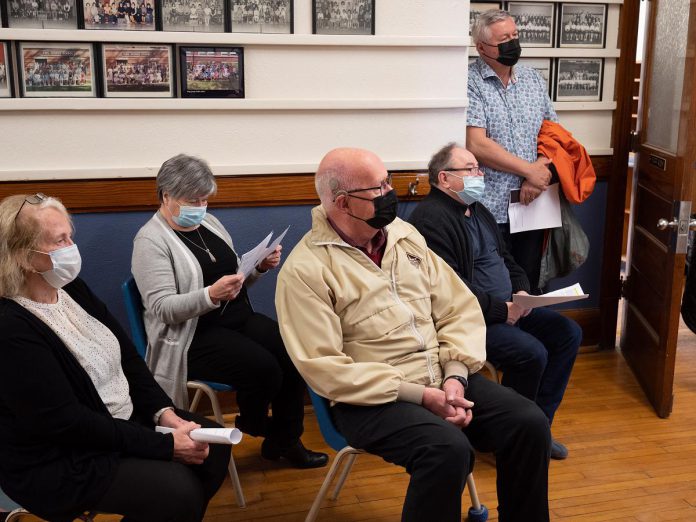 Also on hand Thursday were a few King George alumni, including long-time city councillor Henry Clarke as well as Peterborough real estate agent and event sponsor Jo Pillon — the latter having someone shoot a video of her in the gym doing a cartwheel where, many years ago, she did likewise as a member of the school's gymnastics team.
In addition to the installations and scheduled performances, two panel discussions will be held during the festival.
"King George, Kaawaate" will examine the juxtaposition of two side-by-side buildings — the former King George Public School and the recently constructed Kaawaate East City Public School that replaced it — and consider how we can work toward decolonization of artists, educators, and treaty people.
"The Art of Accessibility" will celebrate the "bravery" required to disrupt the status quo and make change for diversity, equality, and accessibility, and discuss how the education system and the culture it serves create barriers and how those barriers can be overcome.
For more information about Erring on King George, visit publicenergy.ca/performance/erring-at-king-george/.
This story was created in partnership with Public Energy Performing Arts.