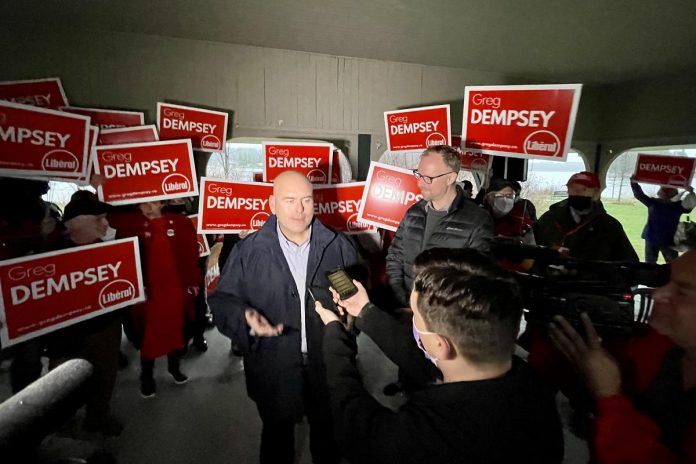 On a cool and rainy Tuesday evening (May 3) in Lakefield's Isabel Morris Park, a large crowd of enthusiastic supporters cheered on Ontario Liberal candidate Greg Dempsey as he officially launched his campaign to become the next MPP for Peterborough-Kawartha — with Liberal leader Steven Del Duca making a previously unannounced appearance.
"Tonight is about the choices that we are going to make," Dempsey said. "We deserve better action on climate. We deserve a health care system that works for us. We deserve an education system that isn't suffering through $1.3 billion in cuts from this government. We deserve a better, more caring provincial government."
Dempsey grew up in Peterborough, graduating from the French immersion program at Adam Scott CVI in 1999. He went on to earn two degrees from Bishops University (computer science and economics), a law degree from the University of Victoria and an master's degree in International Human Rights Law from Utrecht University in the Netherlands.
Advertisement - content continues below
Tweet this quote
"I pictured myself as a high-powered, high-flying corporate attorney on Bay Street, and in the first year of my law degree my grandmother passed away," Dempsey said, his voice cracking. "That year, my first year at law school was the hardest year of my life. It made me re-evaluate my own priorities about what I wanted to do with this one life that I have, so I decided I was going to serve."
After a career working for Global Affairs Canada, with postings at the UN and Canada's Embassy in Kabul, Dempsey revealed it was the pandemic that brought him home to Peterborough-Kawartha.
"As the pandemic got worse I knew that I needed to be at home, because Peterborough-Kawartha is my home," he said. "It's where my heart is, it's where my family is."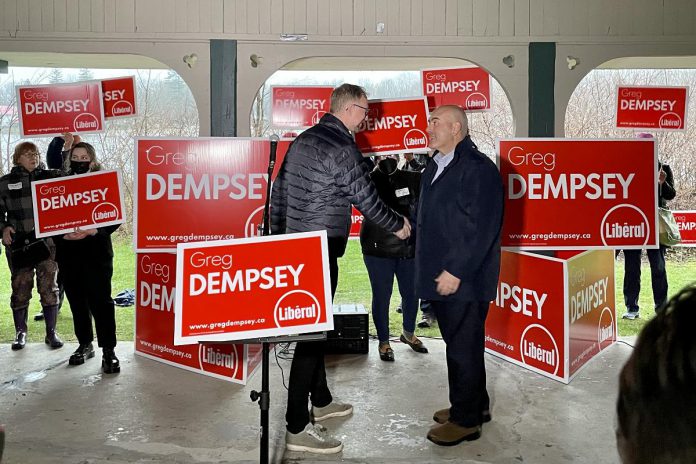 It was at that point that Dempsey asked his supporters to leave the relative comfort of the park's pergola to brave the rain and offer "an amazing Peterborough-Kawartha welcome" to Liberal leader Steven Del Duca, who had pulled into the Lakefield community centre parking lot later than expected.
A clearly energized Del Duca began by focusing his remarks on the broad strokes of the Liberal platform — action on climate change, funding for public education and healthcare, and support for "mom and pop" small retailers rather than "big box stores" — framing the election as a choice between a "chaotic", "flip-flopping" Conservative government that only looks out for the very rich while leaving everyone else behind, and a Liberal government who will "do the right thing" and invest in the public services Ontarians rightly rely on.
Del Duca's more specific policy announcements included:
Advertisement - content continues below
Investing $4.4 billion of "new money" over four years in community-based home care, which will benefit a claimed 400,000 seniors.
Ending for-profit long-term elder care in Ontario in favour of smaller settings of up to 10 people living together in a supportive "home-like" environment with a personal support worker or a nurse 24/7.
Promising to "kill highway 413 once and for all." Del Duca said, if elected, the Liberals will take the $10 billion earmarked for the highway and invest those dollars in school repairs as well as building new schools.
Moving beyond a minimum wage and developing Ontario's first-ever "living wage."
Cancelling corporate income taxes for Ontario's worst-hit small businesses for two years after the election.
Eliminating the HST on prepared foods up to $20.
Promising "buck-a-ride province wide" with all transit rides across the province only costing $1 From the election until January 2024.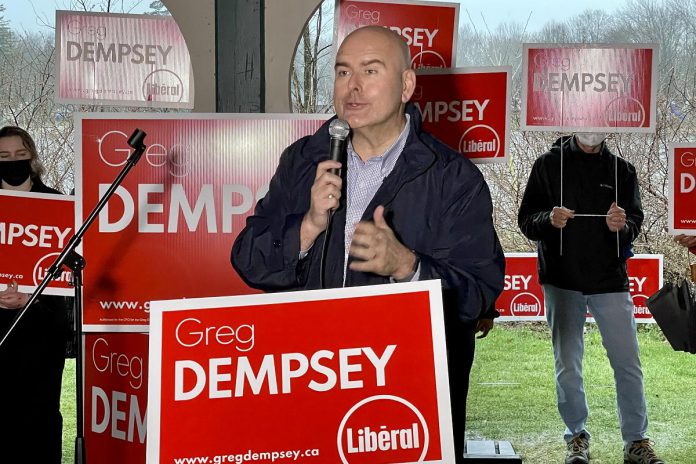 Tweet this quote
After listing the Liberal's most eye-catching campaign promises, Del Duca pointed to the energized crowd of more than 200 people who came out to support Greg Dempsey in the pouring rain and said "[they're here] because [he's] so passionate and so dedicated to this community."
"It's time for positive change," Del Duca added. "(People are) tired of the chaos, they're tired of the cuts, they're tired of being dragged backwards. They want optimism, they want determination, and the new Ontario Liberal team is going to deliver that."
The 2022 provincial election will be held on Thursday, June 2nd. Along with Dempsey, there are five other candidates for the Peterborough-Kawartha riding: incumbent Dave Smith of the Conservatives, Jen Deck of the NDP, Robert Gibson of the Green Party of Ontario, Tom Marazzo of the Ontario Party, and Dylan Smith of the None Of The Above Party.