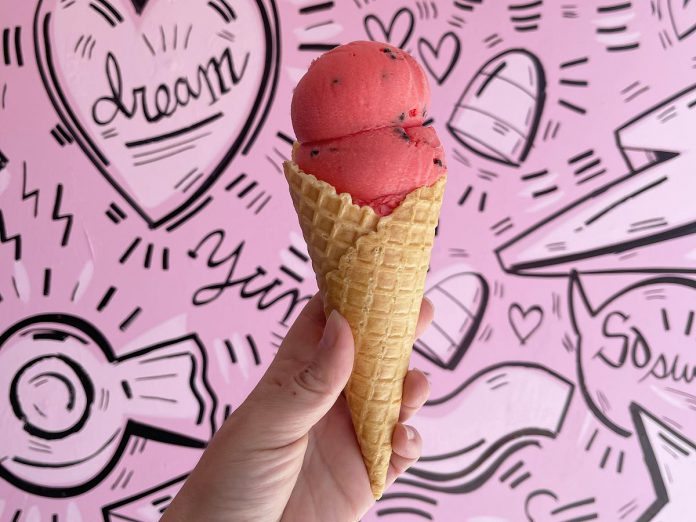 Business is only getting sweeter for Couture Candy PTBO.
The confectionery shop in downtown Peterborough, known for its candy boxes, candy-grams, and specialty snacks, is now offering customers a side of ice cream with their sweet treats.
Located at 386 George Street North, Couture Candy PTBO recently added an ice cream counter, aptly named Couture Cones PTBO. On Mother's Day, it launched over 20 delicious Central Smith ice cream flavours and assorted toppings, along with featured ice cream cones and bowls.
Tweet this quote
Also coming this summer are custom ice cream sandwiches, with flavours including Dunkaroos and Salt and Vinegar, as well as a birthday cone.
Ice cream is a welcomed addition to a delectable establishment already well-known to local fans, visitors, and anyone with a sweet tooth.
Owner Lisa Couture believes even a single scoop — like the confections she sells — is a tangible embodiment of kindness and happiness. It also ties to her business's mantra and one that she lives by: "Being kind is sweet."
"We love sharing happiness, be it by the scoop or a box of candy delivered directly to your door," Lisa explains. "We appreciate that oftentimes our products get sent as gifts to people going through unfair and tragic times, and we're in a position to help brighten their day."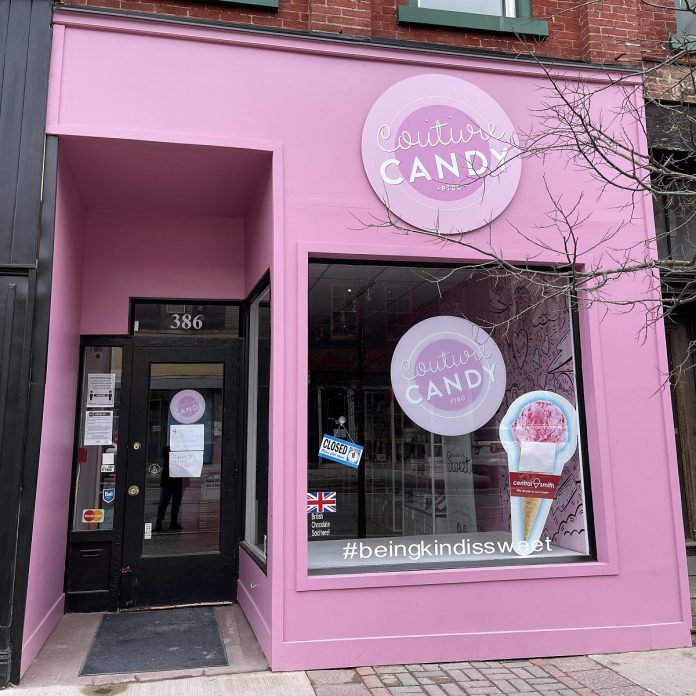 Tweet this quote
Lisa started Couture Candy PTBO in 2019 and began selling candy-related products online. It was a refreshing change from her job as an addictions counsellor in Oshawa, which she left due to work stress and burnout.
"I worked in a 24-hour non-medical detox facility in a high-stress role," she recalls. "I was struggling with a lot of anxiety and it was very hard for me to see positivity in the world, having worked in such a toxic environment for nearly 15 years."
"Instead of living with anxiety and toxic energy, I wanted to do something fun and kind. I was craving positivity in my life and I thought, 'It has to start with me.'"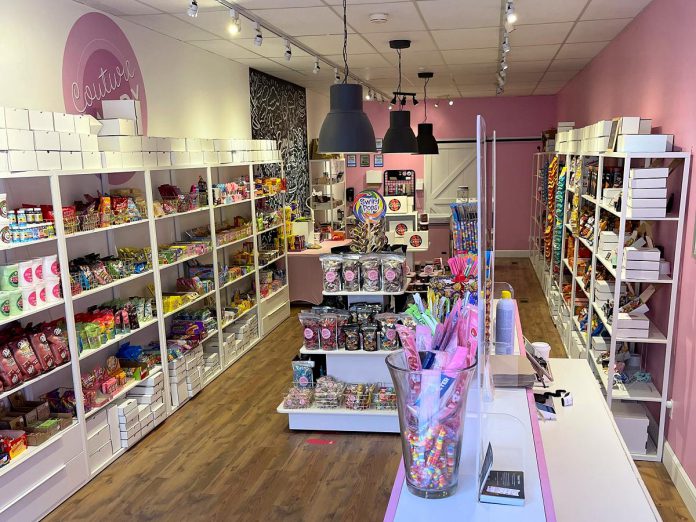 Lisa originally ran the business out of her own home, starting with $5 candy-grams delivered through the mail. She eventually added gift boxes stuffed with chocolate and candy treats for special occasions, and collaborated with other small businesses offering thoughtfully curated gift boxes containing unique, quality items.
When pandemic-related closures and physical distancing requirements began in March 2020, Lisa realized she quickly had to shift gears as she sat with a fully-stocked house of Easter inventory.
"I was terrified because I was sitting with thousands of Easter candy-grams and hundreds of candy boxes with no place to go," she says.
From that supply, Lisa donated 500 Easter candy-grams to local first responders and frontline healthcare workers working in the hospital's COVID unit as a "gesture of gratitude for their hard work and dedication."
She then heavily promoted the rest of the confectioneries on the company's Instagram account and offered contact-free porch pickups to customers.
"Everyone was scared to even go to Walmart to get their kids Easter chocolate bunnies," she says. "People were franticly messaging me looking to order so they could have somewhat of a normal Easter. I had hundreds of people coming to my porch for weeks before Easter arrived to get my products, which is really what catapulted the business."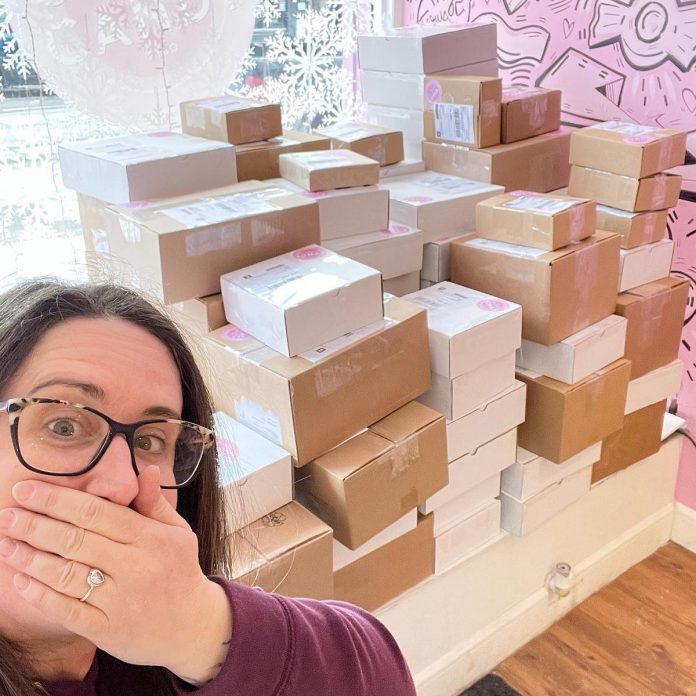 Tweet this quote
After a whirlwind of a year selling online orders exclusively through Instagram, Couture Candy PTBO sales were going so well that Lisa decided to open an enticing, bright-pink storefront on George Street in October 2020 to accommodate the business' "exponential" growth.
While the height of the pandemic was the demise of many retailers, Lisa saw it as an opportunity. She says she wanted to offer Peterborough something that it didn't have: marrying gift-giving and kindness to cheer people up.
"It's incredible when customers use us as an outlet to share their stories of tragedy or sadness," Lisa explains. "I often hear about someone who has cancer, someone who passed away, someone whose child is sick, or someone who lost a pet. I'm grateful that people are thinking of my business and shopping local when they want to do something nice and show somebody love and kindness in the form of a candy box or a candy-gram."
Couture Candy PTBO's main menu features its signature Couture Candy originals, like loose candy, loose candy mix bags, candy-grams, and candy boxes.
You can also find British classics, chocolate, and even organic and vegan options. There's a corporate gift-giving selection for those looking for a unique way to say thank you to clients or sweets for an event. Customers can also build their own custom candy boxes or bags with assorted items from the shop.
Tweet this quote
According to Lisa, Couture Candy PTBO is also about scratching a nostalgic itch. No matter which decade you grew up in, there's something at the candy shop that will bring you back to your childhood — whether it's Bazooka gum, Lik-M-Aid Fun Dip, Push Pop, Junior Mints, or Cracker Jack.
"For many customers, nostalgia candies instantly bring back vivid childhood memories whenever they see them or eat them," Lisa says.
Going into its third year, Couture Candy PTBO continues to reap the sweet smells of success. In February, Lisa had to temporarily close her shop for a few days to process hundreds of online orders after one of her TikTok videos went viral.
Tweet this quote
She says many of her videos attract several thousand views, but this particular video of her filling a large box with candy mix loot bags — the "second ridiculously huge order" for a customer named Becky — has now racked up 1.5 million views.
"I honestly don't know why that one video went viral as I have done the same video many, many times," Lisa says. "But it was a major tipping point for us reaching people outside of our local area to showcase some of our items. We realized something special was happening when orders started coming in every two seconds and over a thousand people were browsing our website."
Lisa adds that those 2.5-lb loose candy mix bags are now Couture Candy PTBO's biggest seller. They include the Don't Get Twisted Mix, Spring Into Summer Mix, Pass The Bottle … It's Been A Hard Year Mix, Gummy Goodness Mix, Sour Power Mix, and many more.
"In one week recently, we did up about 100 mixed bags. I think what people love about them is that the candy is fun, colourful, in your face and one-of-a-kind."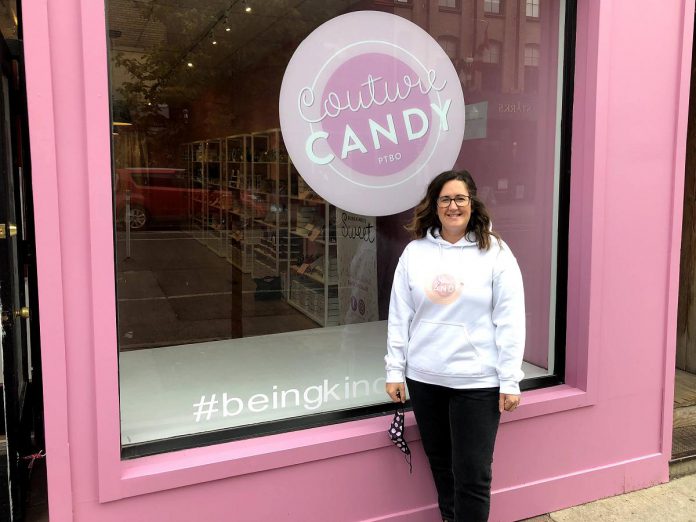 Tweet this quote
Lisa's popular TikTok video has allowed her small business to grow at an unprecedented pace. As a result, she has been able to add additional staff at her George Street location.
"Because of that video we were able to help somebody in our community get employment, which we're very proud of," Lisa says.
For Lisa, it's just another way of paying it forward with kindness.
"It feels fantastic being the go-to for kindness gifts in Peterborough," she reflects. "My outlook on the world was so skewed before because I felt there wasn't kindness anywhere in the world. But we're here helping spread kindness in our community and that's the special part of all this."
Couture Candy PTBO offers various shipping methods for online orders: pickup, local delivery within Peterborough and Peterborough County, and shipping across Canada and the United States. You can also order items and ice cream pints through the Y Drive Eats app.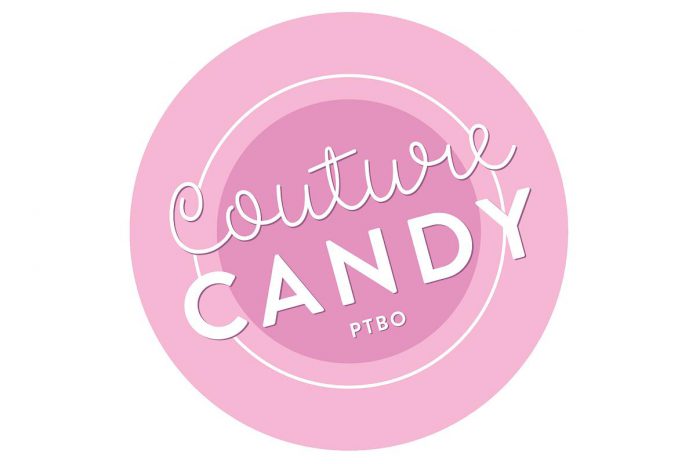 Located at 386 George Street North in Peterborough, Couture Candy PTBO is open from 11 a.m. to 6 p.m. Monday to Friday, 10 a.m. to 5 p.m. on Saturday, and 12 to 4 p.m. on Sunday. To learn more about the candy shop and to place an order for pickup or delivery, visit their website at couturecandyptbo.ca.
You can also follow them on Instagram, TikTok, and Facebook.
This branded editorial was created in partnership with Couture Candy PTBO. If your business or organization is interested in a branded editorial, contact us.