Over the past two summers, something very unsettling descended on Robert Winslow's beautiful farm property near Millbrook off Zion Line.
It was eerily quiet to the point of being spooky as 4th Line Theatre, not unlike live performance venues around the globe forced to close as the COVID-19 pandemic ran its course.
Now what was right before becoming not right is right again as 4th Line Theatre prepares for its milestone 30th summer season, presenting world premieres of two plays, opening with Alex Poch-Goldin's The Great Shadow on Tuesdays to Saturdays from June 28 to July 23.
Advertisement - story continues below
Set during the Roaring '20s, The Great Shadow is based on the true story of the effort to bring Hollywood to Trenton, Ontario via the establishment of a motion picture studio. The storyline follows one man's dream to build a film industry in Canada, as well as a single mother's search for love following the devastating Great War loss of her husband.
All this occurs in concert with the 'Red Scare' — the palpable fear that Communism was poised to put an end to Western democracy.
This is the third Poch-Goldin play premiered by 4th Line Theatre. The first, The Right Road To Pontypool, was staged in 2009 and 2010, and the second, The Bad Luck Bank Robbers, debuted in 2015 and was brought back for 2016.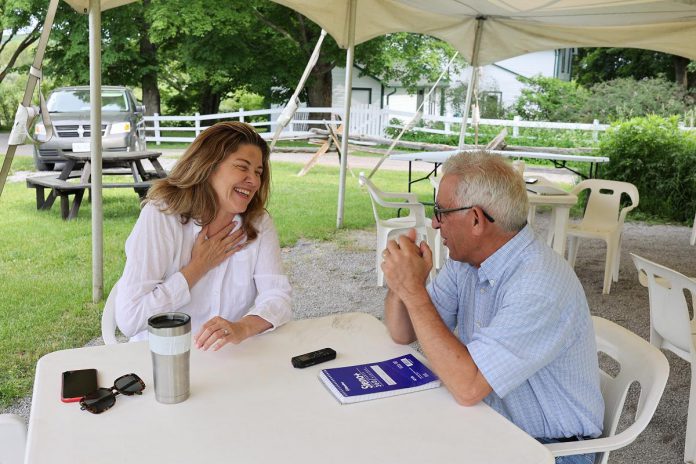 During an event for local media at Winslow Farm in Millbrook on Wednesday morning (June 15), kawarthaNOW spoke with The Great Shadow director Cynthia Ashperger, actors Shelley Simester and Sochi Fried, and 4th Line's managing artistic director Kim Blackwell.
For Ashperger, whose first exposure to 4th Line Theatre was as an audience member for The Right Road to Pontypool, the opportunity to direct a Poch-Goldin play has her over the moon.
"Now I'm directing another Alex Poch-Goldin play with a big heart — a sweeping epic with lots of humour, just like The Right Road To Pontypool," she says.
Advertisement - story continues below
Tweet this quote
"The last thing I did before COVID was direct a 4th Line Theatre workshop for The Tilco Strike, which was scheduled for (full staging) in 2021," Ashperger recalls. "(The Great Shadow) was scheduled for 2020. This is my first return to a professional engagement of this nature since March 2020. I'm really going into it like 'Wow … I get to do this.'"
Teaching acting at Toronto Metropolitan University (formerly Ryerson) for close to 30 years now, Ashperger, a veteran actor and director, appeared in two 4th Line Theatre productions — The Berlin Blues and Who Killed Snow White? — following her initial exposure to the company.
"Having bought a cottage in Curve Lake, I knew I was going to spending a lot of time here, so I reached out to (founder and creative director) Robert Winslow. I said 'Here I am. I'm Cynthia Ashperger. I'm an actor and director from Toronto. I love your farm. I loved The Right Road To Pontypool. Anything, anything, anything — here I am.'"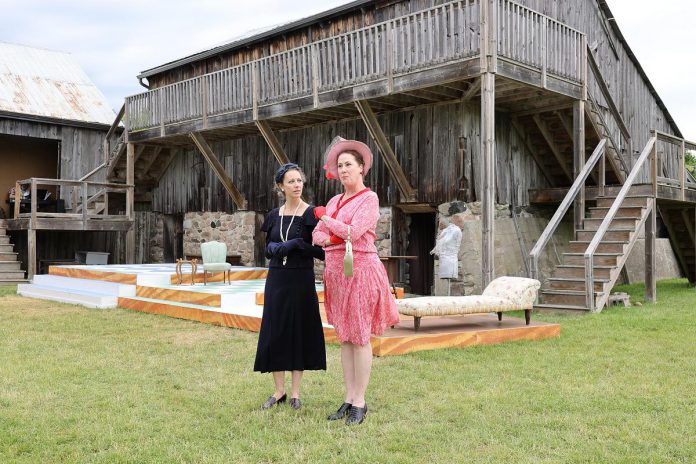 Winslow took Ashperger up on her offer, not only bringing her into the mix for The Berlin Blues and Who Killed Snow White? but also pegging her to direct The Great Shadow. She couldn't be more thrilled.
"What's beautiful about the farm — I'm in love with the farm, I confess — is anything can be anything here," she says. "It really allows for (the staging of) an epic. We have Lenin on the balcony and then we have the famous gossip columnist Hedda Hopper on the balcony, and another gossip columnist, Luella Parsons, in Manhattan. We have a big studio lot. We have a Trenton family that's enveloped by, and immersed into, this new culture of Hollywood Northeast."
Two of the actors taking direction from Ashperger are Shelley Simester, portraying Hopper, and Sochi Fried, who plays Parsons. For Simester, it's her fourth role at the Winslow farm while Fried is making her 4th Line debut.
Advertisement - story continues below
Tweet this quote
"I think our characters are appealing because we're so smart," Fried says. "Our audience will find us utterly hilarious but somewhat treacherous, which I find entertaining."
Portraying Hopper, acknowledges Simester, "is a lot of fun. The playwright has captured these two characters and peppered us throughout the script as very fast, comic, witty, cutting people."
A scene preview presented on Wednesday morning for the media bears out what she describes as she and Fried, in their roles as gossip columnists for competing publications, took pot shots at one another — all the while trying to be cordial, but failing miserably at convincing anyone of their sincerity.
As excited as Ashperger and the cast are to be back doing what they love so much to do, longtime 4th Line Theatre managing artistic director Kim Blackwell is bursting with pride.
"It's incredibly gratifying to have led an arts organization through a pandemic that shuttered arts organizations across the globe, and with an incredible team — you don't do these things alone," says Blackwell who, with a small group led by Robert Winslow, gave new life to the farm property in 1992 before the inaugural presentation of The Cavan Blazers.
"On the larger level of the 30th (season), I was 25 when I started here. I'll be 56 this year. More than half my life I've spent at this place. Hard work, some luck, perseverance … there's a lot of pieces to that. My real love of people and stories and history has melded here."
Advertisement - story continues below
Tweet this quote
But while she's convinced The Great Shadow is "the right production for this time," Blackwell remains uncertain whether audiences will flock to theatre in the same way they did before the pandemic.
"I think people are wary … not quite ready to come out," Blackwell reflects. "Also, our audience has aged by two years, so we've aged out some, while at the same time we didn't being a new audience in for two years."
"(Ontario Minister of Heritage, Sport, Tourism and Culture Industries) Lisa McLeod talked of at least five years of recovery and I think that's probably true. People have become comfortable at home in their pajamas while streaming. We have to remind people of what an incredibly transformative experience it is to experience something live together, whether it's theatre or music or dance."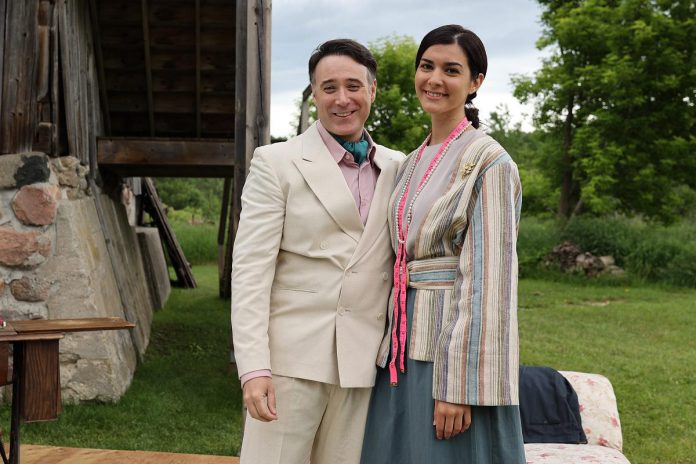 The Dark Shadow, notes Blackwell, is an excellent starting point.
"Alex (Poch-Goldin) is probably the second most embraced playwright in 4th Line's history aside from Robert (Winslow)," says Blackwell. "He has a beautiful way of combining the funny and the tragic into a beautiful package."
"People really respond to his fish-out-of-water characters who come to small towns and how they clash with small town people. It's the perfect production because it's very funny. It's not going to knock you over the head with any darkness. There are 25 in the cast (including) lots of local people. It's everything we do well."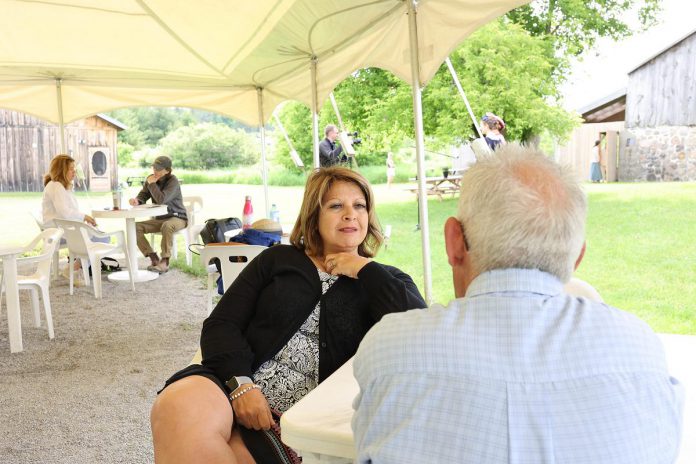 Tweet this quote
Sponsored by CIBC Wood Gundy – The Pyle Group, The Dark Shadow also stars professional actors M. John Kennedy and Julia Scaringi in the roles of Tyrone Powers and Julia Scaringi. Local actors in the cast include Sarah McNeilly, Matt Gilbert, and — fresh off her performance in the Peterborough Theatre Guild's production of Annie — 11-year-old Indigo Chesser.
Behind the scenes, musical direction is by Justin Hiscox (who also penned the play's original compositions), choreography is by Bill Coleman, fight direction is by Edward Belanger, costume design is by Laura Delchiaro, and set design is by Esther Vincent.
Performance dates for The Great Shadow are Tuesdays to Saturdays from June 28 to 30, July 1 and 2, 5 to 9, 12 to 16 and 19 to 23, with curtain at 6 p.m.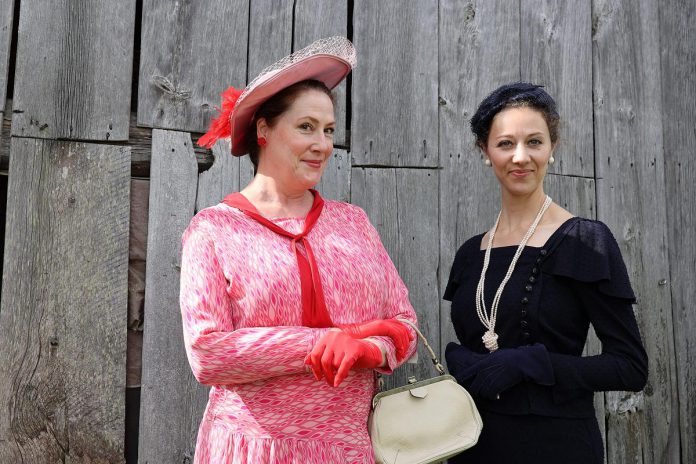 Previews take place on June 28 and 29, with opening night on Saturday, July 2nd — also 4th Line's 30th anniversary season opening night gala, which begins at 3:30 p.m. and features farm-to-table food from Black Honey Catering and hard and soft drinks, a silent and live auction, a ticket to The Great Shadow, and a post-show reception including a champagne toast with the cast and crew. Tickets are $140, which includes a $35 tax receipt,
For more information and to order tickets for The Great Shadow (as well as the opening night gala), visit www.4thlinetheatre.on.ca.
You can also order tickets by calling 705-932-4445 (toll free at 1-800-814-0055) or in person at the 4th Line Theatre box office at 4 Tupper Street in Millbrook starting July 2.