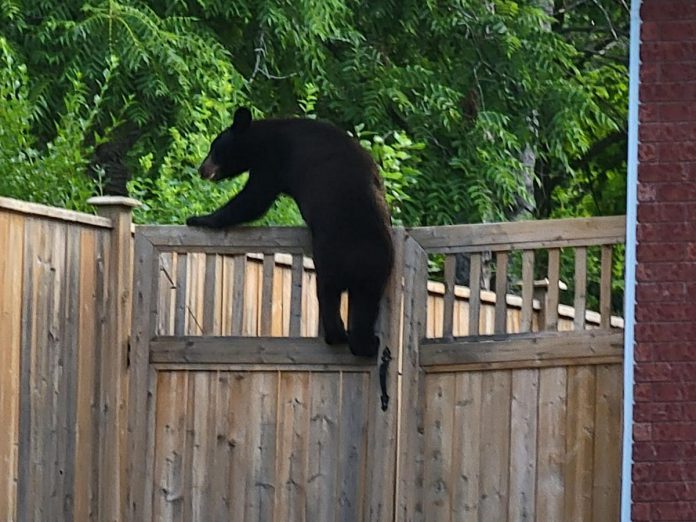 After a young black bear was spotted in Peterborough's west end on Monday (June 28), police are reminding residents what to do if they see a bear.
Gail Lavigne posted photos of the black bear in the Peterborough Shares Facebook group, which she took around 6:30 a.m. on Monday morning. The photos show the bear, which appears to be a yearling, around a home on Wallis Drive near Sherbrooke Street and climbing a fence.
Cara Ellis also posted a photo in the Facebook group of the same bear around Peterborough Regional Health Centre at 7 p.m. on Monday evening.
Advertisement - story continues below
Police advise residents to only call 9-1-1 about a bear sighting in an emergency situation, when the bear poses an immediate threat to personal safety and exhibits aggressive behaviour.
This includes situations where a bear enters a school yard when school is in session, stalks people and lingers at the site, enters or tries to enter a residence, wanders into a public gathering, or kills livestock or pets and lingers at the site.
In emergency situations, police will respond first but may request assistance from the Ontario Ministry of Northern Development, Mines, Natural Resources and Forestry during daylight hours.
For non-emergency encounters, residents should call the ministry's Bear Wise reporting line at 1-866-514-2327, which operates 24 hours a day seven days a week from April 1 to November 30.
Non-emergency encounters include a bear roaming around or checking garbage cans, breaking into a shed where garbage or food is stored, climbing a tree, pulling down a bird feeder or knocking over a barbeque, or moving through a backyard or field without lingering.
For tips on what to do if you encounter a black bear, visit the ministry's Bear Wise web page at ontario.ca/bearwise.
Black bears have been spotted in Peterborough's west end in previous years, including in April 2020.