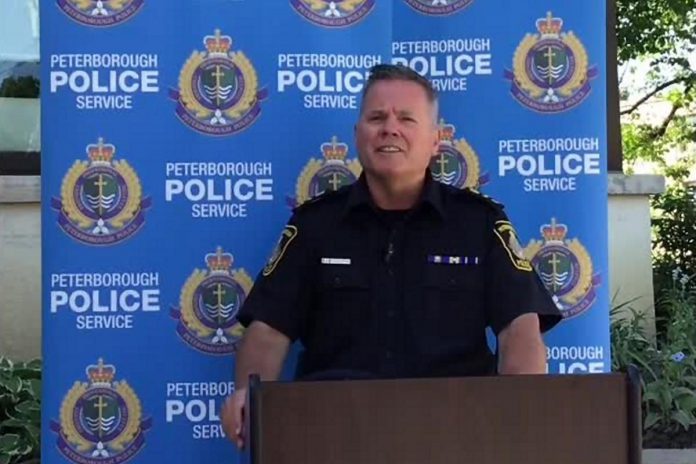 Peterborough police continue to search for suspects in the city's second homicide of 2022.
Just after 2 p.m. on Saturday (July 2), police were called to the Park Street North and Sherbrooke Street area in Peterborough following reports that a person had been shot.
After arriving, officers located a 37-year-old male victim and administered CPR. The victim was transported to Peterborough Regional Health Centre where he succumbed to his injuries.
Advertisement - story continues below
Tweet this quote
"The safety of the residents in our community is the number one priority of the Peterborough Police Service and we understand that safety is also a concern in our community," said acting police chief Tim Farquharson during a media conference on Monday. "We are working to gather as much information as possible and locate the suspects involved. "
Farquharson said police do not believe this was a random incident and there is no threat to public safety.
Although Farquharson did not specify the shooting was drug-related, he spent much of the media conference speaking about the police response to increased violence over the past six months, as well as police seizures of drugs in the city and targeting of organized crime, and a multi-pronged approach to the issue of opioids addiction.
VIDEO: Peterborough police media conference (July 4, 2022)

In response to questions, Farquharson refused to comment on whether the victim was known to police or whether this was a drive-by shooting.
On Tuesday, police identified the 37-year-old victim as Shawn Singh of Peterborough.
Police believe there may be more witnesses in the area at the time of the shooting, and are asking anyone with information to come forward by call the Peterborough Police Service's crime line at 705-876-1122 x555.
If you prefer to remain anonymous, you can call Crime Stoppers 1-800-222-TIPS (8477) or submit a tip online at stopcrimehere.ca.
This story has been updated with the name of the victim.