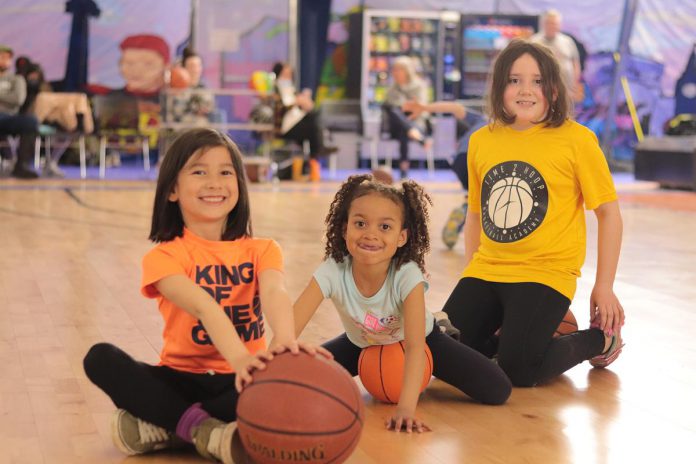 Joshua Williams is used to shooting hoops, not jumping through them.
As founder of Peterborough's Time 2 Hoop Basketball Academy, the former Fleming Knights varsity player and coach presented the inaugural Nike basketball camp for kids and teens in 2021, overcoming a number of pandemic-related challenges to make it happen.
The end result of that effort saw an average of 30 participants registered for each weekly camp dribble, pass, and shoot their way to improved court skills at Playground East Peterborough (the former SPIplex sports dome), off Highway 7 just south of Fowlers Corners.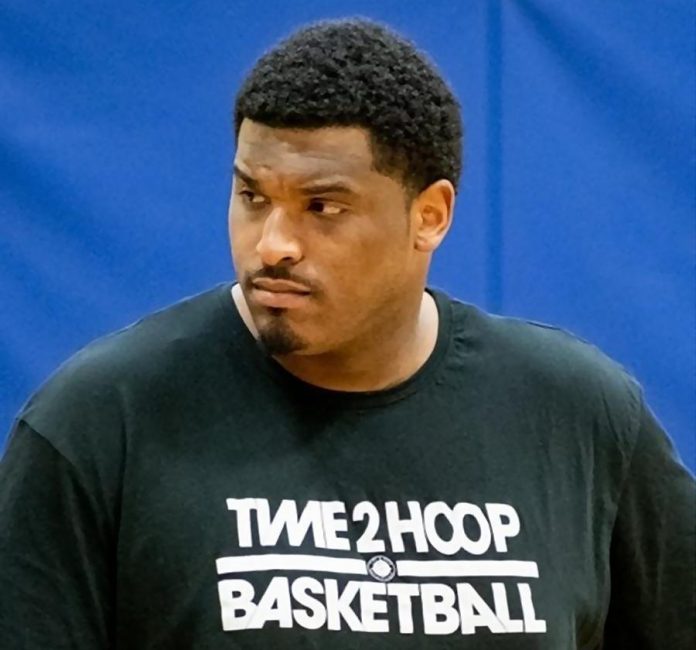 Tweet this quote
Now, buoyed by the program's first-year success, Williams and his team are bringing it back this summer, with an outdoor Nike soccer camp added to the mix.
"There was some thinking like 'Should we wait? If the other camps aren't running, should we be running?'" recalls Williams of the lead-up to last year's camp. "Normally you can have the kids all together and have them running around, but we had to do it a little bit differently — organizing different cohorts, organizing when the kids could eat lunch, and organizing inside and outside times."
"It was a challenge but it was great to be able to give those kids an opportunity to be active," he adds. "We took all the required measures, and consulted with Peterborough Public Health and Service Canada to figure out exactly what we needed to do. We were able to put it together and it was a success."
Now that pandemic restrictions are lifted, Williams can focus on what he does best: helping young athletes develop the skills they need to enjoy the sport of basketball as well as soccer.
Tweet this quote
Registration is now open for eight weekly co-ed camps this July and August, with the first week beginning July 4. Basketball camp will be offered for six weeks with soccer camp offered for four weeks. During the two weeks that they overlap, registrants can choose to participate in a hybrid basketball/soccer camp.
Basketball camp, which is held Monday to Friday from 9 a.m. to 3 p.m., is open to boys and girls aged five to 17 of all skill levels. The cost is $325 plus HST for the week, with a half-day option available for $225 plus HST. Camps run every week from July 4 to August 26, except for the week of August 1 due to the Civic holiday.
Camp participants will learn the fundamentals of basketball, improve their basketball skills, and further develop their on-court athleticism in a fun yet competitive and engaging environment.
"Kids of all abilities are encouraged to come," says Williams, adding "If you love playing the sport or you want to try it for the first time, we cater to everybody."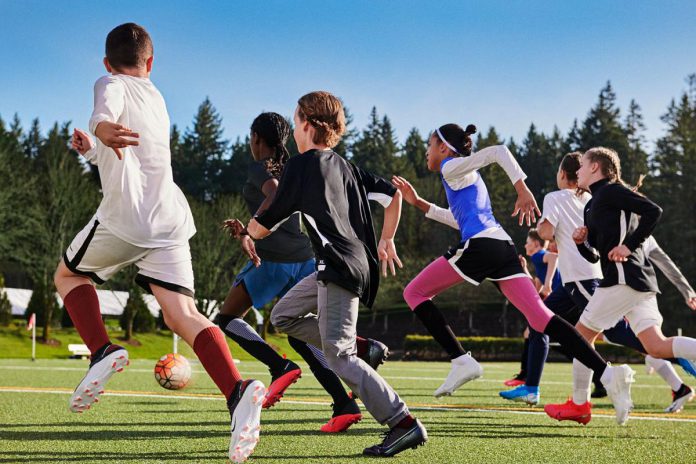 Soccer camp, meanwhile, is directed by Canadian and Ontario soccer association-certified coach and former semi-pro player Stan Bombino. There is a junior camp for U5 to U11 players and a senior camp for U12 to U17. Camp registration for one week, from 9 a.m. to 1 p.m. each day, costs $225 plus HST. Sessions run July 8 to 12, July 11 to 15, August 8 to 12, and August 15 to 19.
To register for either the basketball or soccer camp, visit www.time2hoop.ca/t2h-sports.html.
Williams has again enlisted the help of a number of qualified basketball coaches. Returning from last year are Peterborough native and former Team Canada captain Jesse Young, and certified athletic therapist and registered kinesiologist Raymond D'Almeida, the owner of Rayzor Therapy & Fitness in Peterborough. New to the coaching roster are former Fleming athletes Mkons Stone and Daniel Williams, the latter having played pro basketball in Europe, and Adam Scott grad Nolan Nukkala.
Key to the camps' formation, Williams points out, has been the partnership with Nike, a relationship that goes back to his time running a Nike soccer camp at Fleming.
"I got a call prior to the summer we ran the soccer camp and they wanted to know if I was interested in running a basketball camp. I wanted to expand basketball in the community, and expand the programs I was already doing with Time 2 Hoop, so it was a no-brainer for me to take that on."
Tweet this quote
Noting his wish that there was a similar program available to him when he was a kid, Williams says he's grateful to be able to give kids "the opportunity to try the sport of basketball and see if they want to take it any further, whether that's being the best in their friend group, to making their high school team, to playing in college or university. Whatever the case may be, I'm all about helping them get there."
While skills development is a big part of Time 2 Hoop's mandate, Williams adds the related benefits of team sport shouldn't be underestimated, such as teamwork, respect, and fair play.
"It's about building character as well as teaching the sport," he says. "There are life skills that are going to translate outside of the sport. How you act here is probably how you're going to act outside of here. It goes beyond them just playing."
"I enjoy passing my knowledge on more than playing the sport at this point. I just want to give all that I can to help anyone succeed."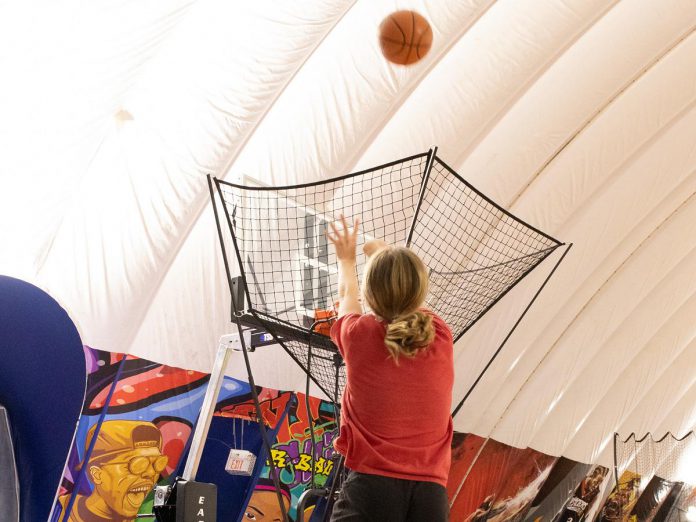 Time 2 Hoop Basketball Academy, founded by Williams more than four years ago, has come a long way since he provided instruction to a dozen kids in a high school gym. The pandemic forced a hiccup, he notes, but everything is now headed in the right direction.
"We don't just do camps," he adds. "We also do skill development training. We have travel teams. We want to expand to communities close to us — Lindsay, Port Hope, and Cobourg. We want to continue to offer opportunities that other areas are not offering."
For the kids, Williams says, it's also all about having fun while they develop their skills.
Tweet this quote
"They talk to their friends and their family and say they had a great time," Williams explains. "They learned how to dribble the ball and to be a better teammate. I walk down the street and I see someone in a Time 2 Hoop t-shirt. That shows people are liking the brand and want to be a part of it."
As for the summer camps this summer, Williams says he's "really excited to get going again."
"Working with kids through the game of basketball is my baby. I love being able to provide opportunities for that."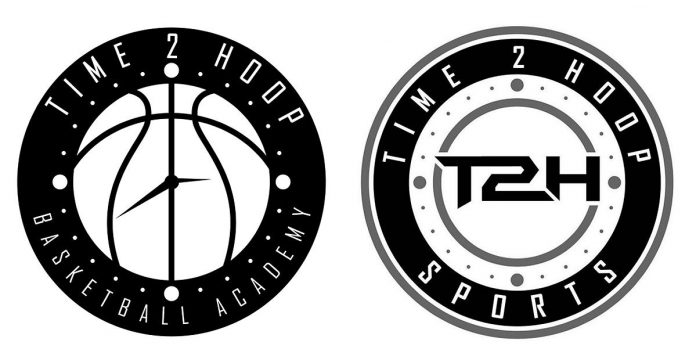 For more information on Time 2 Hoop Basketball Academy and its other offerings, and to register for the summer camps, visit www.time2hoop.ca.
This branded editorial was created in partnership with Time 2 Hoop Basketball Academy. If your business or organization is interested in a branded editorial, contact us.