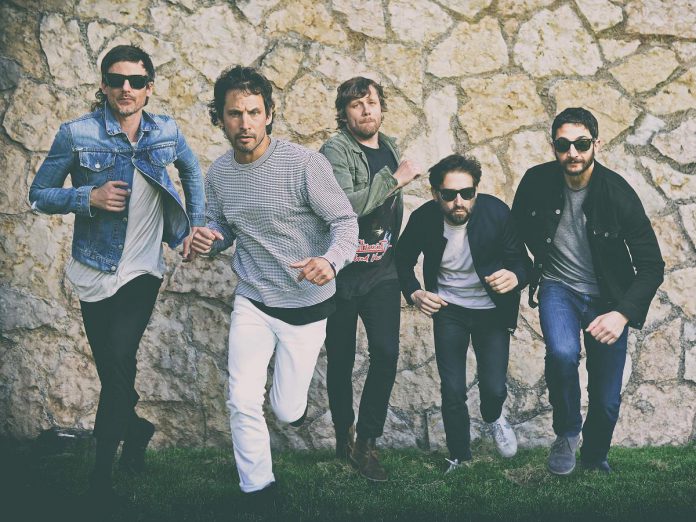 When it rains, it pours — and sometimes that's a good thing. Back on August 29, 2021, Peterborough Musicfest brought Canadian alt-rockers Sam Roberts Band to Peterborough to headline a free-admission concert, held drive-in style in the Peterborough Memorial Centre parking lot due to the pandemic.
Opened by The Weber Brothers Band, things started out well enough but a few songs into Sam Roberts Band's set, a violent thunderstorm rolled in from the west and, well, that was that.
As the venue quickly emptied, no one was more disappointed than Roberts himself. Taking cover from the pelting rain, he promised to return to Peterborough to finish what he had started and, in fact, directed his people to make that happen.
On Wednesday, July 6th, Sam Roberts will deliver on that vow, fronting his band at Del Crary Park before a much larger audience as Peterborough Musicfest's 35th season continues. As always, admission to the 8 p.m. concert is free.
Advertisement - story continues below
With the 2003 release of his debut double-platinum album We Were Born In A Flame, it was clear right from the get-go that Sam Roberts was destined for Canadian rock music stardom. Six studio albums and 15 Juno Award nominations later, the Montreal-raised singer-songwriter has more than lived up to that billing.
Roberts' career has been a tale of two trajectories.
As Sam Roberts, the singer, guitarist, and songwriter released two subsequent albums — Chemical City in 2006 and Love At The End Of The World in 2008 — and then, with The Sam Roberts Band, brought forth the studio albums Collider, Lo-Fantasy, TerraForm and, in 2020, All Of Us.
VIDEO: "Brother Down" – Sam Roberts Band

Roberts didn't return empty handed from his trips to the Juno Awards. At the 2004 ceremony, his arms cradled four of the coveted statues, for Album of the Year, Rock Album of the Year and Artist of the Year for We Were Born In A Flame, and Video of the Year for the tune "Bridge To Nowhere."
Then, in 2009, Roberts again won Artist of the Year and Rock Album of the Year for Love At The End Of The World.
The 2003 release of We Were Born In A Flame was preceded by a six-track EP, The Inhuman Condition. It included a song that remains a staple of Roberts' set list to this day. In a 2016 interview with Laura Antonelli of Songfacts, Roberts reflects on the staying power of that song, "Brother Down."
Advertisement - story continues below
"I think there's an honesty to the line 'I think my life is passing me by' that we all feel," Roberts says. "When I wrote that song, I was at a point where my dream of playing music, not just for a living but being able to devote and dedicate my life to making music and not having to work at another job that was going to pull me away from it, was a real thing."
"But it seemed like it was just slipping away further and further every day. That's when I wrote that song. Of course, strangely enough, it's the song that ends up launching our career. I think maybe that feeling of desperation is something that we can all relate to somehow."
As for his evolution as a songwriter since that early success, Roberts says maturity brings with it a different perspective that's reflected in the lyrics.
VIDEO: "Hard Road" – Sam Roberts Band

"You start off writing songs as a young person and you're living in a world that revolves almost entirely around yourself and your own needs and ambitions," Roberts says. "As you get older, it starts to become less and less about you, especially when you have kids and a family."
"You start to see the world through other people's eyes a lot more. Now it's not so much about me against the world. It's how do you make the best possible future for your kids to grow up in? So I think, fundamentally, I just see the world completely differently than I used to before."
Sam Roberts Band's latest album, All of Us, was released in the thick of the pandemic in October 2020. As a result, new music from that album hasn't really been played all that much in front of a live audience. Still, in an interview with nightMair Creative published just prior to the album's release, Roberts says issuing new music during that dark time was the right thing to do.
Advertisement - story continues below
"Maybe the timing is exactly when it's supposed to be heard; when people need it the most," he explains. "I think we have to put aside our own sort of inconveniences at this point and say no, this is the music we feel can do something for people when they need it. It's therapeutic for us too, to make it and go through the whole catharsis of songwriting and recording and all of that."
"That's one side of it, but there's also this feeling of helplessness in a sense of you don't know how you can contribute anything when the situation is as dire and puzzling as it is now. So here's something we have to give; here's something we can offer. It's not going to help everybody. It's not going to make the virus go away quicker but its music and therefore it can be a sort of powerful antidote to any crisis that you might be facing."
A much-coveted live performer 20 years on, Roberts was among Canadian artists showcased at the 2010 Winter Olympics in Vancouver. On Canada Day in 2011, he performed before the Duke and Duchess of Cambridge in Ottawa.
For his Musicfest second coming, Roberts will be joined by Dave Nugent (lead guitar), Eric Fares (keyboards and guitar), James Hall (bass), and Josh Trager (drums).
VIDEO: "Bridge to Nowhere – Sam Roberts Band

Peterborough Musicfest is presenting 16 free-admission concerts during its milestone 35th anniversary season, each staged Wednesday and Saturday nights at Del Crary Park in downtown Peterborough.
Overseen by general manager Tracey Randall and staff, a board of directors, and numerous volunteers, Peterborough Musicfest's stated mission remains "to provide diverse, affordable live music to enrich cultural and economic prosperity in our community."
For more information on this concert or the entire 2022 season, visit www.ptbomusicfest.ca or phone the Peterborough Musicfest office at 705-755-1111.