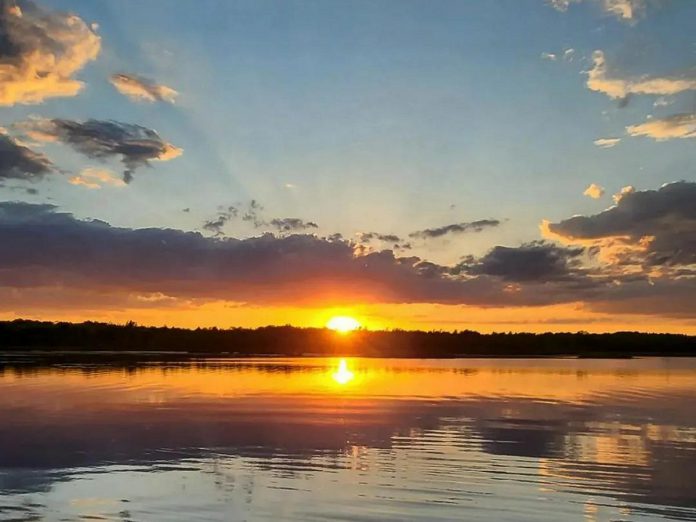 I love June, when the high water levels in local lakes are great for swimming, and when we are also visited by proud parents showing off their babies — I'm referring to loon and merganser parents of course.
June this year also seemed to be an early harbinger of high summer, with full intensity summer sunsets and stormy clouds. A good number of you were getting in your paddling strokes early this year.
We are all ready for a better summer this year and June 2022 helped to usher that in. Enjoy our photos this month — we have some stunners here.
Do you want to get on our top photographers list? All you need is an Insta account and to tag us using our hashtag #kawarthanow when posting your photo.
We share photos from across our readership area, which is the five-county area surrounding Peterborough which includes Peterborough, Northumberland, City of Kawartha Lakes, Haliburton, and Hastings (we sneak in the occasional Algonquin Park picture as well, particularly if it's by a Kawarthas photographer).
To see our daily shares of photos, follow us on Instagram @kawarthanow and check out our feed's highlight reels for recaps of every month in 2022.
Advertisement - content continues below
#1. Lakefield sunset by Joe Yusiw @kawartha_joe
Posted June 5, 2022. 7K impressions, 353 likes
#2. Hooded merganser family in Pigeon River by Cindy Bartoli @cbart03
Posted June 6, 2022. 6K impressions, 557 likes
Advertisement - content continues below
#3. Mama loon on View Lake by Rachelle Richard Photography @rachelle_richard_photography
Posted June 20, 2022. 5.2K impressions, 494 likes
#4. Shelf cloud over Sturgeon Lake by Jay Callaghan @caltek
Posted June 17, 2022. 4.6K impressions, 313 likes
Advertisement - content continues below
#5. Sunday night kayak on Kasshabog Lake by Mike Quigg @_evidence_
Posted June 13, 2022. 4.5K impressions, 435 likes
#6. Loon family on View Lake by Rachelle Richard Photography @rachelle_richard_photography
Posted June 23, 2022. 4.3K impressions, 390 likes
Advertisement - content continues below
#7. White-tailed deer in Douro by Brian Parypa @bparypa73
Posted June 11, 2022. 4.1K impressions, 297 likes
#8. Morning glow over Gilcrist Bay on Stoney Lake by Rosemary Campbell @feath_lodge2014
Posted June 7, 2022. 3.6K impressions, 304 likes
#9. Paddle on Lower Buckhorn Lake by Memtyme @memtyme
Posted June 21, 2022. 3.5K impressions, 411 likes