"The best time to plant a tree was 20 years ago. The second-best time is today." – Chinese proverb
In pressing home his case that it's never too late to take the first step on the path toward long-term financial stability, Executive Financial Consultant Adam McInroy of Bobcaygeon-based McInroy & Associates Private Wealth Management says the wisdom of the Chinese proverb remains as relevant today as it was on the day it was first written.
"Whether you planted the tree 20 years ago and sit under the shade today, or you planted the tree today, the point is you've got to start somewhere," Adam notes.
Along with his team, Adam — who has CERTIFIED FINANCIAL PLANNER (CFP) designation and Chartered Life Underwriter (CLU) certification — provides a holistic financial planning approach that deals with the six pillars of financial planning (cash flow management, risk mitigation, investment planning, and retirement and estate planning) all while keeping tax planning strategies and opportunities in mind, so that clients throughout the Kawarthas and beyond can achieve a more secure financial future for their families.
Tweet this quote
In Adam's view, it's all about having an informed and sound financial plan, regardless of your income level or when in life you decide it's time to focus on your financial future.
As he notes on his LinkedIn profile, "It's not about how much money you make. It's about how much money you keep, how hard it works for you and how many generations you keep it for."
"It's how well you manage your money and steward it, which is achieved through the steward's behaviour and education," Adam says. "Financial planning isn't just for those who have it all together. You can earn a five, six or seven figure income, but how much of that are you keeping versus how much are you paying in unnecessary taxes? How much are you paying in debt obligations? How much is being spent without acknowledging or being aware of where that money is going?"
To help clients make the right wealth management decisions for their individual situation, Adam and his team have access to recognized industry experts at IG Private Wealth Management's head office. So when they are dealing with a complex corporate structure and opportunities, in-depth portfolio analysis, or a complex multi-generational wealth transfer strategy, they can bring those experts into the planning and client experience to ensure the client is getting best-in-class advice and guidance.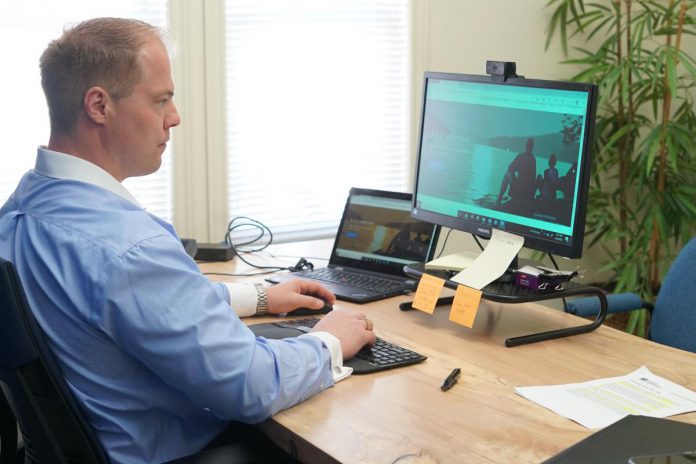 As such, he's able to tap into asset management expertise that maximizes diversification while adhering to sustainable investing principles that emphasize long-term returns.
Adam coaches clients as much as he advises them, in concert with two Senior Financial Consultants on his team — one of whom is his own mother Janice McInroy, CFP, who held Adam's position for 27 years before he took the lead in January 2021, seven years after joining the practice as an associate. His practice also includes Cindy Trapp, who has been with IG Wealth Management since 2007, and holds her CPA, MBA, CGA and CFP designations.
Adam refers to "countless articles" that herald the importance of "sober second thought" as a prelude to making any major financial decision. Those major financial decisions range from making investment decisions to how to handle the life insurance benefit for a deceased love one.
"It's about making sure your money works for you and the vision you have for your future," Adam says. "How do you structure your investment portfolio, how do you manage your risk and implement an insurance portfolio so that every dollar is working in your favour and you're not paying unnecessary taxes?"
Tweet this quote
Two points come quickly to Adam when he refers to his practice's relationships with clients: collaboration to understand their needs, and consistency in terms of what they can expect from his team.
"Our goal is to partner with the clients we serve so that together we can make informed decisions as we walk through their path together," he says, noting, when all is said and done, he's wholly engaged in "a relationship business."
"It's knowing that Joe retired from Ontario Power Generation and what he did there. It's knowing that a client's daughter is going to Trent University, or that a spouse just passed away from a terminal illness. People aren't numbers on a piece of paper."
Adam points to the real-life example of a client whose son had received a number of scholarship offers from U.S. schools. Curious where things were at, Adam emailed the client asking for an update.
"The client emailed back and wrote 'You remembered that?' I wrote 'Of course I remembered. That's my job.' He was like, 'You manage our money and our financial plan but you're in tune with where we are in life.'"
As for the consistency part of the equation, Adam says it's rooted in a purposeful team response to the enquiries, concerns, and issues that habitually arise as clients navigate the complexity of their finances.
"Our advice might change based on income tax rules and opportunities on the investment side of things, but the quality, the characteristics, and the ethics of how we run the practice don't," he explains. "It doesn't matter who they talk to here. They're going to get the same consistent advice which is aligned with what is in the best interest for the client."
Adam adds consistency can also be found in the practice's dedication to continue helping clients even if they relocate outside the Kawarthas — something that has happened in the past.
Recognizing that financial planning and wealth management can be scary for those who first come through his door, Adam uses an analogy he hopes will reassure those reluctant to take that all-important first step.
Tweet this quote
"We've all done a puzzle or two in our lifetime," he notes. "You open the box up and dump all the pieces onto the table. The most important piece though wasn't in the box — it was actually the picture on the box."
"For those that come in and say 'I have no idea what any of this means. I haven't done anything. I don't know enough. Everybody including Google has told me something different, I'm so confused, frustrated and uncertain I give up,' we sit down and provide a safe environment for them to put all their puzzle pieces on our table."
"We ask them, 'What's the vision you're picturing, so that we can understand what the picture is on the front of your puzzle box? Let's look at the puzzle pieces you just dumped on our table and see how they fit to create that picture.'"
"Most of the time when we have those conversations, there's a huge sigh of relief, like 'I thought that this was going to be like going to the dentist.' Nothing against dentists, but we try to make financial planning as comfortable, relaxed, and as pain-free as possible."
Adam's practice at 21 King Street West in Bobcaygeon recently began operating under the trade name McInroy & Associates Private Wealth Management. His team now has access to additional expertise at IG Private Wealth Management's head office, "elevating the experience and the depth of the planning that clients can expect from us."
"We're still at the same office," he adds, "and we're still providing individual personalized service and support for the clients we serve."
McInroy & Associates Private Wealth Management is located at 21 King Street West in Bobcaygeon. You can email Adam at adam.mcinroy@igpwm.ca or call 705-748-1950. For more information about McInroy & Associates Private Wealth Management, visit www.mcinroypwm.com.
Investors Group Financial Services Inc.
This is a general source of information only. It is not intended to provide personalized tax, legal or investment advice, and is not intended as a solicitation to purchase securities. Adam McInroy is solely responsible for its content. For more information on this topic or any other financial matter, please contact McInroy & Associates Private Wealth Management.
This is one of a series of branded editorials created in partnership with McInroy & Associates Private Wealth Management. If your business or organization is interested in a branded editorial, contact us.