Highly respected and much-loved Curve Lake First Nation Elder, knowledge keeper, and former chief Douglas Williams (Gidigaa Migizi) has died.
Facebook tributes posted early Wednesday evening (July 13) referenced Williams' passing, drawing a number of comments on his life and legacy.
"Elder Doug Williams ban was a child of the 7Fire who retraced the steps of the Ancestors and found the wisdom left on the trail," posted Curve Lake resident Dorothy Taylor, an Ojibwe traditional elder, hand drummer, and water environmental activist.
Advertisement - story continues below
"He remained strong in his belief of our culture, teachings and ceremonies," Taylor wrote. "His voice was the drum song we listened to for guidance on our long journey back to balance. His dedication to the Mississauga Nishinaabe culture and ceremony may very well ensure the lighting of the 8th Fire. Miigwech we love you."
Chippewas of Rama First Nation member Ted Williams also shared his thoughts via a Facebook post.
"Elder Doug Williams of our sister First Nation Curve Lake has begun his spirit journey," he wrote.
VIDEO: "A Conversation with Curve Lake First Nation Elder Doug Williams"

"Different times he would talk about our shared ancestry and lineage," Ted wrote. "He was a gentle man, always giving of himself, his knowledge of our ways. Condolences to his immediate family, the community, we were better with you cousin Doug … only one life that too soon is past, only what's done with love will last … miigwech, miigwech, miigwech, miigwech."
Williams' passing will also be mourned at Trent University, where he was an associate professor and director of studies for the PhD program in Indigenous Studies, teaching the land-based course for the PhD program.
A 1972 graduate of what was then called the "Indian/Eskimo Studies" program at Trent (now Indigenous Studies), Williams recalled, in the fall 2021 issue of Trent magazine, his earlier eagerness to see Indigenous issues taught at the university.
Advertisement - story continues below
"I was friends with Professor Kenneth Kidd," said Williams who, at the time, held jobs planting pines and helping with the construction of Champlain College.
"Archaeologist. Nice guy. Soft spoken. We used to read books together. So one day I said to him 'Is there any way, as you start up anthropology at Trent, that you could introduce Indian studies? Like the Black studies they are introducing in American universities.'"
Williams left Curve Lake shortly after for other parts of Canada, including St. Francis Xavier University in Nova Scotia but, while he was gone, Trent president Tom Symons led an effort to create a new Indian/Eskimo Studies program, the predecessor of what is now one the foremost Indigenous Studies programs in the country.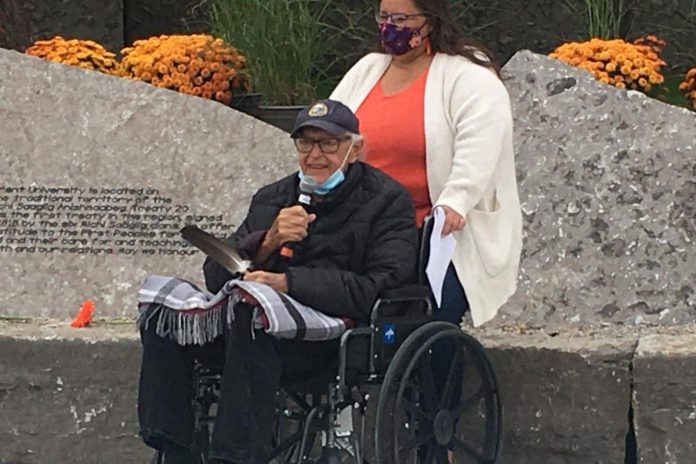 Over the years after graduation, Williams maintained close ties with Trent.
"There were First Nations scholars here and I got to associate with some of them," he recalled, adding "I got to volunteer. Alice (his wife) and I brought students out to our place to ceremony, dance, eat and feast."
In recent years, as Trent University took concrete action toward reconciliation with Indigenous people, Williams was front-and-centre, showing support for those efforts while lamenting that Trent took so long to build a sincere and meaningful relationship with First Nations people.
Advertisement - story continues below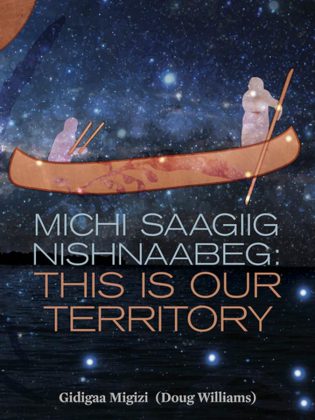 One of Williams' last public appearances was on September 30, 2021 — the inaugural National Day for Truth and Reconciliation — for the unveiling of a 'treaty rock' installation in recognition of the treaty lands upon which the university is located.
Williams spoke briefly at that event held outside the university's Bata Library, explaining the significance of the dodem carvings on the rock that are representative of the clans that signed Treaty 20 in 1818.
A prolific writer, Williams wrote Michi Saagiig Nishnaabeg: This Is Our Territory with Leanne Betasamosake Simpson.
Published in 2018, the book recounts key moments of Williams' personal history, connecting them to the larger history of the Anishinaabeg and other Indigenous communities.
And, in 2021, the Peterborough Historical Society honoured Williams with its Thomas H.B and Christine Symons Heritage Award, which is annually presented for an outstanding or one-time contribution to local, regional, provincial, national or international heritage causes.
The award citation read as follows:
Gidigaa Migizi is recognized for a lifetime of preserving the oral history and traditions of the Michi Saagiig Nishnaabeg, and educating students and the public, both Indigenous and settler, of this rich heritage in the greater region of Nogojiwanong – Peterborough.
As one nominator wrote, 'Gidigaa Migizi adds to the history of the Kawarthas in ways that challenge the invisibility of Michi Saagiig histories and transmit a Michi Saagiig Nishnaabeg view of history that was silenced through many years of settler colonial narrative-making.'
As a scholar in the Chanie Wenjack School of Indigenous Studies and Director of Studies in the Indigenous Studies PhD program at Trent University, he has shared his knowledge with generations of university students. Throughout the community, he has responded generously and tirelessly to requests for advice and the performance of appropriate Indigenous ceremonies.
Gidigaa Migizi has employed his knowledge to rectify violations of Michi Saagiig treaty rights and thereby educate the community on a critical part of its shared history. His interpretation of Treaty 20 (1818) in court challenged the extinguishment of Aboriginal hunting and fishing rights under the Williams Treaty (1923) and led to the reclamation of rights through subsequent negotiations.
Through several published articles, and most recently by his book, Michi Saagiig Nishnaabeg: This is Our Territory, he has interpreted Michi Saagiig Nishnaabeg oral histories that expand the evidence on which the region's past is understood. As one supporter wrote, his book reveals 'the extraordinary, often poetic, richness of the history of the land on which we are privileged to live.'
On Thursday, Chief Keith Knott of Curve Lake First Nation issued a statement on Williams' passing.
This story will be updated with additional details when they become available.