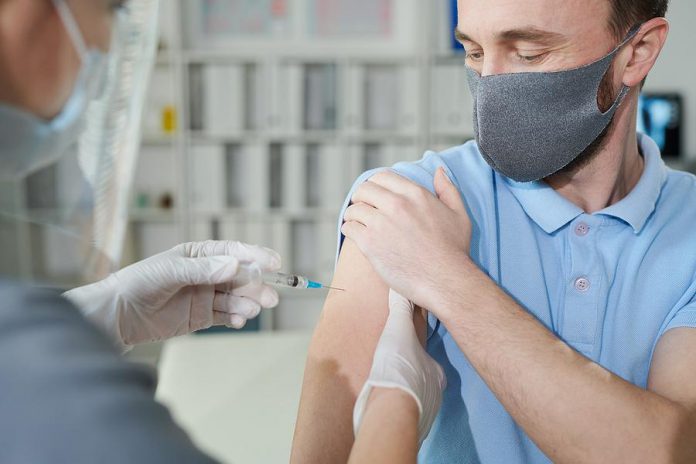 While it's strongly recommended that those aged 60 and up — and those medically at risk for COVID-19 — receive a fourth vaccine dose as soon as they're eligible, the second booster shot recommendation for those aged 18 to 59 isn't as cut and dry.
That's the word from Peterborough's medical officer of health Dr. Thomas Piggott who, on Thursday (July 14), convened a Peterborough Public Health media briefing — the first since April 6 — on the same day when eligibility for second booster doses expanded to all adults in Ontario.
While the COVID-19 risk index for the Peterborough region is currently at moderate and local wastewater surveillance — a very accurate barometer of the virus's presence in the community — isn't showing a dramatic increase, Dr. Piggott suggested this may change.
Advertisement - story continues below
"We had a small bump over the last couple of weeks that has plateaued, but we are anticipating this will increasing in the next couple of weeks," he explained.
While the current situation is steady for now, Dr. Piggott, like his colleagues across the province, is looking ahead to late summer and fall as an expected seventh pandemic wave, fed by the highly transmissible BA.5 Omicron subvariant, takes firmer hold.
With that in mind, Dr. Piggott focused his comments on vaccine doses and, in particular, who should get their booster shot and when. As Ontario's chief medical officer of health Dr. Kieran Moore pointed out on Wednesday, five million eligible Ontarians have yet to receive their first booster dose.
"Unfortunately, our coverage for third doses is not where we'd like it to be," said Dr. Piggott, noting that, while 81 per cent of the region's eligible population have received two doses, just 54 per cent have received the first booster shot — a gap of 27 per cent "we hope to close. Almost a third (of those eligible) are lagging behind and don't have full protection."
VIDEO: "Deciding to get a 4th dose if you are young and healthy — Dr. Thomas Piggott"

Turning his attention to fourth dose eligibility, Dr. Piggott noted it provides "important protection" for those aged 60 and up, First Nations residents, and immunocompromised individuals. As such, he explained, it's strongly recommended that those in these groups — who have already been eligible for a fourth dose since April — get their fourth dose five months after they received their third dose.
However, the fourth dose recommendation for healthy people aged 18 to 59 "is more discretionary or conditional," according to Dr. Piggott.
"If you had a recent infection, the recommendation is to wait three months before your next dose — your immune system will a have a better and more robust response to the vaccine," said Dr. Piggott.
"A key consideration that people are asking about is 'If I get a fourth dose now, how long will that add protection for me?' We don't have a lot of evidence on this, but the evidence we do have says the benefits against prevention of infection with a fourth dose is probably only for two to three months' time. It's a short-lived transient protection."
Advertisement - story continues below
Tweet this quote
Dr. Piggott noted with the expected development and rollout of the next generation vaccine, a bivalent one providing protection against multiple variants, that may change.
"Generally, a longer gap between doses gives a better immune protection overall but, at the same time, we are headed into a seventh wave," he said. "It (getting a fourth shot if you're 18 to 59 years old) is not a simple, clear decision. This is the first time during the pandemic where I'm not able to say I strongly recommend this."
"It's not that it's unsafe. Rather (the benefits that different people get) may not be as significant as we've seen before. As a result, it's a more nuanced conversation and decision that individuals should be thinking about as they try to make decision whether to get a fourth dose now or wait."
Asked if not being able to provide clearer direction for those 18 to 59 considering a fourth shot is somewhat frustrating, Dr. Piggott said not at all.
"There genuinely is the need for people to consider their personal circumstances and make the best decisions that they can,' he said. "This is a little bit different than other points in the pandemic, but not all that different than other things we do in public health."
"For example, we often tell people to quit smoking. People may or may not listen to that advice. That doesn't mean I bang my head against the wall — it means I continue to communicate the evidence. The reality is there's some uncertainty here (around the benefits of fourth doses for those aged 18 to 59). It's my job to be honest about that."
Advertisement - story continues below
Tweet this quote
With the current active case count in the region at 200, the prognosis is that number will rise as the seventh wave takes hold.
"Risk (of infection) is increasing," noted Dr. Piggott. "Exposure risk is an important individual consideration. Some people are frontline workers. Other people may be travelling in airplanes or in poorly ventilated areas more often, so their risk going into a seventh wave may be higher."
"Some people may be around those who are elderly, not yet vaccinated, immunoompromised, or medically at risk of severe COVID-19," he added. "Those people may want added protection (from a fourth dose), even if that added protection is smaller (than previous doses)."
Part of the complexity in advising people whether or not to get a second booster dose now, according to Dr. Piggott, is uncertainty about the potential severity of the seventh wave and how the situation will look in the fall.
Advertisement - story continues below
"What were trying to do is ensure the public has the information and protections it needs in place and that, if things do change, and the context worsens and is more severe, we're prepared to respond," he said. "I'm quite confident we'll continue to meet needs, and continue to protect the public's health."
Those who wish to get a first or second booster dose can book an appointment through the COVID-19 vaccination portal at covid-19.ontario.ca/book-vaccine/ or by calling the Provincial Vaccine Contact Centre at 1-833-943-3900.
Eligible individuals can also book an appointment directly through public health units that use their own booking systems, through Indigenous-led vaccination clinics, and through participating pharmacies.