This month, food writer Eva Fisher takes a trip around the taco bar with Trip Taco in Peterborough, talks to Tammy Thurston about Thurston's Family Butcher Shop's move to Fenelon Falls, orders delivery with Papa's Pizzaland's upcoming Norwood location, and grabs an early morning coffee with Burleigh Beanz near Burleigh Falls.
Advertisement - content continues below
Trip Taco brings a world of possibilities to the tortilla in a new building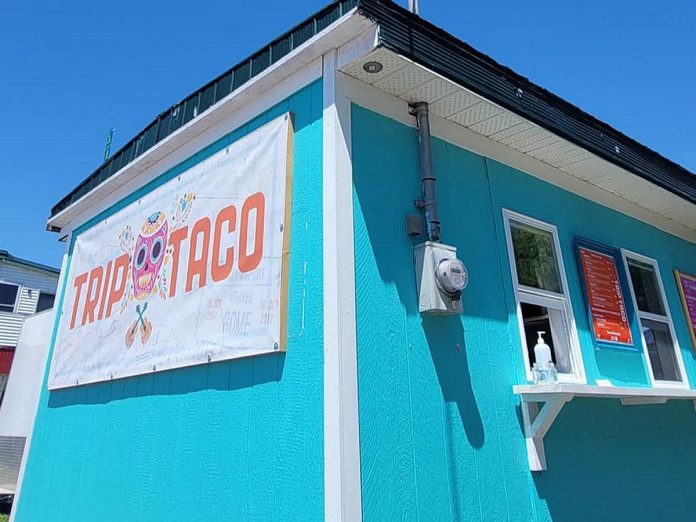 Tacos meet world cuisine at Trip Taco (1794 Chemong Rd., Peterborough), a north-end taco stop owned by Travis Berlenbach.
Trip Taco opened in 2020 as a food truck, but they recently held a grand opening to celebrate the launch of their new kitchen, which was built in an outbuilding already existing on the property of their Chemong Road location. This new setup will allow the taco truck to go mobile and cater events.
The name Trip Taco references a menu that can feel like a trip around the world: the Turong Den is Vietnamese inspired, with braised pork, pickled cabbage, carrots, cilantro, and cabbage. The Jamaican Jerk is topped with jerk sauce, pineapple salsa, crema, and cilantro. There are options inspired by Greece, the U.S., and Peterborough, Ontario, as well as a classic Mexican Carnitas taco topped with pickled red cabbage, house crema, and cilantro.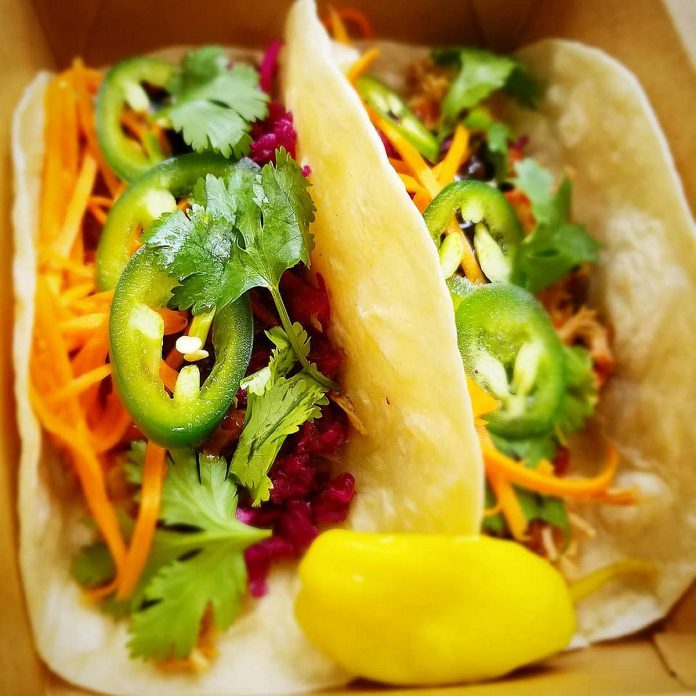 Travis has worked as a cook for 27 years, and has learned from chefs specializing in a variety of cuisines.
"I worked mostly in fine dining restaurants with some incredible chefs with various backgrounds from around the world: a Chinese chef, a French chef, Italian, Mexican, Spanish…"
Travis's first foray into reinventing the taco was the Big Tac: two all-beef tacos with special sauce, lettuce, cheese, pickles, onions, and toasted sesame seeds inspired, of course, by the Big Mac.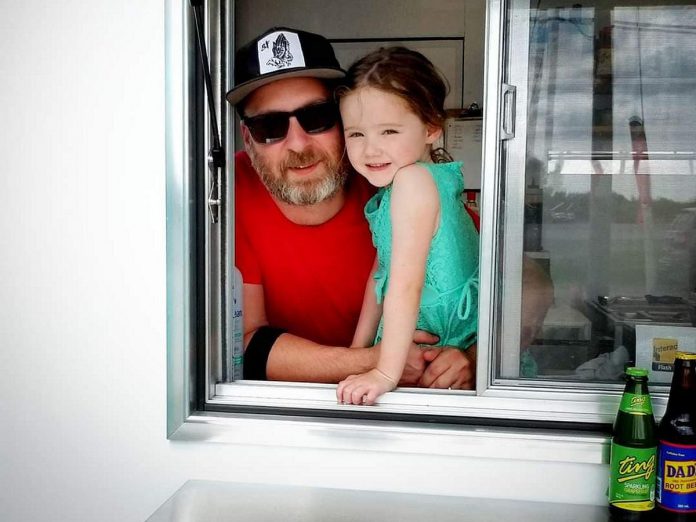 "The Big Mac taco started me thinking outside the box," Travis recalls. "It was my first restaurant and I kind of had a boring menu at first. But then I thought, 'Why am I doing that? I can do whatever I want.' And then I started thinking about all of the cooks and chefs I worked with over the years, and I started thinking about all of the flavours I love, so I started doing stuff that was inspired from around the world."
Trip Taco is open from 11:30 a.m. to 7 pm Tuesday to Friday, noon to 7 p.m. on Saturday, and noon to 4 p.m. on Sunday. On Sundays you can often enjoy your tacos with a side of live music.
You can follow Trip Taco on Facebook and Instagram.
Thurston's Family Butcher Shop reconnects with small-town roots in Fenelon Falls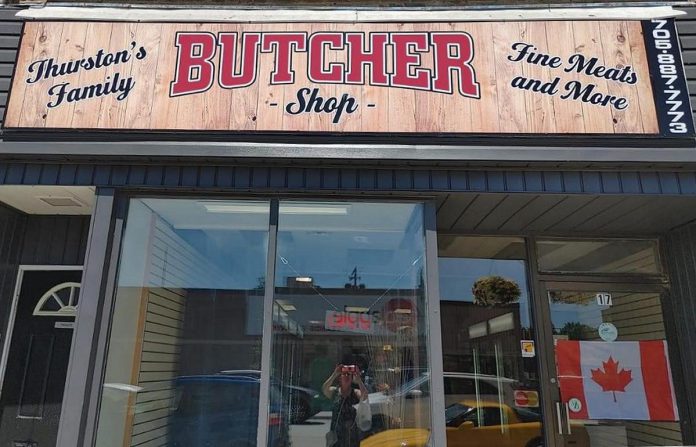 After 36 years in the business, the Thurston family opened their new butcher shop on July 2nd in Fenelon Falls at 17 Colborne Street.
Tammy Thurston, who manages and co-owns Thurston's Family Butcher Shop with her parents Len and Patti, says the move allows the Thurston family to focus their business and do what they love the most.
"We found that we couldn't do — or my parents especially couldn't do — the full process butcher shop any more. It's a lot of physical work. So we decided also that we wanted to find a small town that represented what we've represented for years."
Thurston's Family Butcher Shop began as a small-town business, so moving to Fenelon Falls was a natural next step.
Advertisement - content continues below
"We started in Dunsford and moved to Lindsay and we found that Fenelon didn't have a butcher shop here and everybody said it was really needed," Tammy says, adding Fenelon Falls has since accepted them with open arms. "Everybody's so welcoming."
Thurston's offers a variety of meat cuts and some specialty offerings including eight different flavours of meat pie, meat trays, charcuterie boards, and more. Tammy credits staff member Dave Moore with most of the from-scratch items, such as sausage, hamburger patties, and sausage patties.
"He's been with us for 18 years and he's a major part of the business that we've built."
Thurston's Family Butcher Shop also makes it a priority to offer products from other local families in business.
"Our main focus is we carry as much local as possible," Tammy says. :We have local honey companies, local barbecue sauces, and when we say local they're literally other families like us that, some of them are as far away as Brighton area but they are all people that we've met along the way in these 36 years of doing business."
Advertisement - content continues below
In addition to meat, honey and sauces Thurston's Family Butcher partners with local bakers who make wedding cakes, birthday cakes and specialty cookies. You can also order cheesecakes from Cake by the Lake. The shop also plans to bring back their delivery service by partnering with Food Transit.
The Thurston family is currently planning a grand opening event for the shop, with the date to be determined.
Thurston's Family Butcher Shop is open from 9 a.m. to 5:30 p.m. Tuesday to Saturday and 9 a.m. to 3 p.m. on Sunday. For more information, call 705-887-7773.
Papa's Pizzaland to open a new Norwood location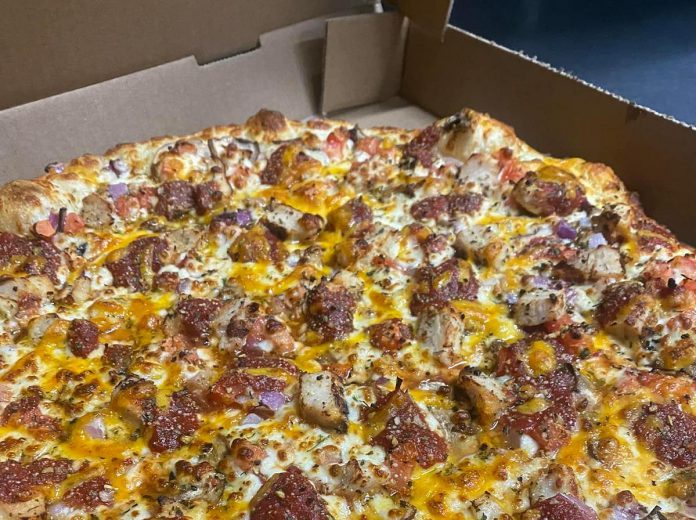 Beginning this August, Papa's Pizzaland will offer their delicious specialty pizzas in a new Norwood location at 4294 Highway 7.
Customer service and media manager William O'Brien (brother of owner Jessica O'Brien)says that their goal is to finish renovations and open on Monday, August 1st.
The delivery area will include Norwood, Madoc, Hastings, Douro, Warsaw, and everywhere in-between.
The menu will be similar to other Papa's Pizzaland locations, with a variety of specialties. William's picks are the Chilli Cheesesteak, the Chicken Parmesan Pizza, and the Barbecue Chicken Pizza.
"It's a classic — you can't beat it," he says.
Advertisement - content continues below
Papa's Pizzaland is known for offering pizza fundraisers, when a portion of proceeds from the nightly special go to support community causes. A recent fundraiser at the Peterborough location (2695 Marsdale Dr. #2, 705-874-9898) raised $1,000 for Kaawaate East City Public School in Peterborough
In addition to Peterborough and upcoming Norwood locations, Papa's Pizzaland has restaurants in Cobourg, Courtice, Port Perry, Port Hope, Newcastle. and Bowmanville.
You can order online for delivery or pick-up at papaspizzaland.meemup.com.
Wake up early with Burleigh Beanz near Burleigh Falls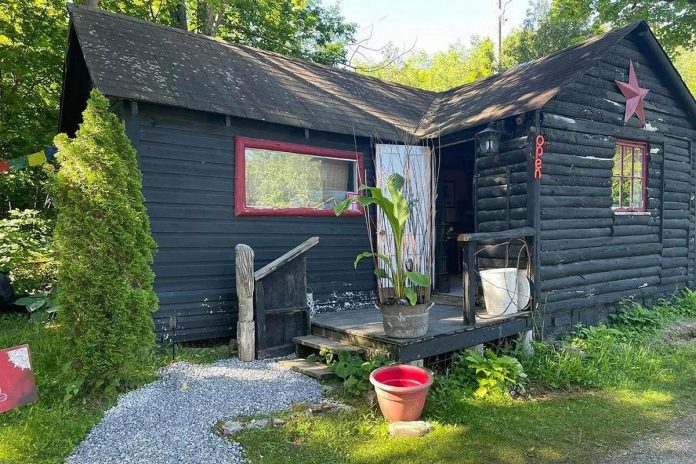 Early morning is a beautiful time at the cottage but, if you haven't had your morning cup of coffee, you might not think so. Shawn Englefield is the owner of Burleigh Beanz (4699 Highway 28, Lakefield, 289-600-0295), a new coffee shop that starts service early at 6 a.m. for Burleigh Falls area residents and cottagers.
Shawn saw the opportunity for a business like this when he himself was looking for an early morning coffee in the area.
"I decided to open Burleigh Beanz because there is no local coffee shop open before 10 a.m.," he says. "Myself being an early riser, I searched for a local coffee shop in the general area open at 6 a.m. and found nothing."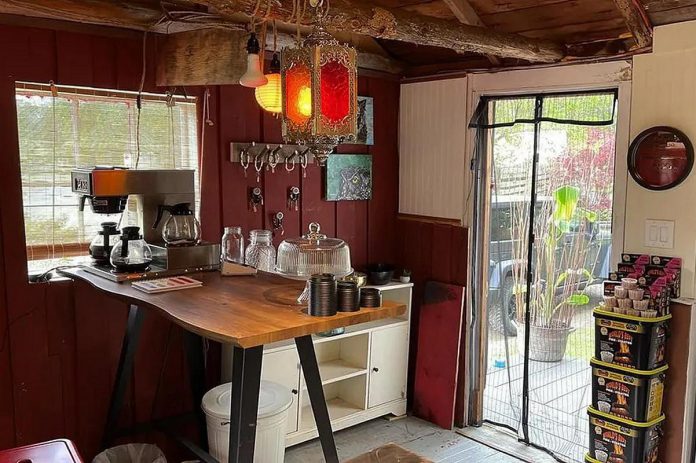 Located in a rustic cabin, Burleigh Beanz sells regular coffee, a flavour of the day and decaffeinated, with a variety of milk and creamers available. You can also purchase flavoured and regular teas, as well as a variety of snack treats including hay stacks, rice krispie squares, and butter tarts.
This is Shawn's first time owning his own business, but he has experience in retail management.
"I have ran other retailer businesses for a number of years and I love interacting with people and meeting new faces."
In addition to coffee and food, Burleigh Beanz carries a selection of artisanal gift items including local and custom acrylic and water colour paintings, lava rock and stone jewelry, blown glass jewelry, and pyrography wood work.
Burleigh Beanz is open from 6 a.m. to noon Wednesday to Sunday. You can also find them on Facebook.