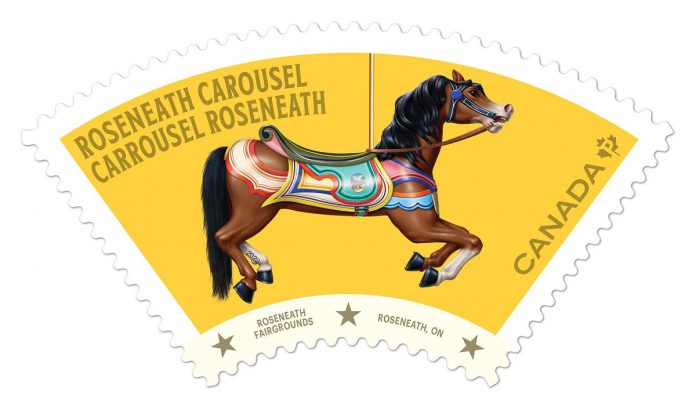 Canada Post has issued a stamp featuring the famous Roseneath Carousel, located in Alnwick/Haldimand Township in Northumberland County.
The Roseneath Carousel stamp is one of a set celebrating five of Canada's vintage carousels, each known for elaborately carved and beautifully painted animals.
Dating back to the 12th century, carousels were originally used as a military training game. By the mid-19th century, they had evolved into the beloved fairground ride that remains a nostalgic staple of amusement parks to this day.
Advertisement - story continues below
Located at the Roseneath Fairgrounds at 9109 County Road 45, the Roseneath Carousel is one of the oldest operating carousels in North America. It is the only Canadian carousel to have received the U.S. National Carousel Association's Historic Carousel Award in 2010.
It was built in 1906 in Abilene, Kansas by C.W. Parker, well known for manufacturing amusement rides, as a portable carnival carousel. It travelled to fairs and amusement parks, landing in Brantford, Ontario where it was eventually dismantled.
In 1932, the Roseneath Agricultural Society purchased the carousel for $675 and installed it at its current location on the Roseneath Fairgrounds. From 1932 until 1985, the carousel was maintained by local trades people, with local high school students repainting the horses as required.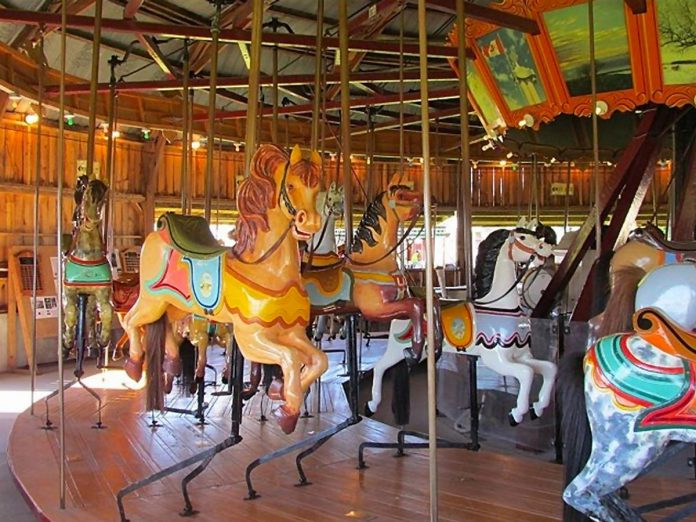 By 1985, the carousel no longer met Ontario's safety standards and was shut down due to disrepair. In 1987, a group of Roseneath Agricultural Society members launched a $400,000 fundraising campaign to restore the carousel to its original museum quality yet rideable condition. The restored Roseneath Carousel was officially reopened to the public on July 17, 1993.
Featuring 40 basswood horses and two metal boats, the carousel is balanced from a centre post and is powered by a five-horsepower electric motor, which drives a series of belts and clutches to move the carousel at around four miles per hour. Music is supplied by a 125 Wulitzer military band organ, complete with paper rolls, built in 1934.
The carousel operates from 1 to 3 p.m. every Sunday from the Victoria Day weekend to the Thanksgiving weekend, as well as during the annual Roseneath Fair and the Roseneath Agricultural Society's annual car, truck, and tractor show 'n' shine.
Advertisement - story continues below
Along with the Roseneath Carousel, the Canada Post stamp set also features the Lakeside Park Carousel in St. Catharines, Ontario, the Bowness Carousel in Calgary, Alberta, the C.W. Parker Carousel No. 119 in Burnaby, British Columbia, and the Le Galopant carousel in Montréal, Quebec.
The stamps were designed by Paprika and feature illustrations by René Milot. The stamp issue includes a booklet of 10 permanent domestic rate stamps (with the booklet designed in the style of traditional circus and midway advertising posters), a souvenir sheet of five stamps, an official first day cover, and a set of five postcards.
Stamps and collectibles are available at canadapost.ca and postal outlets across Canada. For more information about the Roseneath Carousel, visit www.roseneathcarousel.com.