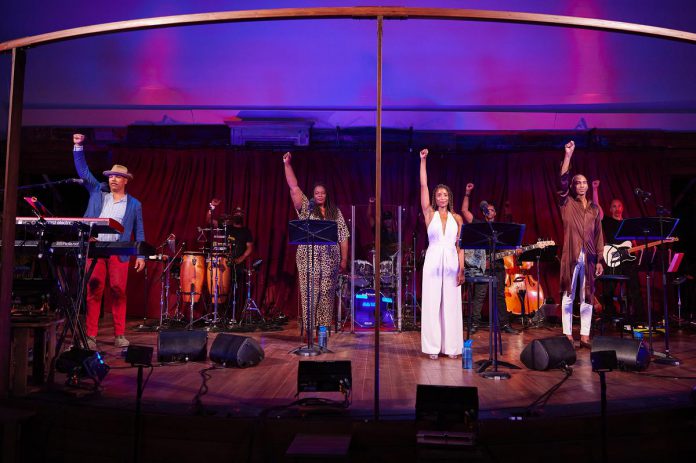 Actor, musician, and playwright Beau Dixon is bringing his critically acclaimed "Freedom Cabaret: The Spirit and Legacy of Black Music" to downtown Peterborough for a one-night-only performance on Tuesday (August 2).
Described as a "stunning and poignant celebration of Black music" by Broadway World Toronto, the show premiered last year at the Stratford Festival. Featuring an all-Black cast, "Freedom Cabaret" offers an emotional exploration of Black music from the moment Black people landed on North American soil to the present day, celebrating Black culture from church hymnals to the blues, from jazz to rock 'n' roll, and from R&B to rap.
Narrated through song and text, you'll hear the works of musicians, poets, and activists such as Martin Luther King Jr., Stevie Wonder, James Baldwin, Harry Belafonte, Langston Hughes, Duke Ellington, Maya Angelou, and many others.
Advertisement - story continues below
Tweet this quote
"What a privilege to be performing Freedom in my hometown," says Dixon in a media release. "This is a deeply personal project for me. It's going to be an intense 90-minute show that will educate, entertain, and inform audience members. Our cabaret show celebrates the unsung heroes who paved the way for Black music today."
The Peterborough performance takes place the day after Emancipation Day. Last March, the House of Commons voted unanimously to officially designate August 1st as Emancipation Day, marking the actual day in 1834 that the Slavery Abolition Act of 1833 came into effect across the British Empire.
"Canadians are not always aware that Black and Indigenous peoples were once enslaved on the land that is now Canada," reads the Government of Canada website. "Those who fought enslavement were pivotal in shaping our society to be as diverse as it is today. Therefore, each August 1, Canadians are invited to reflect, educate and engage in the ongoing fight against anti-Black racism and discrimination."
VIDEO: Stratford Festival 2021 "Freedom Cabaret" trailer

"I can't wait to see the Peterborough community come out in solidarity for Emancipation Day as we collectively reflect on our shared history together," Dixon says.
The Peterborough performance of "Freedom Cabaret" is sponsored by the Union of Professional Musicians Local 518, the Peterborough Downtown Business Improvement Area, Peterborough Square, the Holiday Inn, and Black Honey. It is part of a larger music project across Canada and the U.S. funded by the Music Performance Trust Fund (MPTF), which evolved from a landmark collective bargaining agreement between the American Federation of Musicians and the major recording companies as of 1948.
MPTF has special funding this year for Juneteenth and Emancipation Day, which will employ hundreds of Black performance artists to commemorate and recognize the abolition of slavery.
Advertisement - story continues below
"We are honoured to help ensure Black performers are able to take advantage of this incredible fund by MPTF," says Sue Moore, secretary/treasurer of the Union of Professional Musicians Local 518.
"We owe much of our music genres to black culture and are thrilled to have Peterborough participate in an event for Emancipation Day that will hopefully draw attention to the contributions of Black musicians and the present-day struggle that racism presents to Black communities across North America."
"Freedom Cabaret" begins at 6:30 p.m. on Tuesday, August 2nd in the Peterborough Square courtyard at the corner of Charlotte and Water streets, Local artist Niambi Tree will open the show with a spoken-word performance. The performance is free, but audience members are asked to bring their own chair or blanket.